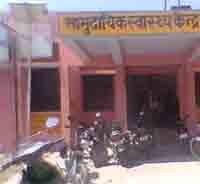 Taarun Block, Faizabad District. Kiran, a resident of Dadupur village of Taarun block, went to the Community Health Centre (CHC) for a normal delivery on 25 March 2014. She delivered a baby girl the same day without any assistance from a doctor and was then asked for money by the A.N.M. present there.
This is not the first instance where the absence of a woman doctor, especially a gynaecologist, has impacted the experience of pregnant women seeking treatment at the CHC here. Kiran paid only for the post delivery treatment that she was given. After this, she returned home and when her bleeding did not stop for the next two days she had to seek treatment from a local quack who gave her some pills to stop the bleeding.
The Asha worker in Dadupur, Sushila, said that she had accompanied Kiran to the CHC but later on wasn't informed of the complications.
The Medical Superintendent of Taarun CHC, Dr. Ansaar Ali said that if there are patients with grievances, they should lodge their complaints officially so that an inquiry can be initiated.
Click here to read original story