Photographer Zed Nelson meets the farmers, lawyers, politicians and workers on both sides of the inequality gap. Introduction by David Smith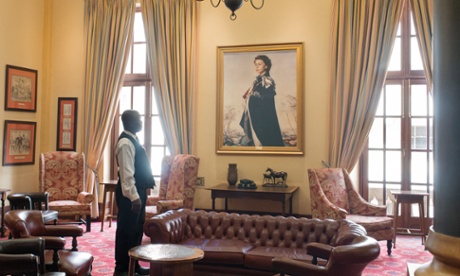 South Africa likes to put itself on the psychiatrist's couch. It is tough on itself and relentlessly self-critical, and there is no shying away from the fact that, 20 years after the fall of apartheid, and a year since Nelson Mandela's death, this remains one of the most unequal societies in the world. The gap between rich and poor still has a racial character. Two decades of uneven economic growth have left the white minority better off than ever, and more than a third of young black people without a job. According to a recent Oxfam report, the two richest people in South Africa share the same wealth as the bottom half of the population.
Photographer Zed Nelson's work, taken this autumn, shows a nation at odds with itself. In Cape Town, seen by many as a bastion of white privilege, multimillion-pound properties come with a view of mountains, beaches and ocean, while just a short drive away, on the impoverished and overcrowded Cape Flats, sex workers ply their trade amid squalor; residents of Blikkiesdorp, a "temporary relocation area" built in 2007, liken their surroundings to a concentration camp. In Sandton, a suburb of Johannesburg dubbed the richest square mile in Africa, residents fearful of violent crime hunker down behind high walls and electric fences – in complexes similar to the one where Oscar Pistorius shot his girlfriend, Reeva Steenkamp, last year. The maids and security guards who work here often commute from wretched townships and informal settlements, waking before dawn. South Africa is luxury game lodges and rolling winelands and elite golf estates. But it is also rat-infested shacks, abandoned inner-city buildings and graveyards of the township dead.
Mandela's African National Congress (ANC) lost support at this year's general election, but the party insists it has had a good story to tell over the past 20 years. The proportion of people living below £1.60 a day fell from 42.4% in 2000 to 29.2% in 2011, it says, and life expectancy has gone up while HIV prevalence has gone down, thanks to the world's biggest treatment programme. The government says it has built 3.7m houses, extended social welfare grants to 16 million people, doubled the number attending university and engineered a new black middle class.
The glass is both half-empty and half-full. There is no shortage of people warning of imminent catastrophe. Some believed the blue touchpaper would be lit on the night Mandela died peacefully at his home in Johannesburg at the age of 95, his wife, Graça Machel, and ex-wife, Winnie Madikizela-Mandela, at his bedside. With the father of the nation gone, they argued, anarchy would reign. It didn't happen. Instead multiracial crowds took to the streets with candles, singing and dancing in an inspiring show of unity.
Their response was far more spontaneous than that of the government, which organised a memorial service in a football stadium where the great man's spirit was sorely absent. It is now best remembered for the nonsensical sign language translation of Thamsanqa Jantjie. Mandela's funeral, in his home village of Qunu, was a more graceful affair.
It was also a moment for reflection, to consider South Africa's position in Africa and the world. This did not make happy reading. While a recurring theme of recent years has been "Africa rising", with some countries on the continent enjoying double-digit economic growth, South Africa expects growth of just 1.4% this year and appears to have missed the party. In 2014 it was eclipsed by Nigeria as the biggest African economy, after a sharp rise in the latter's estimated GDP.
The nation's economic headaches are often summed up as a holy trinity: poverty, unemployment and inequality. In this context, it was pure political folly for the government to spend £14.2m of public money on "security upgrades" at Zuma's homestead in Nkandla, KwaZulu-Natal province. Yet, unlike the kleptocrats of the past, Zuma cannot act with impunity. The Nkandla scandal was investigated by an independent ombudswoman, Thuli Madonsela, a 52-year-old human rights lawyer from Soweto, who has been praised for her fearless, unswerving investigations of the powerful and corrupt, and was named by Time magazine as one of the 100 most influential people in the world. Her inclusion in Zed Nelson's project is evidence of South Africa's robust democratic institutions, its checks and balances, and talent for self-correction.
The national achievement of holding five free and fair elections may be another reason why, so far, the system has tended to bend rather than break. In May, citizens were able to express their discontent by staying away from the ballot box or, in more than a million cases, by voting for a new party, the red beret-sporting Economic Freedom Fighters (EFF). Their leader, Julius Malema, 33, is a self-proclaimed revolutionary whose political idols are Hugo Chávez and Robert Mugabe. Probably the most eloquent and media-savvy of all the ANC's critics, he says Mandela's revolution is incomplete: while political liberation was achieved, economic liberation remains out of reach because the governing party sold out to "white monopoly capital".
White farmers are one example he cites. Soon after 1994, the ANC set a target that 25m hectares, or 30%, of agricultural land would be transferred to black people within five years; to date it has managed only about 8%. The populist EFF has pledged to expropriate land without compensation, and to nationalise banks and mines. Again, this has triggered prophecies of doom, of South Africa going the way of Mugabe's Zimbabwe.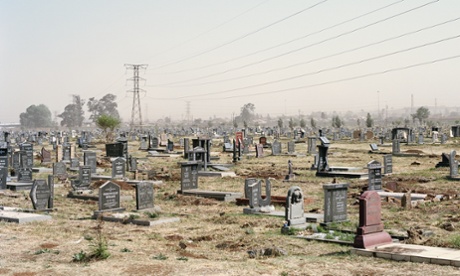 This year, none of these political developments gained a fraction of the worldwide attention afforded the trial of Pistorius. It was, after all, a story that had everything: a fallen idol, a beautiful model, a mysterious Valentine's Day killing that Pistorius claimed was an accident. For the first time in the country's history, the eight-month trial was televised from start to finish, allowing millions to witness the athlete's tears and hear his anguished howls under cross-examination.
This was also a trial of South Africa itself. The court heard accusations of police incompetence, and the judicial system was held up to unprecedented scrutiny. Overseeing it all was judge Thokozile Masipa, a black woman who was arrested during apartheid but now held the fate of a privileged white man in her hands. She acquitted Pistorius of murder but found him guilty of culpable homicide and sentenced him to five years' imprisonment.
Her serene presence in a trial where race was only a subtext was a measure of South Africa's democratic maturity. Twenty years is a long time in the life of a person, but not so long in the life of a nation. Much as it loves a sense of melodrama, South Africa's years of uniqueness and exceptionalism – of the historic evils of apartheid, of epic heroes such as Mandela, of the threat of civil war – are passed. It is now another Brazil or Mexico, a normal country wrestling with no end of big problems. Its next great challenge is actually very ordinary, in a world racked by inequality and class conflict, but no less daunting. As Mandela observed, "After climbing a great hill, one only finds that there are many more hills to climb."
To find out more about Oxfam's campaign against inequality, go to oxfam.org.uk/evenitup.
Motimele 'Miriam' Molrufa , 47, maid, Sandton, Johannesburg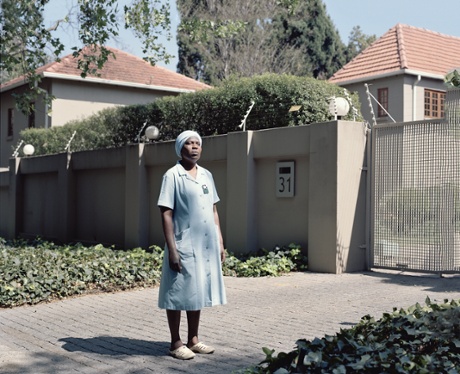 'Things are a lot better now, because I can live with my children where I work. But for some people, their bosses don't care about where they are sleeping or how they are living. My boss is a good boss, she cares very much. If I don't have something, she tells me I can talk to her and she can help me. Others aren't as lucky.
'I don't want Julius Malema to fire white people. If white people leave the country, black people don't have the experience to run the farms and businesses. In our government there is a lot of corruption. If you could stop that, I think this could be good.'
Stuart Chait, 45, property developer and entrepreneur, Clifton Bay, Cape Town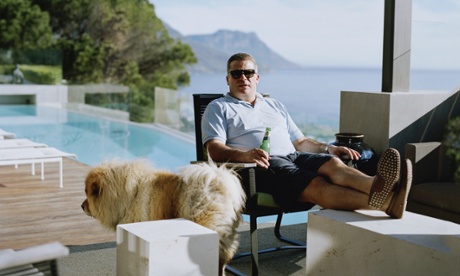 Chait's home is valued at £8.7m and has three armed security guards.
'If you look at the dollar billionaires in South Africa, there are only 15. The real wealth here is in the hands of the Anglo South Africans – people like the Stanleys, the Rothschilds and the De Beers.
'In South Africa they love going on strike. There's a sense of entitlement because of apartheid. It translates into laziness, crime and drugs: 23 million people are on social grants, out of a population of 53 million.
'From a foreign perspective, the ANC has governed well – people come for holidays and to invest in our resources and stock markets. But on a national level the ANC has failed the vast majority of people, and that affects us all – if you're not safe and secure in your house, then they're in breach of the constitution. One woman might be raped in Sandton but 1,000 more women are raped in the townships. On the positive side, the young kids who are finishing school today are totally colour blind.'
Julius Malema, 33, Economic Freedom Fighters leader, Johannesburg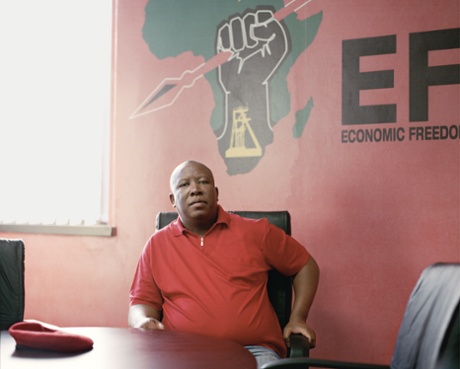 Malema served as president of the ANC Youth League from 2008 until his expulsion from the party in April 2012. In 2013 he founded Economic Freedom Fighters.
'White farm owners might say our policies would be a disaster, but we think disaster is how we live now. There is poverty, inequality and joblessness. What we are proposing is to share the wealth of the country and return the land to the rightful owners, in order to deliver on promises that were made in 1994. It can be done through nationalising the land, the banks, the mines and other strategic industries where the state becomes the majority shareholder. Then we've got equal opportunities and access to this country's resources. Without that, we've lost our identity.
'The so-called policy of Black Economic Empowerment is not of ANC making. It was invented by white monopoly capital to defend its own interests, through co-option of politically connected or influential individuals, who serve as economic security guards. That's why it will never bring any desired results: it's meant to undermine any effort to challenge colonial, apartheid patterns of property ownership.'
Thuli Madonsela, 52, public protector of South Africa, Johannesburg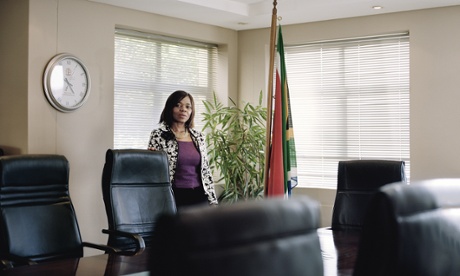 As public protector, Madonsela investigated the multimillion-dollar state-funded upgrades to president Jacob Zuma's private home, declaring some unlawful. Her report has been met with much criticism and opposition from representatives of the ANC. 
'When the courts make rulings against the ANC, then they will wake up. The courts here have great integrity, they have guarded their independence jealously. The hostility aimed at me has been surprising and shocking. We wanted to avoid a public spat with the president. The response to the report saddened me.
'He could have just said sorry, with the benefit of hindsight. We're saying they failed in their duties. In South Africa, there is an increase in malfeasance and there is an increase in corruption, and that's why this case is important, focusing on the value of administrative investigations.
'Are they something we pour a fortune into, and then they mean nothing? Because if we're going to fight corruption only using convictions in a court of law, we might as well forget about it. The public sector is not based on the criminal justice system. The public sector is based on trust.'
Christolene Eksteen, 33, with one-year-old son Kayle, Blikkiesdorp informal settlement, Cape Town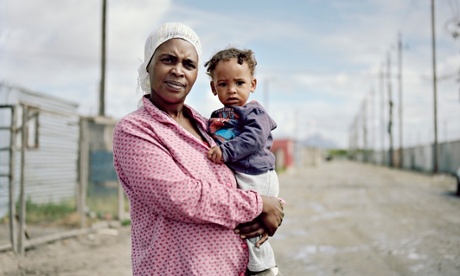 'I don't want to stay here, it's not the right environment to raise children. The huts are cold and they flood when it rains. I'm unemployed at the moment. Normally, I'm a cleaner.'
Mark Solms, 53, vineyard owner and neurosurgeon, Solms-Delta farm, Cape Winelands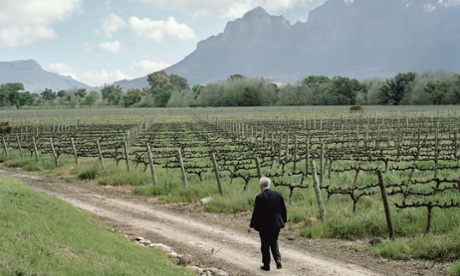 'I left South Africa for England when I was 26, as I didn't want to be in the army supporting apartheid. After years away, I wanted to come home and make some contribution. I took on this farm in 2001 and gathered my new staff and workers. I wanted to run it in a way that is fair. The workers thought I was mad. They began to come in late or not appear on Mondays. Everything fell apart.
'I realised I was taking on the whole history of South Africa. My ancestors took their farms for themselves. It destroyed the local economy and, worse, there was genocide. I was taking on that legacy. I knew people like me should give the land back, but I couldn't do it. Instead I mortgaged the land and bought the farm next door, so the workers could own that land. We now have three farms as part of a trust combined into one enterprise. Each of us – me, my partner and the workers as a group – have one third of that. The mood on the farm is transformed. It's like living in a village. We have very good wages, there's a farm workers' committee and we started a pre-school on the farm.'
Moffat Masethi, 40, Blikkiesdorp informal settlement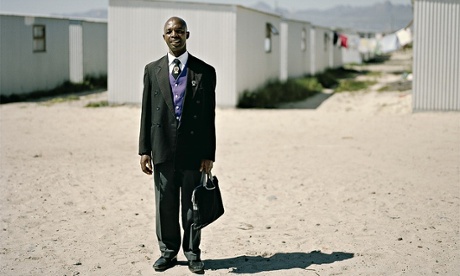 'I work for a company that sells used cars. The government is trying to do a good job, but there are too many people who need help.'
Tumiso Tsukudu, entrepreneur and grandson of the late anti-apartheid leader Oliver Tambo, Cape Town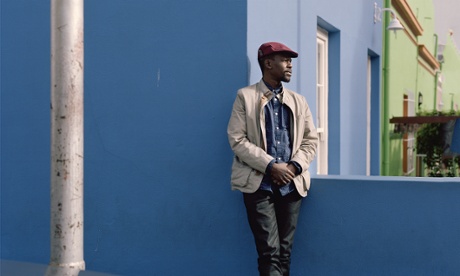 'After apartheid there was no rebalancing, no reconciliation. The ANC should have disbanded when they achieved their goals. Now they've tarnished their name. I'm pissed off that they've tainted their legacy so badly. Since apartheid, nothing has changed, there's just a different face running it and a so-called black elite as a buffer. Government ministers aren't using their position to effect change; they are just enriching themselves.
'I grew up in a township, but I went to the best prep school in Cape Town, one of only five black children out of 500 pupils. That was in 1985. In the townships it was like living in Palestine; roadblocks and checkpoints, tear gas, rioting, cops, shooting. I would leave home and drive through that into the leafy suburbs where I went to school. Apartheid has ended and the restrictions have gone, but they've remained mentally. Look around Cape Town: there are no black people.'
Mark Williams, headteacher, Macassar primary school, Cape Town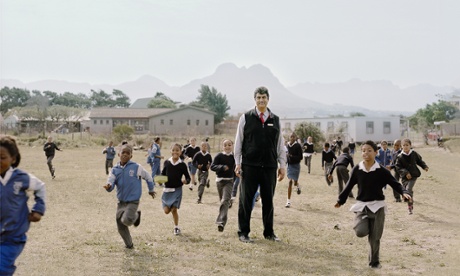 'Funding of schools is no better than it was under apartheid. We have 695 learners whom we feed. We have 28 teachers for 1,108 kids – it's way too many per teacher.
'Kids get very little parental guidance or educational stimulation at home. We teach them how to brush their teeth, how to use a flushing toilet. Some of their homes have no table, no inner walls, just one room that serves as bedroom, kitchen and living room. We have a high proportion whose mothers are taking tik [crystal meth]. Many of our nine-year-olds can't read or write.
'I've taught in Macassar for 27 years and the community I serve doesn't see education as a priority. There is no aspiration, no motivation. People are dependent on social grants. The general feeling about our government is that they are looking out for themselves and their immediate families. Every six months there's another scandal.'
Lizann Entelbear, 18, and Felicity Jacobs, 22, former students at Macassar primary school, now prostitutes in Macassar, Cape Town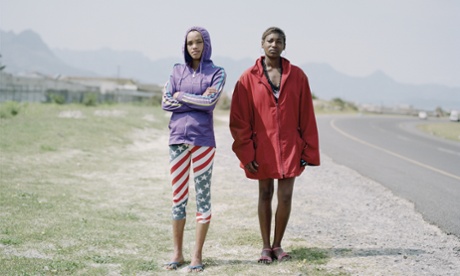 Lizann 'I've worked on the road for six months. I'm out here every day. People pay 200-300 rand (£12-£17) if I do a sleepover. Some girls do it for as little as 50 rand (£3). Most of the girls are doing this. I pay nobody, but I never work alone – sometimes they try to force us to have sex without paying.
'When I was at school, I didn't have any ambition. Now I'm just trying to go forward with my life. I want to work with my mother. I'm waiting to hear from her boss, to see if I can have a job as a baker. I could make a better life elsewhere. I'll go to Johannesburg.'
Felicity 'I've spent one year working on the road. My son is seven, I had him when I was 15. If the police stop us on the street, they fine us 500 rand (£29). They know we are poor.
'I made bad choices when I was growing up. My mother didn't encourage me – she had many problems. When I was 15 I was looking after children at a family friend's home and some guys drugged me. I woke up naked, tied to a bed. I said I'd never come on the street but here I am. I would like to go far away in the hills, far from people.'
Lance Cohen, estate agent, Cape Town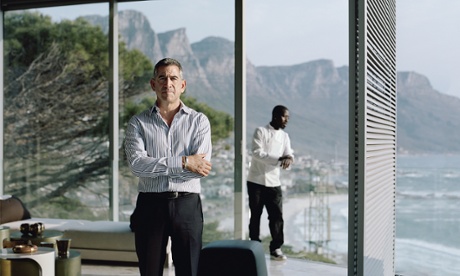 'In the last couple of years there's been a big move towards Cape Town from Johannesburg. Everyone I knew had been car-jacked. Crime here is lower. In townships it's another matter, it's crazy. But we're not affected by it. Most houses have security and private guarding.
'Property is becoming more expensive: entry-level homes are beyond the means of most South Africans. I would say the ANC has failed on its promises to the masses. There are people who have benefited from Black Economic Empowerment, but only a couple of thousand, and they are worse to their own people than the whites are.
'I deal with people when suddenly there is new wealth, including black buyers. There's been a lot of corruption. Those at the top of the food chain have benefited unbelievably. But it hasn't filtered down. Since democracy came, I don't see much of a change for the underclass of South Africa. The money has been concentrated in too few hands – there hasn't really been a redistribution of wealth. You barely see a black face when you're at a restaurant in the evenings.'
Pitso Maleka, founder of grave-digging business PM Grave Closure, pictured at Lenasia cemetery, Soweto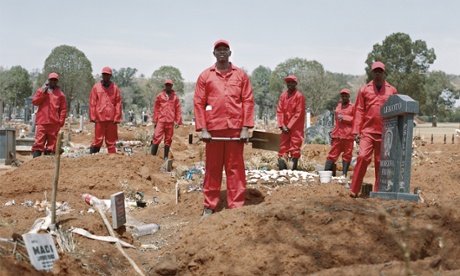 'I employ 20 men full-time and 60 men part-time. There's nothing wrong with the government: people want too much for free. I started on my own, no one helped me. But people don't want to think, to use their own brain. They want the money to fall from heaven. You must go out, hustle, work, push. It's true, all the ANC people are now in big expensive cars, but why should we complain? We need to just get hustling ourselves. Us blacks come from poverty, so when we get money, we spend it like nobody's business. I did that for two to three years, but not any more.' •