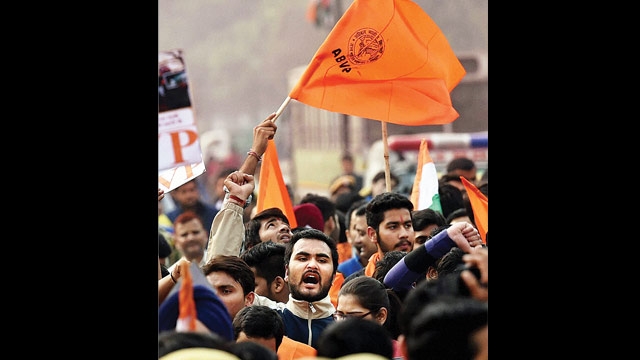 Close to a hundred people from various institutes, student unions, labour unions and a few teachers from the city gathered outside the University of Mumbai at a protest gathering against the Akhil Bharatiya Vidyarthi Parishad (ABVP) and brahminisation of campuses across the country.
Organised by the Joint Action Committee (JAC) Mumbai, the protest was directed against ABVP as students responded to the reported violence at Ramjas college in Delhi.
Participants gave a message of "Say No To Lathis, Stone-Pelting & Bloodshed, Stand for the freedom of debate and dissent".
Students from several prominent institutes in the city like the University of Mumbai , Tata Institute of Social sciences(TISS) and the Indian Institute of Technology, Bombay were a part of the protest.
Protestors said that with the BJP rule, ABVP is resorting to violence without being punished for the same. "It is not a coincidence that ABVP has come to the level of resorting to physical attacks on students in such a routine manner in last two years. With coming in power of fascist-minded BJP in the centre, the ABVP goons enjoy immense impunity. Every voice of protest is being dubbed as 'anti-national' and being suppressed. Students from Dalit, Muslim, Adivasi and OBC communities are particularly targeted. Murderers of Rohith and abductors of Najeeb are openly roaming around," read a statement issued by JAC.
http://www.dnaindia.com/mumbai/report-students-of-mumbai-university-tiss-iit-bombay-protest-against-abvp-2342792