Activists' arrest:
Bharadwaj, who has consistently argued that laws such as the UAPA are draconian — which she now finds being used against her — had also challenged the Chhattisgarh Special Public Security Act.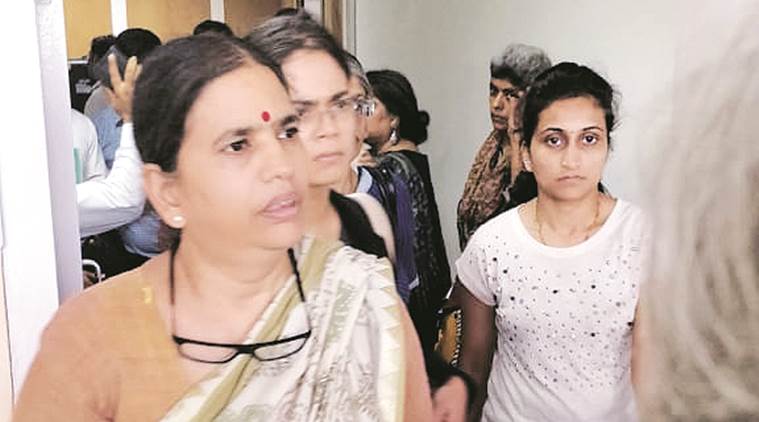 Bharadwaj played a big role in unionising workers in areas such as Dallirajhara and Bhilai Steel Plant.A day after Sudha Bharadwaj's arrest, there were small, symbolic protests on Wednesday against the police action throughout Chhattisgarh by different groups that have worked with her over the years. There were protests held by union workers of Bhilai Steel Plant, among her lawyer colleagues in Bilaspur, and from people across social organisations in Raipur.
Bharadwaj first came to Chhattisgarh in 1986, two years after she completed a Masters degree in Mathematics from IIT-Kanpur, and was immediately associated with Chhattisgarh Mukti Morcha, which was born out of the Chhattisgarh Mines Shramik Sangh.
Bharadwaj played a big role in unionising workers in areas such as Dallirajhara and Bhilai Steel Plant, leading agitations for implementation of labour laws, fair pay and safe working conditions. Over the years, Bharadwaj worked closely with other organisations in the state that dealt with issues of human rights, mining and displacement such as the Jagdalpur Legal Aid Group, Bastar Solidarity Network, Human Rights Law Network and Chhattisgarh Bachao Andolan.
In 2000, Bharadwaj completed a Law degree from Ravishankar University in Raipur and has since been practising in Chhattisgarh High Court in Bilaspur. In her career as a lawyer, she has fought cases at the National Green Tribunal, labour court, industrial court, district courts, Central Administrative Tribunal, and has appeared before judicial commissions of inquiry.
From 2014 to 2016, she was nominated by the High Court of Chhattisgarh to serve as a member of the State Legal Service Committee. The 57-year-old advocate has intervened in cases ranging from murder of a journalist to rape victims and rights abuse in Bastar to those related to the environment.
In 2015, Bharadwaj filed a writ petition for the family of journalist Umesh Rajput, who was killed in Gariaband in 2011. She sought a CBI probe, which was eventually granted and two arrests were made. In another case, appearing for the family of rape and murder victim Pingla Raj, Bharadwaj's intervention had made the High Court order a reinvestigation, forcing the police to conduct a forensic test.
Known widely for her work as a human rights lawyer, Bharadwaj has argued for victims of alleged fake encounters and sexual abuse by security forces in Bastar, working closely with the Jagdalpur Legal Aid Group. In November 2017, the National Human Rights Commission (NHRC), which Bharadwaj had petitioned, slammed Chhattisgarh police and Sukma district officials for "turning a blind eye" to the alleged murder of seven people and the burning of homes by "special police officers" of Salwa Judum in 2007. In a sternly worded notice seeking reply from the state government in eight weeks, the NHRC observed that these acts suggested that the state or district administration abetted these crimes.
This had come after NHRC had directed Bharadwaj to collect more information and send a report in April 2017.
Bharadwaj, who has consistently argued that laws such as the UAPA are draconian — which she now finds being used against her — had also challenged the Chhattisgarh Special Public Security Act.
Bharadwaj is currently under house arrest at her residence after the Punjab and Haryana High Court stayed her transit remand late Tuesday night and ordered police to not take her to Pune until the next hearing on August 30.
"Last time I spoke to her was on July 31. We talked about a case where companies, including Jindal, HECL had flouted environmental regulations in the Raigarh belt, they had not adhered to environmental laws while mining in the area. On the same day, the National Green Tribunal upheld our 2014 petition and ordered the companies to rectify the damages. They set up a two-member committee to execute the orders. Sudha was the lawyer on record and legal advisor in the case," said Rinchin.
The WSS released a statement Tuesday, saying the police "essentially crushed the judicial process and further vitiated the environment of fear". Working with the WSS, Bharadwaj has legally represented several women who were victims of sexual violence, many of which were perpetrated by security forces themselves.
"Sudha was part of the legal process on judicial inquiry into the rape and fake encounter of Mina Khalko and many others. She has stood by victims over the years. She has been a very important member of the WSS," Rinchin said.
After Bharadwaj took up legal practice, she founded a lawyers' collective called 'Janhit' to fight pro bono for the rights of the marginalised in Chhattisgarh.
"No lawyer was ready to come work here, so she studied law and did it herself," Rinchin said. Shishir Dikshit, a member of Janhit since 2010 and a lawyer in Chhattisgarh High Court in Bilaspur, also spoke to News18 and maintained that the charges against Bharadwaj and others are false and fabricated.
"Sudhaji wasn't even working on anything specific at the moment. She had taken a break and gone to Delhi to teach. We often consulted her on ongoing cases and were in regular contact. Lawyers have petitioned the Supreme Court and now we're waiting to see what happens," said Dikshit.
"There is no case here. It's a targeted attack to suppress human rights activists and lawyers," he added.
Chhattisgarh, a mineral rich state, has always been ripe for corporate picking and has seen numerous cases of illegal tribal land acquisition, human rights violations and sexual violence over the years. It is also a place that is said be to be dangerous for activists, lawyers and journalists, many of whom have had to face retaliatory police action. "We all know how the environment is, we know the threat. Voices are being suppressed. Even though we know that there is concern about personal safety, Sudha and I mostly talked about work," Rinchin said.
Chhattisgarh PUCL president, Dr Lakhan Singh, also talked to News18 and maintained the same. "Ek dar ka mahaul banaaya ja raha hai (an atmosphere of fear is being created). Those who are fighting for the rights of tribals, Dalits, marginalized, are being hounded. The government is trying to scare them, because the state itself is scared of them. Sudha has worked here for thirty years. She has been involved in fact-finding and recently she contributed to a National Human Rights Commission (NHRC) report, which implicated several IPS officers of human rights violations. The police action against her is in retaliation," Singh said.
Prabhat Singh, a journalist based in Chhattisgarh, who himself was arrested by the police in 2016, also spoke to News18 and said that activists and journalists have long been targets of the state. "Whoever tries to bring light to the issues of tribal and marginalized communities in Chhattisgarh, becomes a target. This was bound to happen. Everyone knows that the evidence is cooked up and unverified. Sudhaji has worked here since the time of Niyogiji (the late Shankar Guha Niyogi, founder of Chhattisgarh Mukti Morcha) and her work is exemplary," Singh said.
"She was even responsible for drafting a PUCL legal document calling for a law for safety of journalists. Three years have passed, around 150 journalists in Chhattisgarh have been attacked, but government has not acted on it," he added.
Rinchin and Singh maintain that the fight will go on. "She is not alone. The communities she works for, know what the truth is and they will stand with her. There were protests in Raipur yesterday. There's anger among the villagers. There will be more protests," Rinchin said.
Singh said that there is a big protest planned in Raipur on September 1 too. "Hume dabaa nahi sakte," he added. Meanwhile, the work that Bharadwaj and many like her have been doing will continue. According to Rinchin, there are more pressing matters at hand. "Kaam chalta rahega. Ladai bhi chalti rahegi," she said.
Indian express and TV18