Written by Sreenivasan Jain (With inputs from Niha Masih) | Updated: April 05, 2014 23:13 IST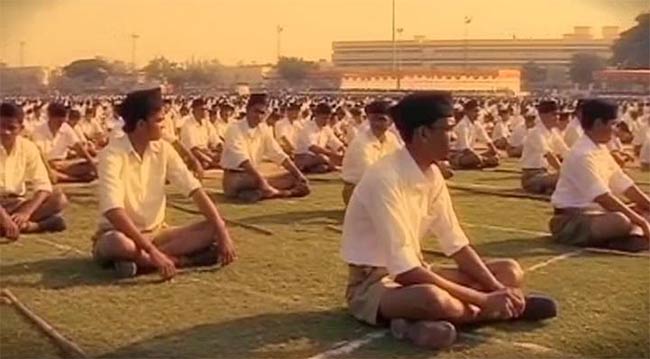 Muzaffarnagar: As a group of Sangh Parivar activists fresh from the morning RSS shakha hit the campaign trail, some of them still in the trademark khakhi shorts, the narrow bylanes of Patel Nagar, a middle-class neighbourhood in the heart of Muzaffarnagar resonate with slogans of 'Hindu-Hindu bhai-bhai', 'Vande mataram' and 'Ab ki baar, Modi sarkar'.
The group comprises of members of the RSS and its affiliates like the Vishwa Hindu Parishad, as well as the RSS's consumer forum. Here, as in other cities of Uttar Pradesh, there is none of typical RSS coyness about playing an overtly political role, as they hand out fliers and handbills asking for a vote for Narendra Modi, and for the local BJP candidate.
But the message they are taking to voters is somewhat at variance with the BJP's emphasis on growth and development.
Harish Bhatia, in charge of the RSS' culture coordination cell for Muzaffarnagar told a voter that the "time has come when Hindus need to unite, and that Modi is the man for the job."
The same message was repeated by Lalit Maheshwari, the VHP's Muzaffarnagar head who told a woman voter "in the present circumstances you have seen how Hindus were tortured and we have to do something and Hindus need to unite to make Modi win. We have come from BJP and we request you to vote for BJP to make Modi ji Prime Minister."
They say the Sangh Parivar's vigorous participation is because Modi more than anyone in his party, is defender of Hindu rights. As Maheshwari told us, "The central and state governments are one-sided, and this has made everyone unhappy. As a form of reaction, every Hindu and Hindu family have raised their voice for Modi's government. When we see Gujarat model, we think we need such a Prime Minister who is clear about his mission."
They say that none of them would be here, participating so vigorously, if it wasnt for Modi.
The VHP's Vijay Chaudhury who is in charge of the wing that organises satsangs seemed to elevate Mr Modi to a higher level. "Let me tell you like we believe in Sanatan dharma and Hindu religion, we believe many gods like Omkar, Bhrama, Vishnu, Mahesh. No individual can be equal to god, but we worship idols of gods. That idol is not god but our heart believes it to be to god. We pray both at home and at temple. But when we visit a temple the environment there is different. This is the same environment in politics. We have Modi's image then it is easy for us to explain."
The idea of supporting Modi as a champion of development seems secondary. One of the RSS activists told us that they hope Modi will be able to lift Uttar Pradesh from a mire of crime, unemployment and power cuts, just as Modi has done for Gujarat.
Some of the forceful assertion of Hindutva we came across might have to do with location. The BJP's main rival in riot-hit Muzaffarnagar is the BSP's Kadir Rana, himself charged with making inflammatory speeches in the run up to the riot. Rana benefits from the demographics: Muslims and Dalits together make up almost 50% of the voters here, ensuring his massive victory in 2009.
The only way for the BJP's candidate – a local Jat leader, Sanjeev Baliyan – to stand a chance is to hope that the riots, and the Modi card, will lead to a Hindu consolidation, in which some Dalits too break away. The RSS  introduced us to a  pradhan of a Dalit basti in Patel Nagar, who says that he considers himself to be staunchly Hindu, and that he and his community will vote for the BJP.
To extend the politics of polarisation to the countryside, where the BJP is weak, the VHP brought down sants and sadhus from nearby Haridwar and Meerut to hold meetings in villages last month. The VHP's district general secretary, Bhupinder Singh told us that "the message from saints was to save Hindus and for the development of the country we need 100% voting."
When we asked whether the Sangh Parivar campaigns in Muslim areas of the region, Ajay Bansal, the head of the RSS' Patel Nagar shakha said that they tried, but were not allowed into those areas.
This ground reality is at odds with the explanation offered by the higher leadership of the RSS, who says that they chose to back the BJP not to inject a Hindutva agenda, but because the nation had to be shed from UPA rule. Ram Madhav, RSS spokesperson, said, "The only issues for the RSS are security, economy, corruption, social fabric being destroyed in the name of caste, region, religion, minority, majority. Now you can pick any one item and say this is Hindutva. But I say all this is Hindutva. Whole thing is Hindutva."
Mr Madhav claims the primary role of the RSS was to help the BJP's grassroot election management to which end they have put in place a grid, using the existing RSS structure. At the top are prant (region) in-charges, who head a cluster of 10 Lok Sabha seats. Below them, there is an in-charge for each Lok Sabha seat, and one for each of the assembly seats. Each assembly seat in turn has about 200 booths. The RSS has appointed an in-charge, known as a basti pramukh for every 10 booths.
In Muzaffarnagar, as in other cities, the RSS has used this grid to carry out voter registration drives. "It has been going on for a month. You have to enter you mobile number, after which you get a message and a call from Modi that you are now a Modi supporter," says a local RSS activist.
To make the grassroot campaign more effective, the Modi campaign team and RSS have jointly created a website called bharatvijay.com.
The site has been set up at the RSS' request by Rajesh Jain, the Mumbai-based founder of software consultancy firm NetCore Solutions, someone who has been running Modi's online campaign for the past several years. Jain's team of 200 data engineers have processed a massive amount of election data of the past four Lok Sabha elections, covering nearly 400 seats, in a form that makes it useful for the RSS activists on the ground.
Using the site password, RSS activists can access detailed election data of their Lok Sabha seat, right down to village level: for instance, how many villages are electorally safe, how many battleground, how many unsafe. As Ram Madhav says, "It helps us to understand the character of a given constituency. For example census data, demographic data helps to understand how many youngsters are there, how many old people, men, women, schedule caste, schedule tribe."
What is clearly emerging is a RSS campaign that is operating at different levels, with messaging that alters depending on the context. For instance, The India Foundation, an RSS-backed think tank was behind organising an interaction between Modi and leading Indian corporates in New Delhi last month.
But on the ground, the RSS messaging seems to inevitably drift towards a Hindutva idiom. The key question is: will the Sangh activists who fought so hard for a Modi sarkar expect a quid pro quo should it become a reality?
Some of the RSS activists we met in Muzaffarnagar voiced an agenda fairly aligned to the Modi's own campaign pitch, "If Modi comes to power, we hope that there will be equitable development for all citizens. Secondly that all youngsters will get employment. Another issue is all the Chinese goods flooding our market and the local manufacturing units are in trouble. So, if he comes all these problems will get resolved and local employees will get jobs."
But it is negotiating the demands of the more extreme members of the Sangh Parivar that may prove to be a challenge for Modi. Like the VHP, which says Mandir is not the core issue but only for now. As Maheshwari told us, "The Ram Temple issue has not been forgotten but for now we are looking at the nation. In this country when a nationalist government will come, Ram temple will be built. Not only Ram temple, but the Kashi Vishwanath Temple in Benares and others. We have all that in our agenda but for now we want to bring nationalist government."
Given his track record in Gujarat, Modi may be able to keep the demands of the Sangh Parivar – mainstream and fringe – at bay, but RSS watchers say that accepting such overt RSS support, could prove a greater challenge for Narendra Modi, than immediate demands for quid pro quo by the saffron coalition working to ensure his victory.
As former BJP ideologue Sudheendra Kulkarni told us, the RSS support to the BJP is "because the RSS thinks that the party is undergoing a generational change in leadership and therefore whenever the new leader settles in it has to be it has to have a very strong RSS stamp over it, and when I say leadership not just leadership at the center but right down the party organization. This is part of a very systematic well thought out strategy that was put in place I would say well over a year ago."
Read more here — http://www.ndtv.com/elections/article/election-2014/truth-vs-hype-the-rss-mission-modi-504888