Let's be honest, we've all had problems with our education. I mean, I've got the formula for (a+b)2permanently seared into the back of my brain but I doubt I'll ever be in a situation where I'll be sitting there thinking, "Thank God I paid attention in that maths class". But jokes aside, sometimes our texts do have some really disturbing things in them. Like when one mentioned rape accused Asaram Bapuas a 'great saint'. So here are a few more we were able to find.
1. "They (non-vegetarians) easily cheat, tell lies, they forget promises, they are dishonest and tell bad words, steal, fight and turn to violence and commit sex crimes."
This is an excerpt from Class 6 textbook titled 'New Healthway: Health, Hygiene, Physiology, Safety, Sex Education, Games and Exercises'. And yes, published by S.Chand's, this is a CBSE-issued text.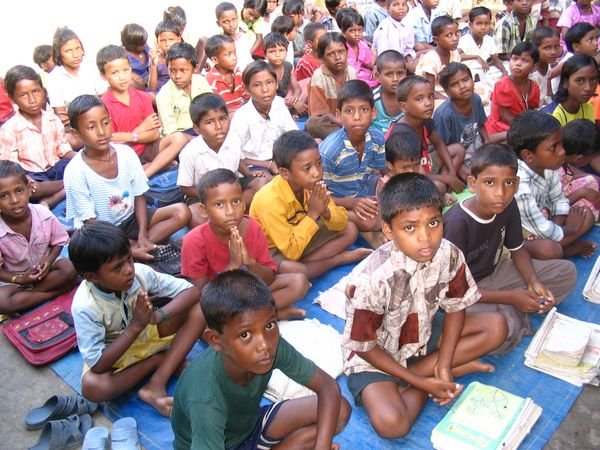 Source: WordPress
2. "Hitler lent dignity and prestige to the German government within a short time, establishing a strong administrative set-up."
This is from a chapter titled 'Internal Achievements of the Nazis'. Used as a guide for children aged 13-15 years old, a government official said the anomalies in the book arose "when the book was translated from English to Gujarati, and are being quoted out of context".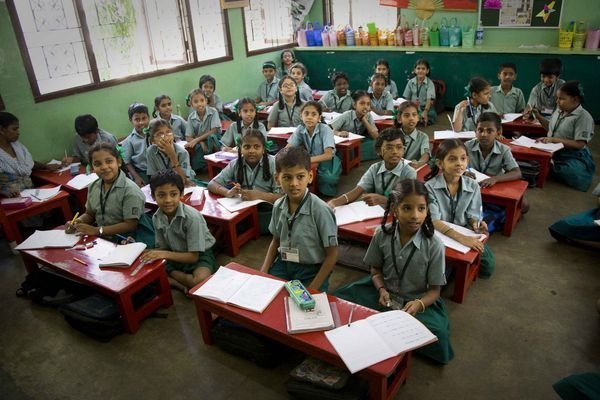 Source: Wikipedia
3. Rape accused Asaram Bapu was listed among the 'great saints'.
In this state school textbook, self-styled Godman finds himself in the company of Buddha, Mother Teresa and Guru Nanak.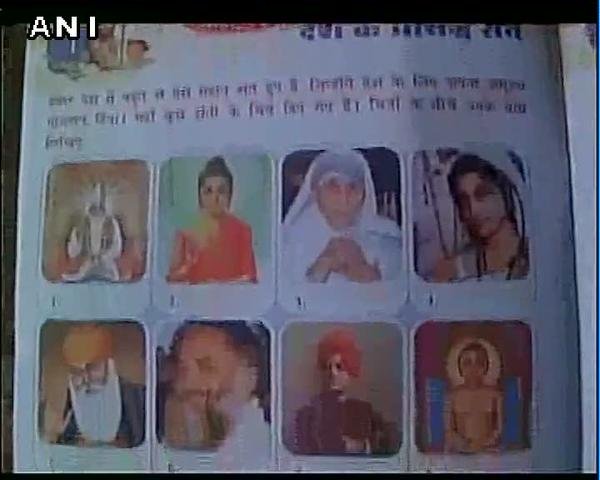 Source: Twitter
4. 'At a dinner with a Briton, Radhakrishnana said,"Friends, one day God felt like making rotis. When he was cooking the rotis, the first one was cooked less and the English were born. The second one stayed longer on the fire and the Negroes were born. Alert after His first two mistakes, when God went on to cook the third roti, it came out just right and as a result Indians were born."'
This is an extract from a book by Dina Nath Batra a veteran teacher and former General Secretary of Vidya Bharathi, the school network run by the RSS.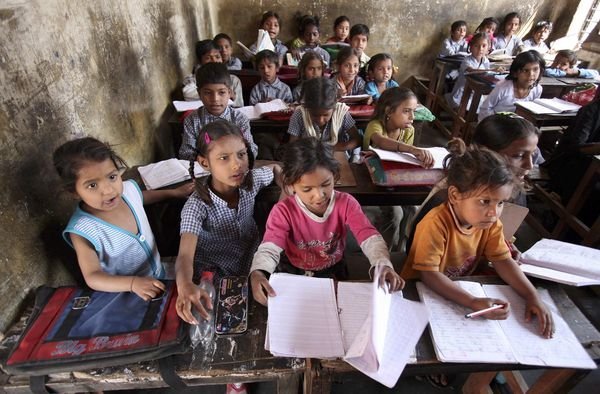 Source: LatitudeNews
5. Sonia Gandhi, Pervez Musharraf and George Bush were listed as 'great leaders' in an NCERT textbook.
While people's measures of 'greatness' are totally subjective (one person's great man is another's buffoon) but a list that starts off with Nelson Mandela and the Dalai Lama, shouldn't go on to include Musharraf, Sonia Gandhi, Atal Bihari Vajpayee and George Bush.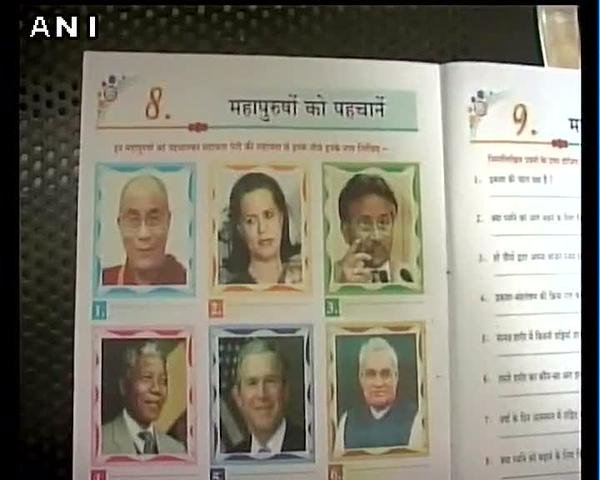 Source: Twitter
6. "A donkey is like a housewife… It has to toil all day, and, like her, may even have to give up food and water. In fact, the donkey is a shade better… for while the housewife may sometimes complain and walk off to her parents' home, you'll never catch the donkey being disloyal to his master."
This reference was made in a textbook meant for 14-year-old children. When contacted by NBC, a state official said, "The comparison was made in good humour".  Yep, just the kind of education this generation needs.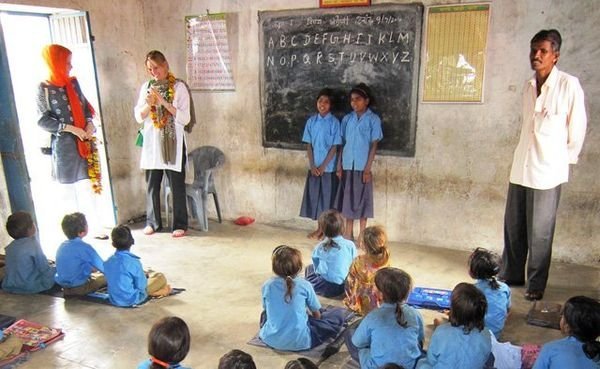 Source: Observer
7. "The pilot and the Indian together thrashed the negro and tied him up with rope. Like a tied buffalo, he frantically tried to escape but could not. The plane landed safely in Chicago. The negro was a serious criminal and this brave Indian was an employee of Air India."
Good to know that Air India has a fan. This is another one from the works of Dina Nath Batra.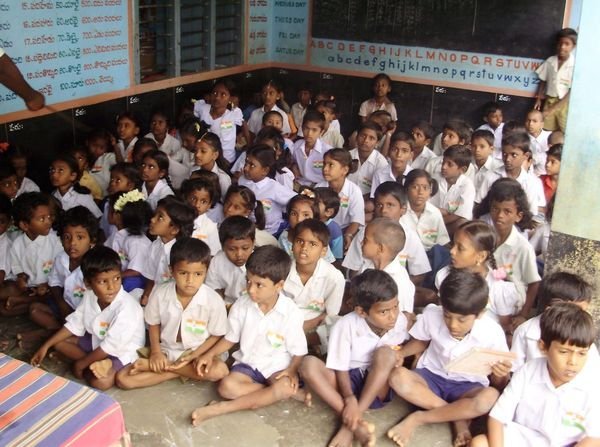 Source:  Wikipedia
8.  After Partition, "a new nation called Islamic Islamabad was created" and "Japan dropped a nuclear bomb on the United States".
This is a text that just takes blatant misinformation to a whole other level. Other "facts" in the text include Gandhiji being killed in October 1948 (he was killed in January), the capital of "Islamic Islamabad" being "Khyber Ghat" and that all South Indians are called "Madrasis". Ah, education.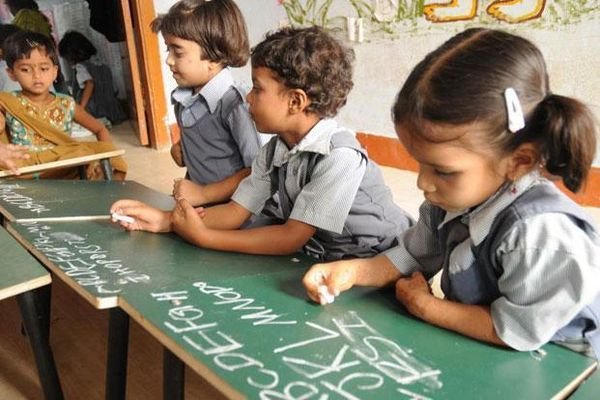 Source: IndiaOpines
9. "Instead (of a birthday with cakes and candles), we should follow a purely Indian culture by wearing swadeshi clothes, doing a havan and praying to ishtadev (preferred deity), reciting mantras such as Gayatri mantra, distributing new clothes to the needy, feeding cows, distributing prasad and winding up the day by playing songs produced by Vidya Bharati."
Taken from Dina Nath Batra's book Shikhan nu Bharitiyakaran (Indianisation of Education), the book is set against celebrating birthdays with cakes and candles because it's a western practice.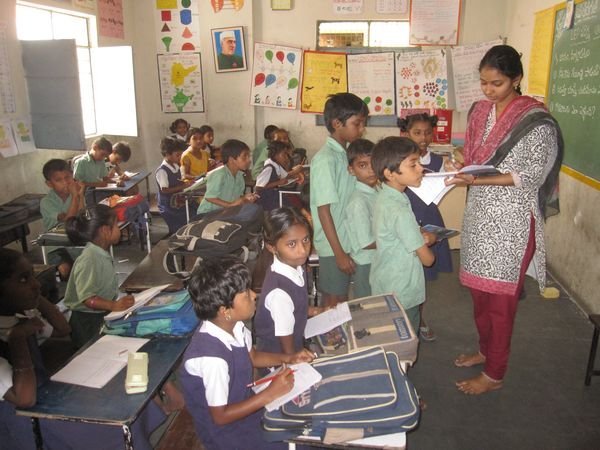 Source: WordPress
10. The Indian map should include "countries like Pakistan, Afghanistan, Nepal, Bhutan, Tibet, Bangladesh, Sri Lanka and Burma" as it's all a "part of Akhand Bharat. Undivided India is the truth, divided India is a lie. Division of India is unnatural and it can be united again."
This is an excerpt from the book Tejomay Bharat (Shining India). Once again, by Dina Nath Batra.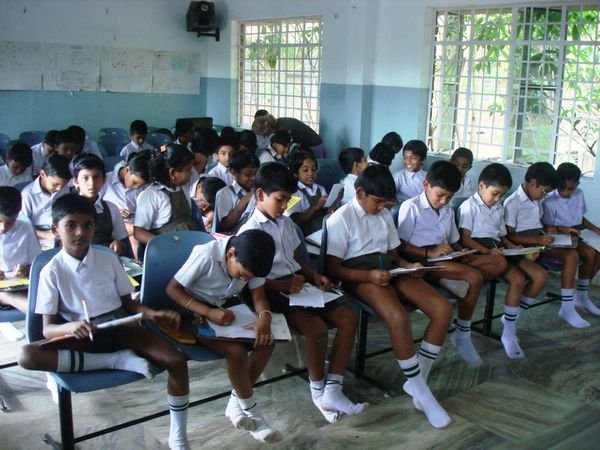 Source: SnipView
11. ​Lesbianism is a product of "unnaturally intense friendships… where outlets for a more normal sex drive do not exist" or even a "faulty environment" and claims that the "accompanying deep love… may lead to suspicion, jealousy, suicide or murder".
Okay, so this one is not state text for a school. It's just an excerpt from The Essentials of Forensic Medicine and Toxicology. And what's that you say? Oh just a text that's part of the syllabus for AIIMS.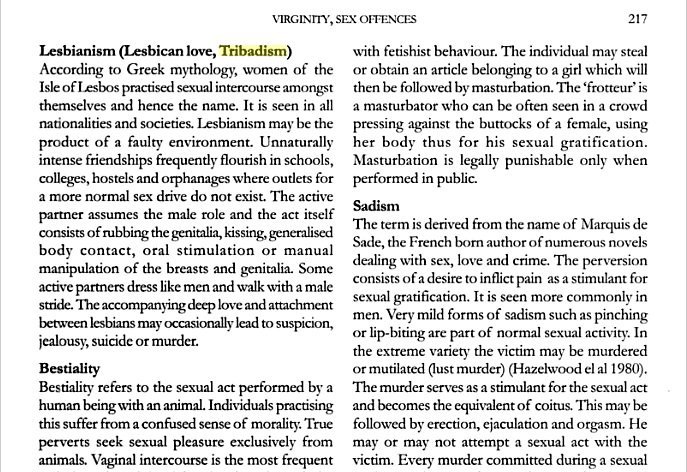 Source: GoogleBooks
http://www.scoopwhoop.com/inothernews/indian-school-textbooks-contained-really-disturbing-things/