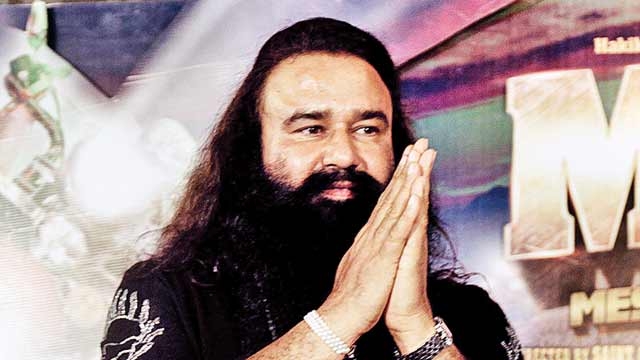 Following the arrest of stand up comic Kiku Sharda, Malavika Sangghvi pens a letter to Sant Gurmeet Ram Rahim Singh about his masterpiece Highway Love Charger
Dear Sant Gurmeet Ram Rahim Singh Ji Insan,
Aloha and Yo! I write in reference to one Kiku Sharda aka Palak whose recent arrest has dismayed many including myself. Sharda was one of the bright blobs on that toe-curlingly, low-rent slapstick extravaganza called Comedy Nights With Kapilwhich for TV watchers like me reaches the parts that Arnab and Bigg Boss can't. It's not hard to see why Sunil Grover as Guthi, a mildly epileptic spinster given to wild crushes and shy smiles, is lauded for her method approach to acting given that the high point of the rest of the show is its farting and burping jokes.
Ever since news of Sharda's arrest blighted my waking hours, I have been overcome with great gloom and I write to you to tell you that the only thing that has dispelled this cloud are repeated and very loud renditions of that abiding proof of your musical genius Love Charger.
Sir, I have not only heard your song many, many times but I have also been watching it now non-stop for the past four hours and to say that I am staggered would be an understatement. It is by a long shot the most… how shall I put it… interesting piece of creative enterprise that I have come across in a long, long time.
Sir, ever since you burst upon the screen imploring us all to Say Every Body/Our Satguru The Love Charger/True Love Charger/You is The Love Charger/You are The Love Charger/ ending that edifying verse with I am so Lucky Because, truth be told, I have been unable to take my eyes off you.
Sir, how did you come up with that darling thought, guaranteed to light up a million smiles: Billions battery when goes down/You charged up with Love/ So strong Your Power Love?
You sing these words with your eyes coyly down, but the impact of your very large biceps and the sight of those gigantic, psychedelic sunflowers framing your silhouette is riveting.
I, for one, had to go and lie down for a few minutes after hearing and seeing you, but soon I bounced back because the mesmerising rhythmic tattoo:
You are The Love Charger/
You are The Love Charger/
You are the care Taker/
You Are Love care Taker/
You are the care Taker/ 
was making my head spin and my toes tingle. Your play of word, Sir, is simply genius.
Sir, I have heard that you are something of a Renaissance man, writing, composing, playing all the instruments along with directing and shooting your own videos. Knowing this, I can safely say that Love Charger is one of the finest examples of a hallucinatory nightmare in a beer-sloshed pub in Gurgaon with a hundred Tihar jail escapees in attendance.
Any Moment Any Problem/
In heart Call you, you any wanna/
Next Movement Everywork (sic) u are Done 
you sing, eyes closed in meditative bliss.Your song is a deeply spiritual experience and makes me want to renounce the world — certainly the world of WWF Godmen who resembles Mika Singh on steroids. So dear spangled Saint and easy riding Guru, as I join you in singing the last verse of what will surely be my anthem for the rest of my life,
Meet' Heart/
Meet' Soul/
Was very very dull/
Satnam ji give full power./
Make me he for all/
You are The Love Charger/
You are The Love Charger/
I beseech you to ask your devotees to forgive and forget poor hapless Kiku Sharda aka Palak and let him live and mimic in peace hereon. After all he is but very small fry in the entertainment stakes compared to the prodigious, colossal, infinite talent that you possess.
By the way I think you're really groovy.
Salaams, salutations and a big drum roll.
From one very love-charged fan
Yours sincerely etc.

http://www.dnaindia.com/lifestyle/column-an-open-letter-to-sant-gurmeet-ram-rahim-singh-2166693