'There she was, standing before me, burning with fever but ready to dance. She was like that. When it came to her dancing it didn't matter to her whether she was well or unwell,' says the legendary Birju Maharaj.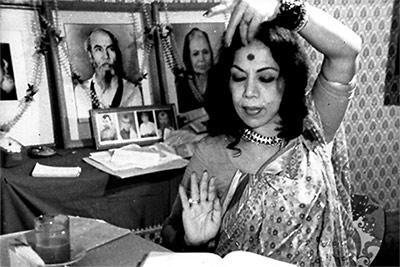 Danseuse Sitara Devi, who passed away on November 25 at the ripe old age of 94, leaves behind a void in the Kathak style of dance that can only be filled by Pandit Birju Maharaj.
Image: Sitara Devi, courtesy filmsdivision.org
Considered one of the most distinguished exponents of the Kathak dance form, Pandit Birju Maharaj pays his didi (elder sister) Sitara Devi rich tribute.
"She was an amazing soul, a free spirit and a dancer par excellence. I was in Mumbai last week. I had gone to receive an award. I tried to see her in the hospital. But her daughter-in-law said it was very difficult to meet her. One had to be fully protected against infection before seeing her. I lost courage and didn't go."
Recalls Panditji fondly, "Sitara was a student of my father Achchan Maharaj . She was trained under the best gurus. From the time I was 5-6 years old, she doted on me. Though she was much older, she'd touch my feet out of respect for my art. She'd say I was a guru as far as dance was concerned. Woh mujhe kitne pyaar karti thi main aapko bataa nahin sakta (I can't tell you how much she doted on me). Whenever we met in public, she would rush to embrace me and tell the photographers to quickly click us together."
An emotional Panditji, as he is widely known, says Sitara Devi was all heart. "She was filled with joie de vivre. And she did exactly what she wanted to. At a time when girls were forbidden from dancing and respectable families wouldn't allow their women-folk to dance, she had the courage to come forward and do what she wanted. And what a performer! Aisa riyaaz kiya hai ke woh riyaaz ki misaal ban gayi (the way she practised became an example for all dancers)."
Like all artistes consumed by their art, Sitara Devi was consumed by her passion for dance.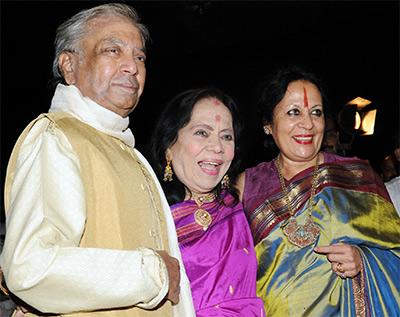 Says Panditji, "She could live without food but she couldn't live without dance. I remember one occasion when, before a dance performance that featured both of us, she fell ill with high fever. She came to me, woke me up and demanded that I show her a tukda (a dance piece) then and there. I protested saying she was unwell. But she insisted. There she was, standing before me, burning with fever but ready to dance.
Image: A legendary trio: Pandit Birju Maharaj, Sitara Devi and Sonal Mansingh, courtesy courtesy photodivision.gov.in
"She was like that. When it came to her dancing, it didn't matter to her whether she was well or unwell. Or whether the person she was turning to for advice for her dance steps was her senior or junior. Jo achcha lage wohi karna hai (she would do what she felt like)."
Though she was senior to him in age, Sitara Devi treated Pandit Birju Maharaj as her mentor. "She had so much guru bhakti (devotion to her teacher) inside her. She was once wearing a beautiful diamond ring. I commented on it. She immediately took off the ring and gave it to me saying, 'Aapse achcha toh kuch hai hi nahin (there is nothing better than you)"
Would there another mercurial dancing star like Sitara Devi?
Pandit Birju Maharaj sighs, "I don't know. I wish and pray there is another one like her. But it requires tremendous discipline and passion. She had ample mehnat (hard work) and guru bhakti in her."
Interestingly, both Sitara Devi and Birju Maharaj are associated with Bollywood. She has danced in films like Navrang and Anjali. He has choreographed for Devdas and Vishwaroop.
http://www.rediff.com/news/special/sitara-devi-did-exactly-what-she-wanted-to/20141126.htm