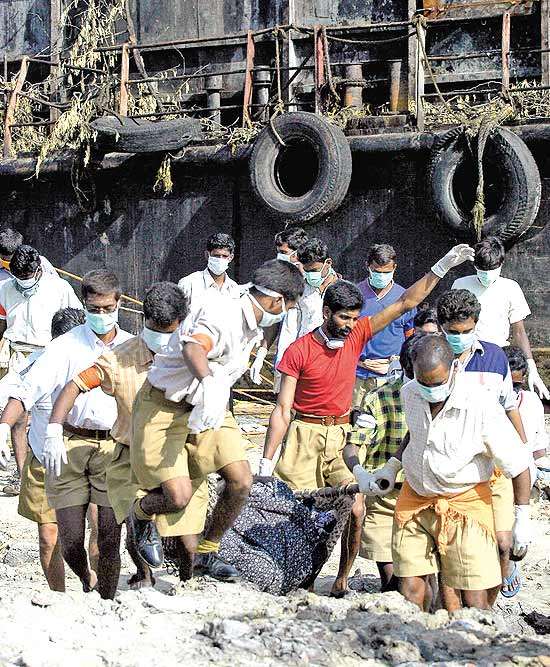 GETTY IMAGES (FROM OUTLOOK 30 JUNE 2014)
THE SANGH'S NGOS
The Right Kind
RSS-affiliated organs also receive foreign funds. But they are seen as benign, not threatening the state.
Foreign Hand ?
22,702 of the estimated 20 lakh NGOs filed returns on funding in 2011-12
13,291 NGOs received foreign funds; 9,509 reported receiving no foreign contribution
Rs 11,546.29 crore is the quantum of foreign funds received by NGOs in India
Rs 7,000 crore received by NGOs in five states: Delhi, Tamil Nadu, Andhra Pradesh, Maharashtra, Karnataka
Rs 233.38 crore, the highest amount received, by World Vision of India, Chennai
Rs 99.20 crore was the highest donation, from Compassion International, USA
Rs 418.37 crore was the donation from the Netherlands
148 NGOs received foreign funds in excess of Rs 10 crore
178 NGOs received funds between Rs 5-10 crore; 1,702 between Rs 1-5 crore
39.73% was the highest year-on-year jump in foreign contribution to NGOs, in 2006-07
Rs 2,253 crore of foreign contributions to NGOs goes towards 'non-core' activities
All figures for 2011-12
Source: Ministry of Home Affairs***One evening in late 1999, in the aftermath of a destructive super-cyclone, political scientist Shiv Visvanathan was travelling through coastal Orissa. He chanced upon a group of RSS workers engaged in relief work and suggested they join up with the NGOs for the enormous task of rebuilding the state. They told him, Visvanathan recalls, that RSS workers could cook for 1,00,000 people every night. "What will these NGOs do…distribute water-bottles?" he remembers them asking.The congenial encounter with the Rashtriya Swayamsevak Sangh made him wonder at its detractors who wanted the group's activities placed under official scrutiny, even halted if possible. Visvanathan says the RSS fancies itself as a sociocultural organisation—some say it is the world's largest NGO, under which an array of social organisations are nurtured like a second line of defence, protecting society, or parts of it. "Of course, in its malignant version, it nurtures unsettling goals—Sanskritising tribals, building a Hindu nation etc," he says.The RSS itself, however, is an unregistered body and submits neither income tax returns nor does it have a licence to receive money from abroad.
But many of the NGOs affiliated to it are among the 13,000-odd NGOs in India that received some Rs 11,546 crore in 2011-12, as per the information furnished by the ministry of home affairs (the share of Greenpeace India, which has been in  the eye of a storm after the 'destabilising' IB report against it, was a paltry Rs 60 crore). Several activists associated with different NGOs allege that the lion's share of foreign funds go to the religious organisations, including the RSS-affiliated ones.Indeed, the growth of the RSS provoked a group of US intellectuals in 2002 to ask around about its funding. They published a detailed account of how the American charity, India Development and Relief Fund (IDRF), donated much of its basket to the RSS, VHP and other Sangh-affiliated NGOs in India. The report wanted the IDRF to stop "funding hate" and challenged its claim of aiding India's development. They demanded an independent examination of its activities and the affiliation of the NGOs it funded. The IDRF did not respond to an e-mail from Outlook this week.
Its website does not have updated information either. However, information in the public domain shows that between 1994 and 2000, most of IDRF's $5 million fund poured into Sangh-affiliated NGOs.  In those years, when a donor asked IDRF to pick an NGO on their behalf, 83 per cent of the donation wound up in a "Sangh-affiliated" one, the study discovered. 
The Mumbai-based journalist and activist, Javed Anand, had at the time been a big supporter of the 'campaign to stop funding hate'. "Despite publicising details of the funds these NGOs get and the com­m­unal role some of them played, no official probe was initiated," complains Anand. "The issue deserves to be taken up, but it never is," he laments. The campaign had at the time explored the IDRF's role in funding the 'Vanvasi Kal­­yan Kendra'  which promotes "
ghar wapasi
" (homecoming, but really reconversion) of tribals even at the cost of escalating violence and tensions. This was the time when churches were destroyed in Gujarat (graphic details of the operation was provided by Aseem­anand, a prime accused in the Samj­hauta Express blast case, in a recorded interview to 
Caravan
).Besides education and healthcare, these 'Right-minded' NGOs claim to promote eco-friendly development and good governance. The RSS website, however, says the Sangh-inspired movements are either "social-reformist or anti-secessionist" and provides little other information on the NGOs. The RSS works largely through unregistered bodies in remote areas, in fields like environment protection, swadeshi and tribal affairs, claim insiders. Besides, it only floats what it calls "movements" (it has only a handful of registered NGOs of which no records are shared). An RSS spokesperson did not respond to calls or requests for comment.The IDRF annual report for 2012 shows that over $1.2 million (Rs 7.2 crore) was sent to India during the year. The following year, another million dollars (Rs 6 crore) found its way to NGOs, including Vanvasi Kalyan cen­tres across India, especially in tribal regions like Jharkhand and Chhattisgarh.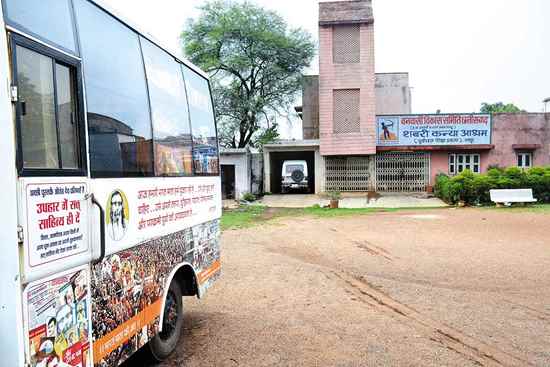 Vanvasi Vikas Samiti, Raipur. (Photograph by Vinay Sharma)
Now, while these NGOs of the nationalist variety claim to be working for sustainable development, forest rig­hts, tribal welfare etc, their stand on mining and environmental degradat­ion, nucl­ear energy, dams and displa­cement etc remain hazy. They also seem to have confusing, even conflicting, goals, with some promoting swadeshi and indigen­ous industry and others favouring foreign funding. Few of these NGOs agitate for people's rights, which is one reason why no government feels the need to look at them closely. On the contrary, many of them are recipients of lavish grants from different government bodies. But no social audit appears to have been done, by the Intelligence Bureau or others, to assess their contribution to national development.
Former RSS ideologue K.N. Govind­a­c­harya is outraged that anyone could point fingers at Sangh-affiliated organisations. Overseas funding of these NGOs, he told Outlook, suffered from gross generalisations and over-simplification. The RSS, for example, would always distinguish between Banglad­eshis illegally migrating to India and those arriving just for work. "How can both be placed on the same footing?" he exclaimed adding that the naysayers should look elsewhere—foreign funds have been used in the past to destabilise governments. "At the grassroots, we have found that foreign money is being used in religious conversions, which creates many problems," he points out.Prof David Ludden, professor of history at New York University, says, "It is a basic tenet of  the RSS that anything which is not Hindu is foreign in India.
So, of course, RSS funding from abroad is not understood as being foreign by the BJP. It is part of India's Hindu world." Another reason why RSS-affiliated NGOs are not seen as a threat is because they are not "anti-business". "The fear that capitalist inequity will find political support among striving cultural chauvinists in India is well justified," Prof Ludden says. First ignoring the symbiotic relationship between civil society and political society, then side-stepping the similarity in funding and stated goals of Sangh and non-Sangh NGOs, the IB finally projects organisations like Green­peace as a threat to the nation. It creates the impression that Greenpeace engineered the protests in Koodankulam, never acknowledging that the local people organised the first anti-nuclear cycle rallies there 30 years ago.That said, the strong political affiliations of the RSS isn't the only force at work today. Xavier Dias, Jharkhand-based editor of Khan, Khaneej aur Adhikar and a former trade union activist who has worked among tribals, says, "While people are fighting for their rights, corporate groups are looking at profits. And the government feels it can stop people's movements by stopping their funding."
"The RSS doesn't call its affiliated organisations NGOs, they mostly call them samajik sangathans. In the IB's point of view, these are just fringe groups. So they get excluded," says Prof Badri Narayan of G.B. Pant Social Science Institute, Allahabad. Coming to the double standards over foreign funding, Prof Narayan recalls that former finance minister P. Chidambaram and ex-PM Manmohan Singh were the ones who first questioned the foreign funding of Koodankulam protesters—even as both Congress and the BJP admit receiving donations from foreign companies, most notably Vedanta.Many NGOs fear the IB report merely prepares the ground for their future persecution. "Indian environmental NGOs have consistently been targeted.
The NGOs that don't get into trouble have political protection because of their affiliation or they're noise-makers like Greenpeace. The unaffiliated, unspectacular NGOs will bear the brunt of the new rules and controls," says Parth J. Shah, who heads Centre for Civil Society, Delhi.Of course, distributing food to the needy is a noble deed, but it also doesn't challenge the state's inefficiencies. Easier to lay that charge against the foreign hand.
By Pragya Singh and Abhijit Mazumdar
Read more here — http://www.outlookindia.com/article/The-Right-Kind/291133