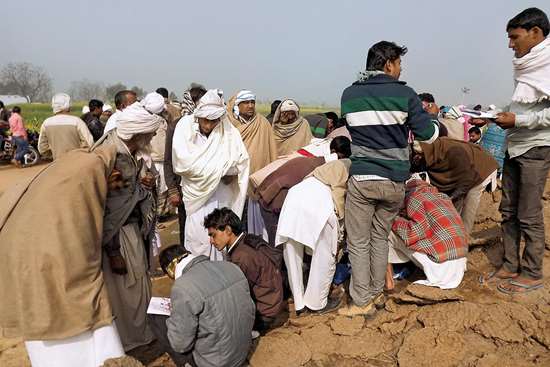 P. LASHKARI
Haryana's new, 'progressive' panchayat election rules skewers the chances of women and the marginalised
In rural Haryana, last year's drought-hit fields are finally giving way to the verdant yellow and green of mustard, but the people are restive, even angry. All along the glittering 250-km highway that connects Rohtak with Nuh—Haryana's west and east, also its best and worst—a wedge has been driven between the rich and the poor by the changes brought by the Manohar Lal Khattar-led BJP gov­ernment in the panchayat polls law.One new condition in particular has everybody agitated—that every panchayat must consist only of the school-educated. Which means the 'illiterates' will have little say from now on. And even the Supreme Court has been no help—it dashed the hopes of many a political aspirant in Har­yana's villages when it backed the state's amendment on the grounds that only the educated can distinguish "good from bad".
The law, described as a "body blow to justice" by MP and former panchayati raj minister Mani Shankar Aiyar, is resented for MLAs and MPs are excluded from such limitations. The apex court, with one stroke, disenfranchised "half the women, 68 per cent of scheduled caste women and 41 per cent of SC men" in this rural landscape (see box).
Now BJP-ruled states like Rajasthan, Gujarat, Madhya Pradesh have for some time been prescribing qualifications and restrictions which many feel are unconstitutional. And since the SC's word is law, there's every chance other state governments will follow Haryana's footsteps. Indeed, going by advocate-general Mukul Rohatgi's enthusiastic endorsement of the "progressive" Haryana law, even Parl­iament may not be safe for too long.
| | | |
| --- | --- | --- |
| | | |
| | Ex-panchayati raj minister Mani Shankar Aiyar calls the SC ruling a "body blow to justice." | |
| | | |
In Haryana's villages, especially the belt from Rohtak to Mewat, ordinary citizens point out that some of the BJP's own MPs and Union ministers are under-matriculates, that water resources minister Uma Bharati only studied to Class VI, while HRD minister Smriti Irani's graduate-or-not debate is still far from settled.Unsurprisingly, in Rohtak's Bambhewa, a settlement of roughly 4,000 (with 1,500 voters), a small crowd gathers at the mere mention of the new "padhe-likhe waala kanoon". Most residents call it nothing but a complete disenfranchisement of the illiterates—mostly the poor, Dalits, Muslims and women—who make up around 62 per cent of the state's population.
Many of Bambhewa's Dalits have deci­ded to boycott polls altogether in light of the new conditions—which other than the schooled clause include having a toilet at home and no arrears on cooperative loans or electricity dues. Ummed, a middle-aged pushcart vendor, finds the new rules fundamentally anti-democratic. "Agar humein le nahin sakte toh denge bhi nahin(If we can't be in panchayats, we won't vote for it either)," he says. For good measure, he adds that we'll boycott the state and LS polls too.
When Raghubir, 77, was a boy, Bambhewa had no schools. So when he turned 18 he started working at a Rohtak sugar mill like many other young men here. "Vote dene ka haq hai toh ladne ka bhi hai (If we have the right to vote, we have the right to contest too)," he says. It's like they have given us death by hanging, says an agitated Ashok Kumar, 42, a daily-wager. Rakesh, another unemployed young man who cleared class VI a decade ago, says he too will boycott polls. "Haryana's leaders do not know the reality of their own state," he complains.
Preet Singh, 62, one of the three petitioners who approached the SC against the ame­ndments, asks, "A toilet can be built and a loan cleared, but can an education be earned in a week, or even a year? And now we hear that the Haryana government wants to close 350 schools—is this how education will come to villages?" he asks.
| | | |
| --- | --- | --- |
| | | |
| | Many of Bambhewa's Dalits have decided to boycott the polls in light of the new conditions. | |
| | | |
A former panch, or elected grassroots representative, the unschooled Preet tau­ght himself to read and write while camp­aigning against honour killings and ten­d­ing to his 1.5-acre farm. Now he too cannot contest January's polls, for on paper he's ill­iterate. Nor can his unschooled cousins, Ummed and Rajesh, who had hoped to join the fray. "I was shocked by the verdict—the government has misguided the SC. This is a well-thought-out conspiracy by those who don't believe in democracy," he says.In Mewat, Haryana's worst-off region, entire villages lack even a single eligible candidate under the new rules. Of the 1.5 lakh households, only 45 per cent have toilets—and locals estimate at least 25 per cent of the toilets are not in use.
Neemkheda is a picturesque locale but a development purgatory, with broken roads and little electricity. Not one of its adult 1,700 Meo Muslims are edu­cated. It has an all-woman panchayat, headed by sarp­anch Ashubi, who's been in the hot seat since '05. The odds were worse when she started out—no upper primary school, no drinking water supply, alcoholism, criminals threatening them for daring to join political life. Slowly they developed a reputation for good work, though Ashubi also acquired a lic­e­nsed firearm to silence her misogynist critics. (She only fired the gun once, in the air as a celebratory gesture, she claims.)
"I didn't eat for three days when I heard about the SC verdict. Tell me what my fault is," she asks, flanked by six of her colleagues, all women and now all disqualified. Neem­kheda has only one educated woman and she's unwilling to contest. "We need seven eligible women. If the panchayat fills up with men again, it'll be very sad. Shall we let that happen or import women from Bihar and Rajasthan?" she asks.
Despite Mewat's glorious natural charms, few teachers are willing to work here. Additional district commissioner Maniram Sharma, who is also sarva shiksha abhiyan chairman, Mewat, says, "In Mewat, 25-40 per cent of every department is lying vacant, not just the teachers. For example, we have a hospital, but no gynaecologist." The district needs 3,600 teachers for its 433 villages, but has only 1,500 right now. Indeed, a special Mewat cadre of teachers was raised but they quit when jobs materialised elsewhere. "Honestly, many teachers come from far to teach in Mewat. We try to get them to stay on longer but nothing has worked so far," says Sharma.
| | | |
| --- | --- | --- |
| | | |
| | Mewat needs 3,600 teachers for its 433 village schools. It has only 1,500 now. | |
| | | |
That the emphasis on education can be misplaced is borne out by the 2014 ASER survey of school students. In Haryana, 60 per cent students in classes VII and VIII did not know how to divide numbers, 72 per cent in Class III-V could not read Class I texts. (Sadly, the situation in Rajasthan, Gujarat, Madhya Pradesh and some other states are not very different.)Dalit activist Chandra Bhan Prasad blames the legislation on the "BJP's mindset". "Somehow, they want to turn the clock backwards, and this is how they achieve it, by disenfranchising the poor. It shows they don't believe in equality before the law," he says.
There's also the allegation that Harya­na's educated and wealthy rural folks stand to gain much from the new law. Village panchayats are no longer mere platforms for petty disputes. Today, rural development and panchayati institutions are intertwined—NREGA and other schemes are implemented by states through the pan­chayats. In short, big money is involved.
Ramzan Chaudhary, a social activist in Nuh, the headquarters of Mewat, has been agitating for a university. It's the only Haryana district without one. "If they want to land an airplane on Mewat, shouldn't they build an airport first? Mewat is not ready. They are simply handing over the power-strings to the educated class, segregating the entire population from the election process," he says.
Prof Vivek Kumar of the Centre for the Study of Social Systems, JNU, says, "The elite evolve classifications based on their own standards, then they try to impose them on others. How else, after 67 years of independence, did they suddenly think of education as a restriction? These same illiterates elected the legislators. The SC ruling in its favour is a judgement, it's not justice."
Democracy, indeed, hangs in the balance in Haryana, but many expect the impact to spill across the country. The fact that the legislation is couched in a language of empowerment—who would argue against having toilets, being debt-free and educated—makes it tough for the poor to contest the curtailing of their rights.
"The Haryana government told the court that only 43 per cent are not primary school pass or matriculates. They should have got a rap on the knuckles for this. The truth is that some 60 per cent are being disqualified," says Kirti Singh, the senior advocate who approached the SC on behalf of the All-India Democratic Women's Association, a CPI(M) wing. "In Rajasthan, where a similar law was brought in and was being contested in the SC, the appeal is now bound to fail, I fear. What the SC says bec­omes law for the entire country," she says.
Curiously, in Shimli, around 11 km from Bambhewa, just off the highway, even the dominant Jat residents are divided over the amendments. A squabble quickly breaks out over the issue, partly because their current sarpanch, Vijay Dhanuk, is from the Scheduled Castes, and a graduate too; but his performance has left them cold. "All (Vijay) Dhanuk has is muscle power," says Dr Rajbir, a former Ayush doctor who returned to his native Shimli on retirement. "We haven't got the old-age pension for a year in our village. The money has been in the bank, we are told, since last June. We don't know what he has done with it…he tells us the pension cheque, for over Rs 2.5 lakh, is lost," says Ashok, another resident. The sarpanch is away, and his family blames the delays on the stay order and the election code of conduct!
The village itself is in disarray, the large pond with its embankments broken, risking life and limb of even the cattle. There are two panchayat bhavans but both are locked up and in urgent need of repair. The crematorium is in a shambles as well—its roof has caved in. "Education is fine and desirable but it doesn't mean everything. We just want to get rid of this graduate sarpanch," says Satendra Dhankad.
In a small walled clearing, with buffalo lazing in the corner, Shimli's Jat men have gathered to smoke hookahs and soak in the morning sun. Silak Ram, a pensioner in his seventies, says, "The education condition should have started from above, MPs and MLAs. We will abide if they do too." Then harking to the past, he asks, "Why wasn't Giani Zail Singh disqualified?" Devi Singh, 73, interrupts immedia­tely, "Education   rules  should  be there—they said 'Desh ke karm phoot gaye (the country is ill-fated)' when Zail Singh was appointed. But everybody here has taken out loans—that shouldn't be a ground for disqualification." Soon, the friendly discussion turns into an unintelligible cacophony of voices for-and-against the new laws.
Ultimately, the question boils down to whether there's any correlation between being a class-V pass and a good panchayat leader? "Does A for apple make a good sarpanch?" asks Prof Vivek Kumar. "Our education, even in the vernacular, doesn't prepare a village for emancipation. In the textbooks, it's still B for Bhadbhooja, a caste of people in north India who specialise in roasting nuts; it's still T for Thathera, the caste that specialises in making utensils and it's still G for Gyaani or the knowledgable, where a Brahmin's picture is shown." That blackboard hasn't changed at all.
***
The Unequal Republic
You can't stand for a panchayat election if you are…
Suffering from leprosy: Orissa, Rajasthan
Suffering from tuberculosis: Orissa
Deaf and mute: Andhra Pradesh, Tamil Nadu, Maharashtra, Orissa
Not having a sanitary latrine: Haryana, Karnataka, Maharashtra, Rajasthan
Have more than two children: AP, Rajasthan, Madhya Pradesh, Maharashtra, Haryana
Can't read and write: Orissa
Non-matriculate, class VIII or class V: Haryana
---
By Pragya Singh in Rohtak and Mewat http://www.outlookindia.com/article/what-the-chaupal-teaches/296187