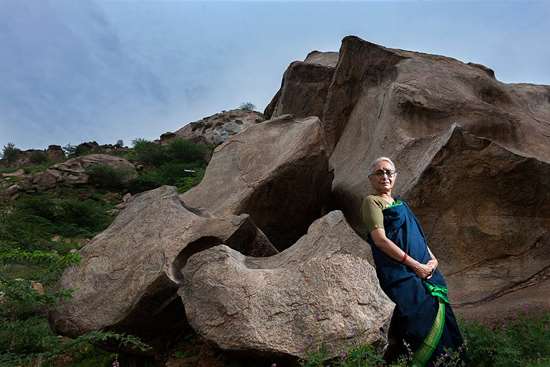 Aruna Roy
Matersfamilias
A rock-solid sorority that holds the flock together. But their fight is not only of gender. It's a universal community they serve.
—Anonymous
We have little boxes in our minds. We are mostly conditioned to see women as our mothers, victims of the deep-rooted prejudices of our society, or objects of desire. But look a little closely at the women of this country on this Independence Day and we cannot ignore a strange but powerful truth. There are some women of India who are guardians of the galaxy of our constitutional rights, defen­ders of the poor, seekers of justice. Think of a mass campaign or a judicial battle and you will all too often find a woman leading it or behind it.
But what must also be stated at the very beginning is that many of these women have been confronted with a reality that tries to push them to the fringes. They have faced everything from arrests to persecution by the state to slander campaigns. From Teesta Setalvad to Aruna Roy, from Medha Patkar to Irom Shar­mila, from Indira Jaising to Dayamani Barla and Arundhati Roy, it has all too often been suggested that these women are acting against 'national interest', which presumably means that they have disturbed the consensus of those who wield power. They have therefore fought battles with their backs to the wall, and what must also be stated up front is that they have not just fought for feminist values or women's rights, they have fought for the universal rights of the human beings of India beyond gender: man, woman, Dalit, Adivasi, Muslim, Hindu, Christian, middle class, the underclass, the poorest of the poor.
Let us therefore examine what it is that these women have done and are accused of doing. Teesta Setalvad has just got anticipatory bail because the CBI had sought "custodial interrogation" of her and husband Javed Anand, saying they were a threat to national security. Their bank accounts have been frozen since 2014, last month the CBI came with 16 men and searched their Mumbai home for 22 hours (the agency has been trying to incarcerate the couple by building a case about them taking a grant without the necessary FCRA clearance and "embezzling" money raised to build a memorial for victims of the 2002 Gujarat riots).

Photograph by Amit Haralkar
Teesta Setalvad

Love her or hate her, like her face on TV or not, here's what Teesta has indeed done. Her organisation, Citizens for Jus­tice and Peace (CJP), has doggedly pursued cases linked to the Gujarat riots of 2002. CJP has systematically fought 68 criminal cases, and 120 people have received life imprisonment because of their efforts. This is not a small matter as there has historically been no punishment for the sort of mass killings that are called riots in India: hardly any for the anti-Sikh riots of 1984 or the Bombay riots of 1992-93. Teesta has therefore actually made the criminal-judicial system work for some victims and broken ground in seeking accountability.
In the world of ideals, we hold justice as the hallmark of any healthy democracy. In reality, the system has got so distorted that it is possible for the CBI to hound her as an Enemy of the People. But here's the critical footnote: the CBI's attempts to land Teesta behind bars and/or shut down her operation comes at a time when many of the convictions go up for appeal at the next judicial level. The Zakia Jafri criminal revision application is being heard since July 27. It makes out a case for criminal and adm­inistrative culpability, and Narendra Modi is the accused number one.
This is what Teesta has to say: "Fighting cases is certainly about getting a result, but it's also about puncturing the culture of impunity. If you don't have a vigorous legal fight for justice, it is the community memory that will be distorted. We can only put up the fight. Now the State wants to deny us the right to fight a good fight."
But Teesta is not made of a temperament that exaggerates her sense of victimhood. In her Mumbai home on Juhu beach, Teesta has just returned from another visit to a lawyer and says that "I know I have the protection of class. It's not about me alone." Teesta's grandfather was the first attorney-general of India and she makes the point that all the money that she is believed to have "embezzled" was raised by friends and family and not a rupee came from the riot victims. The princely sum was Rs 4.6 lakh, and by no means enough to get the Gulbarg Society memorial off the ground. She also produces a consultancy contract and documents that she will use to fight the FCRA charge.
Teesta is a bundle of energy and can be sharp with words. She rattles off details of cases that she has fought: Naroda Patiya, Sardarpura, Gulbarg Society, Best Bakery ("the worst moment of my struggle came when Zaheera Sheikh turned against me") and then stops to reflect. "You know, there is something about a woman who loses her near and dear ones and keeps fighting. So many women have been the faces of the cases we have fought: Zakia Jafri, Sairaben Sheikh, Rupa Mody in the Gulbarg Society case, Basheera Bibi in Sardarpura, Shakeela in Naroda Patiya. There were 75 witnesses in Naroda Patiya, of whom 33 were women. The judge Jyotsnaben Yagnik too was amazing in the face of threats and intimidation."

Photograph by Sandipan Chatterjee
Irom Sharmila
Women can indeed be made of steel. Or iron. The most visible face against AFSPA (Armed Forces Special Powers Act) in India must surely be that of Irom Sharmila, the poet and activist who has been on a fast against the law since 2000 in Manipur. It's one of those stories that simply can't be ignored, as so much else tends to be from the Northeast. When Outlook tried to contact Irom, here's the message that came through her younger brother: "I will continue to fight this battle until my demand is met (the repeal of AFSPA). My will is as strong today as it was the first day when I decided to fast in protest against the AFSPA's atrocities." For those Ind­ians who live in areas where AFSPA operates, and for others who empathise, Irom's fight and life are strangely magnificent.
The most enabling right Indians have been given in recent history is the Right to Information. Could there have been an RTI movement that culminated in a law in 2005 if Aruna Roy had not begun a mass campaign in a village called Devdungri in Rajasthan in the early '90s? Aruna herself says there were so many people who were part of the movement. "I am aware that RTI has thrown me up as an icon but in actual fact so many people were part of it. It re-established my faith that democracy could work for people. It is the only politics that I can believe in. The RTI movement proved to me that if we look at genuine rights you can bring people together to struggle for a common end. By redistributing information you redistribute power."
She too talks of her elitist background (her parents were Iyer and Iyengar Tamil Brahmins) and says that gender discrimination was never personally an issue for her. Named after Aruna Asaf Ali, one of the most prominent women of the national movement, Aruna was raised in Delhi. "On both sides of the family, there were role models of strong women and politics that is anti-caste. We recognised that equality was an issue that could not be pushed under the carpet. The generation I came from has thrown up people who saw value and purpose in working for people."
That, she says, was the mainstream sentiment. Now she worries that those who talk of healing and justice are being pushed to the fringe. The idea of compassion has somehow been made to sound "anti-national". Still, she remembers her lawyer father telling her not to be afraid of the consequences of speaking up for justice. As someone who mobilised women in her organisation, Aruna says that "the women of MKSS (Mazdoor Kisan Shakti Sanga­than) have a more holistic worldview than men". She also says that she finds the middle-class feminist debate very limited. "In a sense, it is middle-class women who are more trapped. Work­ing class women all work."
But her concerns are universal. As member of Sonia Gandhi's National Advisory Council, Aruna had been a powerful advocate of two policies that were implemented: RTI and NREGA. She says "NREGA is part of the right to work for me. It was a natural corollary to RTI". Clearly, there is an attempt to kill off NREGA even as RTI commissioners have not been appointed.
But RTI, she says, cannot be stopped. "The issue of extending RTI to political parties will never be over, it will always come up again and again. Today, the right to freedom and dissent is being strangled. But really, you can only stop RTI now if you declare yourself a dictatorship."

Photograph by Jitender Gupta
Medha Patkar

In Gujarat, the waters may be rising but Medha Patkar carries on. It has been a full three decades since the Narmada Bachao Andolan began, and Medha is on a brief visit to Delhi to appear in one of the many cases she has fought, before heading off to the Narmada valley. She is staying in the basement office of a friend, sorting out suitcases full of court papers and files, testament to a life of struggle and resistance. Seventeen days after coming to power, Prime Minister Narendra Modi ordered that the height of the Narmada dam be increased by another 17 metres. Naturally, more villages are threatened and so Medha back is on a padayatra and protest.
These days she does not get that much media coverage, but she has never let go of her core issues. It's important to understand what Medha Patkar represents. She has a contrarian but very valid view of development and globalisation. Today land acquisition has again been in the news but Medha laughs when she remembers tearing apart the earlier versions of the land acquisition laws in the late '80s. Besides Narmada, she has been part of several movements on the land issue, including ongoing battles in Mumbai against demolition of slum clusters.
The dam, she says, is a symbol of a paradigm of development. Yes she failed to stop the construction of the dam, but the Narmada movement and the research it generated is mentioned across the world in every document about big dams. It is also one of the most famous land resistance movements in the world that is still ongoing. And although she is pilloried by some as an anti-development force, the fact is that what Medha wants is a protection of the ecosystem and environment, besides protection for displaced people. All she does really is fight for the rights of ordinary citizens whose world may have drowned or is on the verge of being demolished. And she does so without any foreign funding or big institutional support. She says, "We believe in minimum money, maximum support. I have always held that the core movement should run on voluntary donations or the movement will be killed."
She worries about the current direction in which the country is headed. "Labour laws are changing, RTI is under threat. The last regime of Man­mohan Singh-Sonia Gandhi did not share our economic vision but they permitted the dialogue to continue. Now they want to shut down the dialogue."
Dayamani Barla
Medha is still an educated woman of the middle class who chose a certain path. Dayamani Barla, a Munda tribal from Jharkhand, can match Medha for the rhetoric against taking away people's lands but she's had a harder personal journey. Briefly, here's her story: her angootha chaap father was made to sign a piece of paper and their lands taken away. "When my family tried to take the lands back, they were not even allowed to come to the fields to work as labourers," she says. "There was often nothing to eat at home." Her father went to one part of Jharkhand to work as a labourer. Dayamani and her three brothers moved to Ranchi where her mother began working as a maid servant. The little girl started washing dishes in a police chowki, but was determined to study. As is the lot of many tribal girls, she had some bad experiences in her youth but survived it all.
Stage two of her story begins when she worked in an NGO and realised that most of the money meant for tribals is used to pay salaries or pocketed by others. She was by then evolving into a force in her own right. "I decided to stand up and fight against the system. When I hear the birds in the jungle, then I think something is still left to fight back. Adivasis are afraid, which is why they stand up. Adivasi samaj is different from other societies. It is the fear that keeps us standing."
She has been at the forefront of protests against acquiring lands, notably by Arcelor Mittal and other corporate and developmental projects. She has been arrested a few times but returns with greater resolve. She has won awards for her journalism and her fight for indigenous people. By now she is clear in her head about whom she must fight: the biggest threat she says is from dabang log who try to work for whoever is in power. "Those who fight back are attacked from all sides," she says. "Mafia, politicians, corporates are one, and together want jungal-zameen from adivasis. You can't separate them. They make all policies to benefit corporates so that they can make money. Adivasis are more scared of this lot than of the Maoists."
Indira Jaising

The Supreme Court of India is some geographical distance away from the cruelties and treacheries of Jharkhand. Indira Jaising has fought in the country's highest court on almost every public issue. She was the first woman to be designated a senior counsel in the Bombay High Court in 1985 and the first woman to be appointed additional solicitor-general of India. She says that "ever since I set foot in the SC in the late '80s I became aware that corruption exists in the citadel of justice. I came from the Bombay High Court under the impression that I was going to the temple of justice. What I found was Justice V. Ramaswami (the first judge against whom impeachment proceedings were undertaken in independent India)".
Jaising decided to do an exposure of his corruption. She got evidence of his malfeasance and published it in a magazine called Lawyers of which she was the editor. She recalls: "The Times of India picked up the story. In 1992, the judge was impeached by Parliament. He was found guilty, but the motion was lost because the Congress abstained. There was a south Indian lobby that reacted within the Congress. It became clear to me that this is how the Supreme Court operates. That is why I have now, years later, challenged the way that senior counsel are designated by judges themselves on the basis of caste and class. There is rank nepotism in the manner of selection. My petition has been accepted by the court and will be heard at the very least."
We have, therefore, a woman challenging the manner in which the highest court of the land functions. Says Jaising, "There is no doubt in my mind that there is discrimination against women in the legal profession. Women work harder for less pay. For me, the issue of women is just the entry point into the larger issue of democratisation of the judiciary. I feel those black gowns, the 'lordship' must go. When the Supreme Court gave relief on the issue of bonded labour, I once thought they were being progressive. Now I would say the SC can deal with issues of poverty but not of equality. But you simply cannot separate substance from form."
Take any human rights or public issue and Jaising has fought for it. She has also fought landmark cases challenging personal laws and succession rights in communities. "I strategically decided to represent Hindu, Christian, Muslim and Parsi women in cases that would challenge existing laws," she says. Among the people she represented were Mary Roy (Arundhati's mother), who refused to succumb to the Syrian Christian law in Kerala, by virtue of which daughters had no share in the property.
Yet she admits that "I do find myself isolated" and "sense the hostility". There are patronising or sexist remarks made by other senior counsel that "the woman must have the last word". Fighting does make you feel you are the perennial outsider, she says, adding that "women are put in the position of having to be tough to be heard". At some point, ideally, she suggests one should be able to negotiate a space where you can say what you want to say without being adversarial. "There have been moments when there is a middle ground but overall I am reconciled to adversarial positions because the nature of Indian politics is adversarial."
Jaising also talks of the personal price of a public life. "I was very determined not to get married till I was established. And then I took a conscious decision not to have children because I knew I would be in public life," she says. Indeed, with the exception of Teesta, most of the women profiled here chose not to have their own children because they were too committed to something larger than just raising their own offspring. Medha is very candid when she says, of course, there is a personal price. "You give up family life as you have to be available at any point of time. Some women find that difficult. I made that choice and have such a large family today." Aruna too reveals that husband Bunker Roy did not wish to have biological children and she too came to understand that. "I was also raised by a mother who was a very universal human being who was not at all addicted to her own children. So I do believe that it is not necessary to have one's biological children but for people like us it is important to build relationships down and across generations."
Here are women, then, who have broken the mould in their personal choices as well as their political ones. They inhabit a world of great concerns, mammoth struggles, some successes, a lot of failure. They have loyal followers and powerful enemies. An ordinary family life would have, in a sense, just constricted the power of some of these extraordinary women of India.
***
Women Warriors Through History
---
By Saba Naqvi in Delhi, Mumbai and Rajasthan; Photographs by Narendra Bish
http://mcomments.outlookindia.com/story.aspx?sid=4&aid=295068