With this, all 11 persons arrested in this case by the state Anti Terrorism Squad (ATS) have now got bail.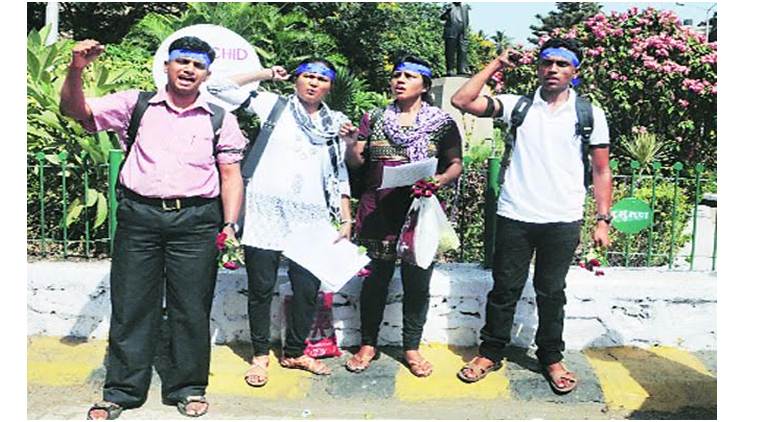 Ramesh Gaichor, Sagar Gorkhe and their wives Jyoti Jagtap and Rupali Jadhav outside Oval Maidan. (Express Photo by Ganesh Shirsekar)The Supreme Court (SC) on Tuesday granted bail to Sachin Mali, Sagar Gorkhe and Ramesh Gaichor, all three activists of the Kabir Kala Manch (KKM), a Pune based cultural group, which was branded as a "Maoist" front by the Maharashtra Police. A SC bench of Justice Ranjan Gogoi and Justice L Nageshwar Rao passed an order in this regard. With this, all 11 persons arrested in this case by the state Anti Terrorism Squad (ATS) have now got bail. Earlier, in May 2016, the SC had granted bail to alleged top Maoist leader Angela Sontakke, who was arrested along with KKM artists by the ATS in April-May 2011.
According to the ATS, Angela was alleged to be the secretary of the Golden Corridor Committee of the banned CPI-Maoist, which aimed at spreading the Maoist ideology of armed struggle against the government and recruit new members from the urban areas of Gujrat and Maharashtra, including cities like Pune, Mumbai, Thane, Surat, Ahmedabad. It was alleged that Angela and her husband Milind Teltumbde, who is now claimed to be the central committee member of CPI-Maoist, indoctrinated some of the KKM artists and other youths towards Maoist ideology.
Senior lawyer Rebecca Jhon along with advocates Ramesh Kumar and Jawahar Raja represented the KKM artists in SC. "We argued that all three artists have been in custody for about four years. They were not involved in any kind of violence or criminal activities. The only allegation is that they were linked to a banned Maoist organization. The prosecution had said in May 2016 that they would complete the trial in six months. But so far there is no progress in the trial. Also, all others arrested in this case were granted bail. SC was convinced with our arguments and granted bail to the three artists," said advocate Rebecca Jhon.
The ATS had arrested Angela from Thane in April 2011 along with six others including Sushma Ramteke, Anuradha Sonule, Mayuri Bhagat, all three from Chandrapur, Jyoti Chorge of Pune, Siddhartha Bhosale and Deepak Dhengle, both KKM artists from Pune.
All were booked under the stringent Unlawful Activities Prevention Act (UAPA). Then, ATS booked eight more persons in this case including Milind Teltumbde, a girl named Jyoti and KKM artists – Sheetal Sathe, her husband Sachin Mali, Ramesh Gaychor, Sagar Gorkhe, Prashant Kamble and Santosh Shelar.
Milind, Jyoti, Shelar and Kamble are still on the run. Investigators believe that Shelar and Kamble, both residents of Kasewadi and Tadiwala road slums in Pune respectively, have joined the armed Maoist cadres in jungles.
In January 2013, the Bombay High Court (HC) granted bail to Sushma, Anuradha, Mayuri, Jyoti Chorge, Siddhartha and Deepak, saying that suspects could be "sympathizers of Maoist philosophy" but "none can be said to be active members of banned CPI-Maoists".
Meanwhile, Sheetal and Sachin surrendered on April 2, 2013, by staging "Satyagraha" in front of Mantralaya in Mumbai. After a few days Ramesh and Sagar too surrendered similarly. Sheetal was granted bail as she was pregnant.
The ATS submitted charge sheet before the court alleging that these four KKM members including Sheetal had participated in arms trainings with about 150 naxals in jungle areas of Gadchiroli between November 2011 and April 2012, while they were on the run. ATS recorded statements of three surrendered naxals who reportedly identified the KKM artists as active members of CPI- Maoists. The HC had then rejected the bail pleas of Sachin, Sagar and Ramesh. But the SC granted bail to all three today. Sachin in lodged in Arthur Road prison while Sagar and Ramesh are in Taloja Jail.
Sagar's wife Rupali Jadhav, who is also a KKM artist said, "Though late, we are happy that they have got bail. We now plan to strengthen our group and continue to fight against the social and political evils."
Meanwhile, there was a split in KKM as its lead singer Sheetal separated from the group. She performs separately and has also started a campaign for release of her husband Sachin.
Sheetal said, "We had surrendered because we believed in the justice system. Now, I feel justice is done as SC has granted bail to Sachin, that too on January 3, which is birth anniversary of Savitribai Phule. This is victory of progressive movement in the country. Sachin continued to write poems and articles even in jail. Now he will be able to work openly. I feel motivated. We both would now work in more creative manner against casteism and social injustice."
http://indianexpress.com/article/india/supreme-court-grants-bail-to-three-kabir-kala-manch-artists-held-for-maoist-links-4457225/