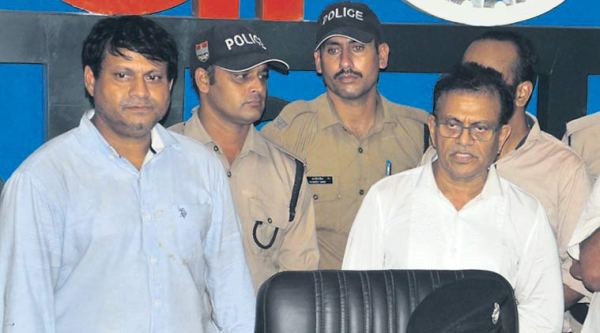 Alleged kingpin Amit Kumar (in glasses) and his brother Jeevan (left) following their arrest by Dehradun police. (Photo: Virender Singh Negi)
Rameshwar Motisa Raut, 102, survives on a pacemaker in Mumbai, while his wife Meera, 88, has been suffering from kidney failure since 2012. It is because of an alleged kidney racket, ironically, that two of their sons are in Dehradun district jail, where they were remanded in police custody starting Tuesday.
Police call it one of the country's biggest, longest kidney rackets. It began in Mumbai in the early 1990s, leading to the brothers' arrest — followed by bail — in 1994-95. Between then and 2008, according to a CBI chargesheet, they carried out 600 illegal kidney transplants, the elder one using a number of aliases as he moved from one city to another following each arrest and subsequent bail.
Alleged kingpin Amit Kumar, 65, formerly Santosh Raut, is not even a doctor, a police allegation backed up by his wife, who admits she spent crores getting him out of several jails on bail over the years. Amit's brother Jeevan Raut was arrested with him, while Akshay Raut, 35, Amit's son from his first marriage, is an absconding accused.
Dehradun police busted the racket on September 11 in Gangotri Charitable Hospital, 30 km from the town, and arrested Amit from Panchkula in Haryana four days later, along with brother Jeevan, 50. There is a middle brother, Ganesh Raut, 55, who worked with the other two at their Mumbai clinic in the 1990s. Police say he separated from them after their arrest; Ganesh's wife says he had not been involved in the transplants.
According to police, Amit was the one who performed the transplants, while Jeevan looked after arrangements ranging from the venue to the kidney donor. These donors were invariably poor, police said, and were paid sums between a few thousand and a few lakhs. Wealthy recipients came from within the country as well as abroad, including from the US, Greece, Canada, Saudi Arabia, Oman, Israel and Russia, according to Ganesh's wife Suma Raut, 48. They paid the brothers in crores, she claimed.
Police said the transplants allegedly performed by Amit were illegal not only because he isn't a doctor — the Transplantation of Human Organs Act, 1994, stipulates only a medical practitioner registered with the Indian Medical Council can perform such as surgery — but also because these violated laws regarding the donor. The Act says no organ can be donated before death unless the donor is a "near relative of the recipient". The donors in the surgeries allegedly done by Amit, police said, were poor people either forced or paid to donate their kidneys. Also, approval from a government-appointed authorisation committee is required, which Amit and his associates didn't have, they said.
Mumbai to Dehradun
This year, Amit and three doctors performed some 50 illegal transplants between July and September this year at the charitable hospital in Dehradun, police said.
When they had started in Mumbai in the 1990s, they would bring doctors from city hospitals to their Kaushalya Nursing Home to do the transplants, Suma Raut said. By 1994, she added, Amit had observed enough and gained enough confidence to do the surgeries himself.
Arrested in 1995, the two brothers got bail immediately, Dehradun police said citing their interrogation. They left Mumbai and took their racket from city to city, said police who are now investigating the brothers' records from Jaipur to Delhi, Gurgaon, Faridabad, Ambala and Panchkula, Guntur in Andhra Pradesh and Anand in Gujarat. They have got bail in a number of cases while many others remain pending.
"We have contacted the police in all states of the country to inform them about the arrest. We have also asked the police in all states to inform us about the cases filed against the brothers, and the pending cases," said Sarita Dobhal, Dehradun SP (rural).
One reason they could start afresh so many times, according to the police, Amit was that used so many aliases. The police as well as Suma Raut, the sister-in-law, said the aliases included Dr Desai, Dr Amit Kumar, Dr Amit Raut, Dr Amit Purshottam and Dr Suresh Raut, apart from his real name, Santosh Raut.
"In the early 1990s, Amit had also funded C-grade films in Mumbai. Amit and Jeevan acted in one such film, Khooni Raat, where Amit played a cop," Suma Raut said.
Among the biggest rackets for which the brothers were investigated over the years, one was in Gurgaon in 2008. This case was probed by the CBI, which alleged poor villagers were brought for kidney donation, some of them paid and others allegedly forced to donate their kidneys to wealthy recipients from abroad.
Arrested that year from Nepal, Amit had performed up to 600 illegal kidney surgeries between 1995 and 2008, according to the CBI chargesheet in the Gurgaon case. Later, he was released on bail.
The wife
Bulbul Kataria, 35, married Amit Kumar in 2014, his third marriage, but their association goes back many more years. "I had arranged bail for him in 11 cases before 2014. But his brother Jeevan kept blackmailing him into reentering the kidney racket," Kataria told The Indian Express.
When she married him, she said, it was on the condition that he would "leave the illegal kidney transplant business".
While she agrees he was arrested a number of times, she still believes he did nothing illegal. "I have thoroughly read the Transplantation of Human Organs Act and believe my husband is innocent," said Kataria, an MBA in marketing and finance, who claims she is a former Miss Chandigarh.
She had worked in a bank in Chandigarh but quit in 2010 because, she said, she was occupied arranging bail for Amit in cases of illegal organ transplant, money laundering, tax evasion, possession of fake passport, cheating, wrongful confinement people, and "purchase of people as slaves". According to Dehradun police, Amit also faces an ongoing disproportionate assets case filed by the Enforcement Directorate.
Following his release on bail in the Gurgaon case, Kataria said, she thought he had given up the transplant racket. Between September 2014 and March 2016, he was running a clinic in Guragon called Century Wellness and Super Specialty Hospital.
"I thought he had left the business after our marriage," Kataria said. "When he returned home, his clothes, even his undergarments, would be covered in blood, but he would tell me he had performed brain surgery.. Since I knew nothing about the profession, I believed him."
By 2016, Amit was arrested once again, this time by the Gujarat police for a kidney racket in Anand. While being taken by the Gujarat police in a train from Delhi to Anand, Amit fled in Ajmer, his wife said.
After that, she said, she did not know where he had been until the latest arrest.
"Last year, he sent me a cake and a bouquet on my birthday. That's how I knew he was fine," she said. "The name of the place where the bouquet was sent from, however, was not legible."
Kataria met Amit in the Dehradun district jail last week, after more than a year. "For the last one year, I have been borrowing from relatives for my expenses," she said. "He's a good person, unlike his brother Jeevan, but he is addicted to the illegal trade."
Today, Kataria lives alone, in a 15-room house in an upscale Gurgaon locality. She looks back on the travelling she had done to fight cases in court or arrange bail for Amit. "In 2013, when he was in jail in Guntur,I changed five flights to meet him on July 26, his birthday, and give him a cake," Kataria said.
"I borrowed Rs 6 crore for his bail in 14 cases. Now I need to arrange bail for him in 15 more cases that are pending against him."http://indianexpress.com/article/india/surgery-racket-held-in-dehradun-probed-for-600-kidney-transplants-across-country/