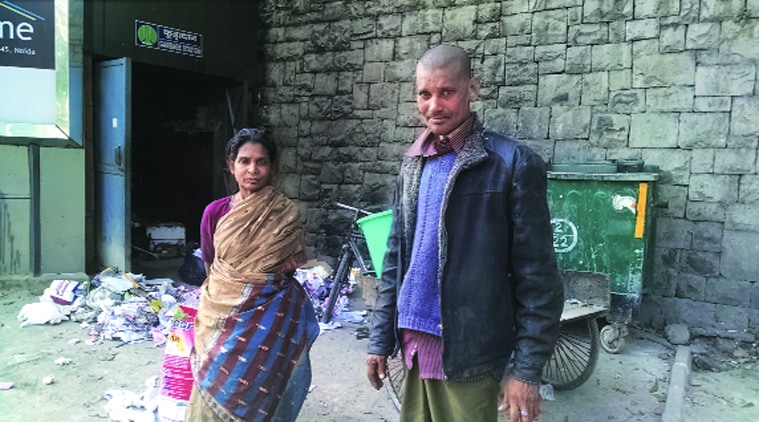 Basanti and her companion Raju.
The sanitation workers of Mandir Marg and adjoining Valmiki Colony remember Prime Minister Narendra Modi's visit well — particularly the couple living in the garbage station.
"We were woken up on September 31, and ordered out by security personnel. They said 'Pradhan Mantriji ko safai karni hai (the PM has to clean)'. We had to take everything with us except our gas cylinder, and spent two nights at the New Delhi Railway Station," recalls Basanti.
Six months after the announcement of the Swachh Bharat Abhiyan by Modi on Independence Day, and a little over four months after he took up a broom and swept some areas here on October 2, 2014, Basanti and companion Raju have settled back into the NDMC garbage station, located right outside the Mandir Marg Police Station.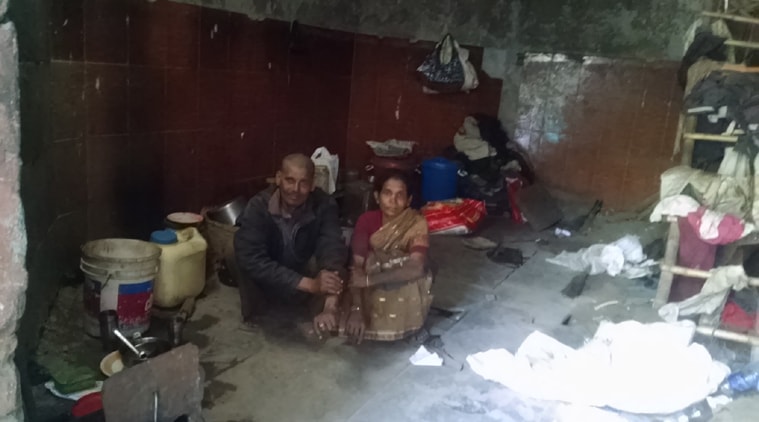 This Circle 2 NDMC area covers posh "VIP" areas of South and Central Delhi. In their 40s, Basanti and Raju are occasional NDMC contract workers who collect garbage from the Mandir Marg Police Station and residential colonies located opposite it.
Raju began living inside the garbage station 11 years ago. Two years ago, after Basanti, a widow, moved in with him, he made it home by buying a gas cylinder to replace his chulha, and sacks to store rice, daal and oil.
They pushed the garbage trolleys outside, and the station is now clean except for some sacks used to hold garbage if the trolleys fill up. Whenever they need to go somewhere, like to the nearby NDMC toilet, they lock the trolleys inside. "We guard the garbage," Basanti smiles, a full-toothed grin.
Raju makes Rs 4,000 cleaning the dustbins at the Mandir Marg Police Station and the nearby NP Girls' School, and Rs 2,000 odd from residential colonies. Advertisers pay him another Rs 4,000 to switch off and on lights on billboards put up on walls of the garbage station. Occasionally, NDMC hires him on contract. Most of Raju's garbage collection work is actually done by Basanti, fellow workers say.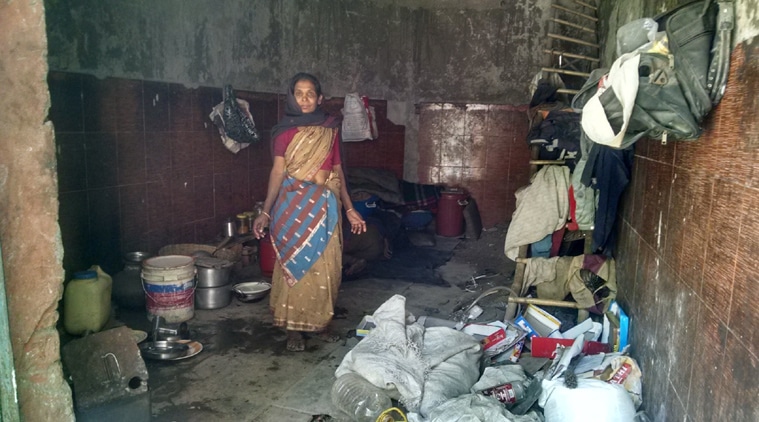 Raju and Basanti send most of what they earn to their respective families in Hyderabad and Tamil Nadu.
As Basanti brings in garbage on thelas that she has been pushing all morning, Raju, having a rare sober day, helps her put it into the trolleys.
On October 2, Modi had cleaned part of the Mandir Marg Police Station and a street in Valmiki Colony.
Raju says he wanted to meet the PM that day. "But we were not allowed near him."
Circle 2 has 153 sanitation workers in all, 116 permanent, 24 on regular contract — to be made permanent when posts are created — and 13 temporary, engaged whenever there is an increase in workload. They work under three sanitation sub-inspectors, overseen by one sanitation inspector, in eight-hour shifts.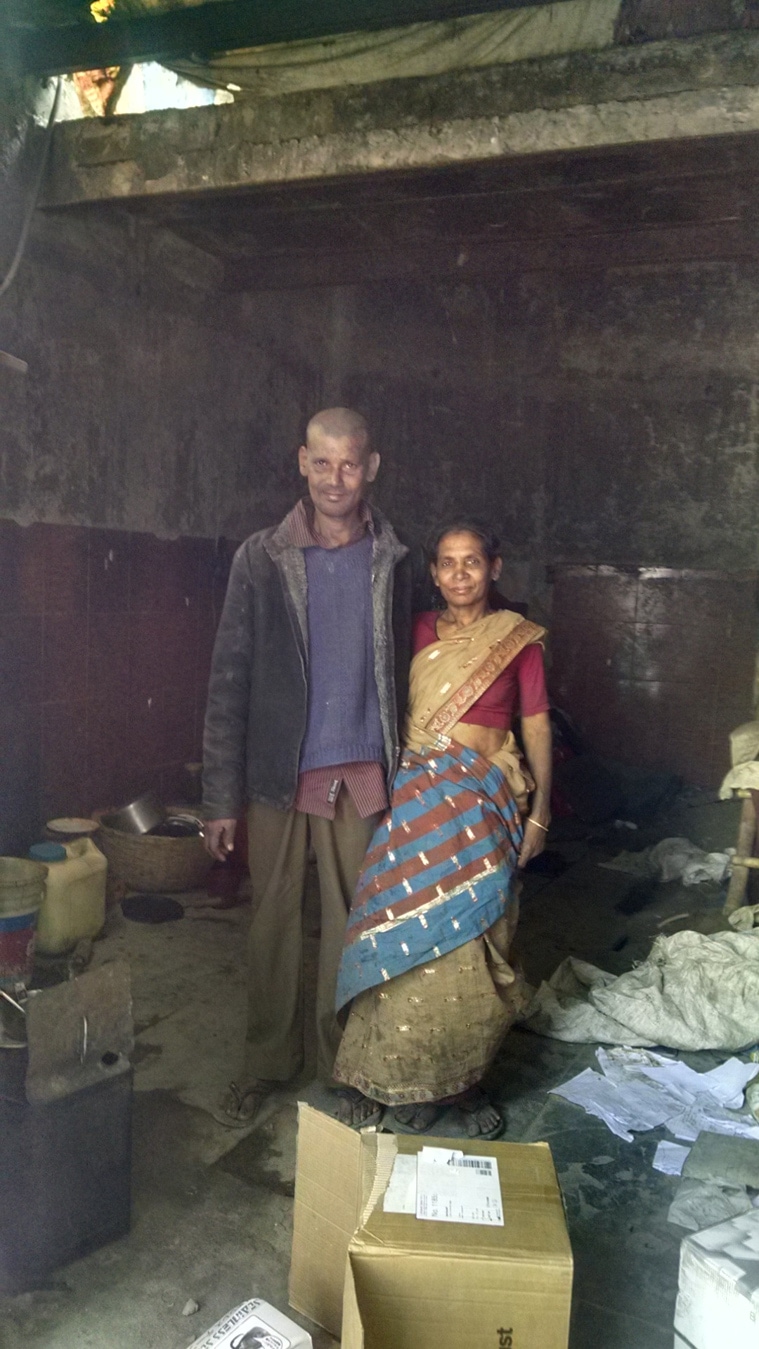 The sanitary officials know about Basanti and Raju. "We know they stay in the garbage station, but they help our permanent workers load the garbage collection trucks and clear the dustbins, so nobody disturbs them," a senior official said, requesting anonymity.
Like Basanti, Rajesh and Rajesh — one from Madhubani in Bihar, the other from Gorakhpur in Uttar Pradesh — also collect garbage from the area, including the police station. As they drag in bins overflowing with refuse from the NP Girls' School to the garbage station, Basanti uses a rope to pull these and tips them into the trolleys.
All of them work bare-handed, with no gloves, masks or aprons, mandated under the Swachh Bharat Abhiyan. Staff at Circle 2 office claim karmacharis are given "protective gear", but lose them.
Still, Rajesh from Madhubani is satisfied. "Since Modi's visit, salaries from the police station have become regular. I also work at the ACP's office, making another Rs 5,000.  Humne thane ko chamka diya hai (We have polished the thana)," he says.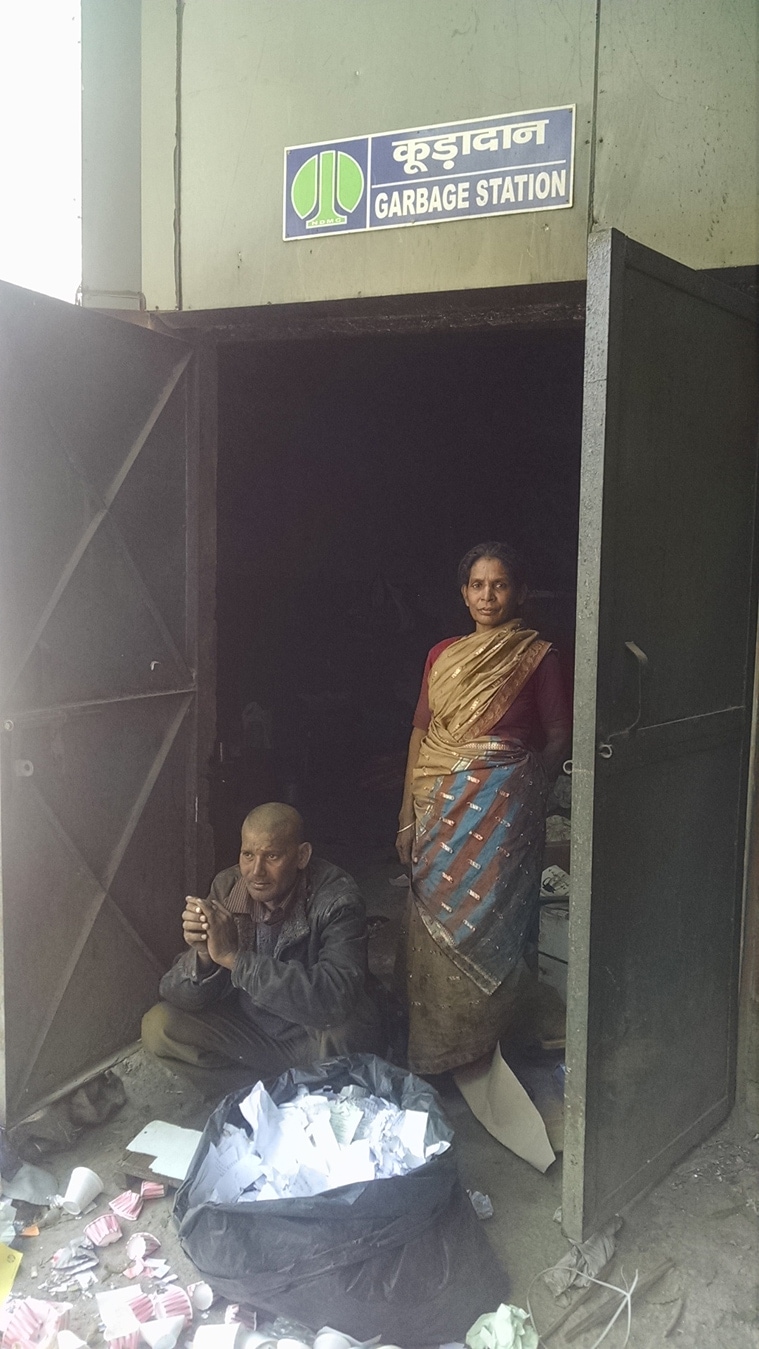 Before October 2, the two along with 25 other safai karamcharis were engaged by a private contractor. "Our contract was for Rs 14,000 a month, but the contractor brought it down to eventually Rs 6,000. Even that money used to come three months late. Four days after Modiji's visit, the police staff offered to engage us and we all quit the contractor's service," Rajesh from Gorakhpur says.
Now, from 25 workers, their number is down to two. "We don't take any leave so they are happy with us," Rajesh adds.
One of the instructions to them is not to miss the spot where "Modiji cleaned the footpath". "They have placed two stones there one against the other," Rajesh laughs.
At the other end of this garbage trail are Saiful and Manik. Along with a driver, they man a "compact garbage van" or an "advanced" truck, bought after the PM's visit, that collects garbage from the garbage station. It can hold 8-10 metric tonnes.
Handkerchiefs tied across their noses and woollen gloves protecting their hands, they empty the garbage trolleys into their truck.
"We never got gloves or masks, but who will ask for them? If the PM had met us, we would have told him," Saiful says.
Earlier, the area had three tempo vehicles which could take in eight-nine trolleys of garbage each. Since Modi's visit, there is this single compact van. "If we cannot cover all the 85 blocks in the area, which include 10 garbage stations (like the one where Raju and Basanti stay) and 52 dustbins, in one shift, people complain," Saiful says.
At Valmiki Colony, metres away, two safai karmacharis are permanently posted at the temple which Modi visited. Jugal, who is among them, was present the day of the PM's visit. "I wish someone had told him this was where all the safai karmacharis stayed and there was no need to sweep this street," he smiles.
The park next to Valmiki Colony, which stood out because of its flower plots and lush grass during the PM's visit, is now barren. Soaking in the afternoon sun there, Chander Chautala, a retired NDMC safai karmachari, says, "Those were cleared six days after Modi's visit."
Among the few remains of Modi's visit is a public toilet with a biodigester system inaugurated by him opposite the colony.
NDMC officials say another such toilet has been installed near RML Hospital and more are underway.
"We make sure to follow up the PM's cleanliness drive every Sunday," a senior police officer says. "We have assigned police personnel and also roped in safai karmacharis."
Dr P K Sharma, Director, Public Health and Medical Officer Health for NDMC, says the system has seen a "complete overhaul" since the PM's visit. "We have 1,500 new dustbins in 14 NDMC circles, we are trying to minimise manual labour, and we have 26 small vehicles which can go into small areas like jhuggi jhopdi clusters and collect garbage."
Of the 2,880 sanitation workers NDMC can hire, 1,880 are permanent, he adds. "Their work hours have been divided into shifts, instead of single-shift days." Verma also insists all sanitation workers are provided gear such as gloves, masks and aprons.
Additionally, Verma says, "moral classes" are planned in government schools "to inculcate good sanitation practices".
As for garbage stations like where Raju and Basanti stay, the director says, these are now "redundant". "We plan to convert most of them into public toilets because garbage can be stored in trolleys. We have built 230 toilets since the Commonwealth Games and more such toilets will be built."
Raju and Basanti are worried. "I've worked for them for 11 years and cleaned the garbage with my own hands. Will they give us alternative accommodation?" Raju asks.
Basanti, who has four children back home, hopes Raju will heed her pleas and marry her. "What if he throws me out if they throw him out?"
But at the Valmiki Colony, hope isn't lost. CM Arvind Kejriwal's posters now adorn the balconies. Chuckles Chautala, the retired NDMC safai karmachari, "Don't forget this is New Delhi-10001. So if the PM picked up the broom here, we are also Kejriwal's constituency."
http://indianexpress.com/article/india/india-others/6-months-later-returning-to-valmiki-colony-from-where-swachh-bharat-was-launched/99/