The case against Nithyananda is currently pending for trial at the Ramanagara sessions court.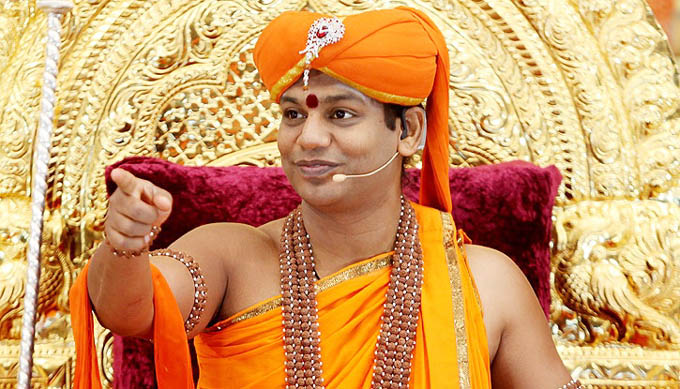 Although Gurmeet Ram Rahim Singh was sentenced to 20 years of jail term after being convicted of raping two of his disciples, it shouldn't be forgotten that the case was under trail for seventeen long years. Still, in India, there are a handful of such babas who are accused of rape charges with cases pending in courts. One such case is that of self-styled godman Swami Nithyananda.
Forty-year-old Nithyananda is currently facing a sexual assault case filed by Karnataka Police in 2009. The petitioner, Aarthi Rao, his own disciple, accused him of raping multiple times. The complaint says Nithyananda insisted on "seeking moksha through sexual union" with several female devotees by claiming to be incarnations of various gods. Alongside there are seven more cases against his foundation, on allegations of fraud in India and United States.
In an act of retaliation, Nithyananda Foundation members have filed 14 complaints against Aarthi Rao, all of them after charge sheet was filed against him. Also, 17 complaints were filed against whistleblower Dharmananda alias Lenin, who first came out exposing Nithyananda's sexual crimes.
In the official press releases by nithyananda.org, a number of slanderous arguments were made against the complainant Aarthi Rao without any ground of evidence.
"Nityananda and his secretaries have been continuously harassing me over the years. It is nothing short of witch-hunting. They have filed several retaliatory cases against me" the Newsminute quoted Aarthi Rao.
The Case status:
The case against Nithyananda is currently pending for trial at the Ramanagara sessions court. He was arrested on rape charges in April 2010 and was granted bail on June 11 that year. Claiming to be an impotent person, Nithyanand approached Supreme Court demanding stay orders against the case proceedings. The apex court ordered for medical test in that regard. The medical reports exposed Nithyananda's fake claims and confirmed him to be a normal adult. Next hearing is scheduled for September 2017.
Nithyananda claims to be the youngest living enlightened master with 10 million followers and the most watched spiritual teacher on youtube. Things sold on his website, nithyananda.org range from cosmetic products to sermons and songs in the form of books, videos, and audios in multiple languages. There are deals for the day in books, ornaments, idols and best-selling products. The website also accepts donations and payments in the currencies – Indian rupee, US and Canadian dollars, British pound and Euro along with credit card and PayPal options.
https://newsclick.in/swami-nithyananda-case-will-justice-prevail