NEW DELHI: "Many people were worried that the Taj Mahal was removed from the list of historical places in the UP tourism booklet. What history are we talking about? The man who built Taj Mahal imprisoned his father. He wanted to massacre Hindus. If this is history, then it is very unfortunate and we will change this history, I guarantee you" Bharatiya Janata Party legislator Sangeet Singh Som said at a rally in Meerut on Sunday.
Som does not believe in prevaricating. He shoots straight from the hip. And sets new benchmarks with every utterance, driving home the Hindutva agenda brazenly and unapologetically. And in the process sets the picture clear, just in case the official position taken by the BJP in government creates confusion amongst the cadres.
The Yogi Adityanath government had scored yet again by leaving the Taj Mahal out of a government booklet on tourist attractions. When this omission attracted considerable flak from the opposition and on the social media the BJP in government spun out a story that the booklet had mentioned only ongoing tourism projects.
Not everyone was convinced, and Som as is his way plunged straight into the controversy by moving the Taj out of the 'it is originally a Shiv Mandir' argument that a section of the BJP/RSS have always maintained into his categorical"it is built by traitors." Inherent in this statement made at a public rally is that the Taj should not even be retained, but be demolished as it was constructed by traitors and anti-nartionals. Read of course Muslims.
Again BJP leader Nalin Kohli rushed with remarks for international consumption namely, "Taj Mahal is an important part of our history. It's part of incredible India. What happened in history cannot be erased but at least it can be well-written history." Whatever that means. However, the fact that Som speaks and acts for the BJP is well known as except for tame rebuttals like the above no action has ever been taken against him. Not even a minor reprimand issued.
And perhaps BJP MP Ansul Verma's remarks can be taken as further clarification in support of Som's views when he said, "don't link the Taj with Indian culture." And yes of course it can remain a "tourist spot"…for now.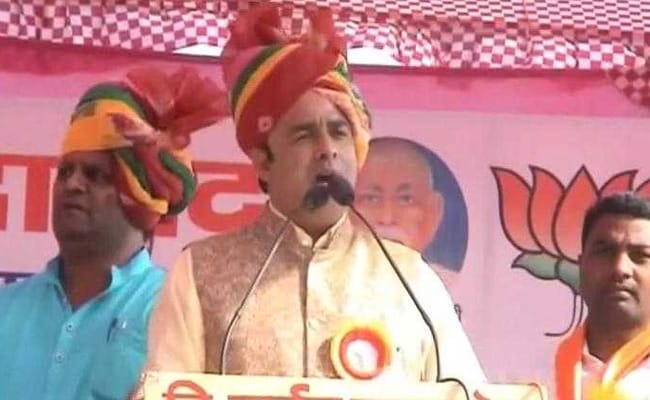 Som came on to the national BJP stage through the Muzaffarnagar violence just before the 2014 Lok Sabha elections that brought his party to power at the centre. He was amongst the local leaders reportedly playing a major role in inciting passions, and has been widely credited with posting a fake video alleging violence against the majority community by Muslims, He was alleged to have circulated an old foreign video that had little to do with India maintaining it involved locals. This contributed to large scale violence, but after this Som became a celebrity in BJP ranks, being garlanded and felicitated at functions not just in UP but other neighbouring states.
After the lynching of Mohammad Akhlaq in Dadri, one of the first shocking incidents, Som was amongst the first leaders to reach the spot, support the lynching, and assure the assailants and their supporters that they would all get bail. Today all are out on bail as reported by The Citizen first, and at least 15 of them have been assured of jobs in public sector NTPC.
Som was one of the leading legislators whipping up a vicious campaign against cow slaughter. Interestingly The Hindu soon after revealed, with documentation that Sangeet Singh Som,founded one of India's halal meat export company. The Hindu reported that the company Al-Dua Food Processing Private Ltd, was founded by Mr. Som, along with Moinuddin Qureshi and a third partner, to deal in meat and meat products in 2005. According to Al-Dua's website, the company is now a "leading producer and exporter of halal meat from India." This was at variance with the 'pink revolution' remarks of Prime Minister Narendra Modi who along with others—including Som of course— has maintained that meat exports were a cover for the slaughter of cows. Of course Som denied this, but then later according to media reports admitted that it was true but that he had been made a director without his knowledge.
Opposition leaders have already started tweeting about Som's remarks against the Taj. National Conference leader Omar Abdullah tweeted, "No more Red Fort speeches on 15th August? 'The PM will address the nation from Nehru Stadium' will fill some hearts with unabashed glee." Som has hit out against all the Mughal rulers.
http://www.thecitizen.in/index.php/NewsDetail/index/1/11996/Taj-Built-By-Traitors-Muzaffarnagar-Riot-Accused-and-BJP-Legislator-Som-Speaks-For-the-Party