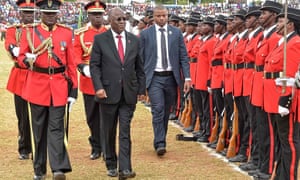 Activists accuse government of encouraging human rights violations, as President Magufuli releases convicted abusers of 10 primary school children
Activists accused Tanzania's leaders of "promoting a culture of human rights violations", as the release of two high-profile child rapists this week coincided with calls for pregnant schoolgirls to be arrested.
John Magufuli, the Tanzanian president, pardoned the two men, who were convicted of the rape of 10 primary school children aged between six and eight, along with thousands of other prisoners, in his independence day speech on Saturday.
News of their release emerged as a government official in the east African country called for pregnant pupils to be taken into custody. On Monday, John Mongella, the regional commissioner of Mwanza, said the move would force girls to testifyagainst those who impregnated them. This followed calls from the president earlier this year to ban pregnant girls from school.
The released rapists are singer Nguzu Viking, known as Babu Seya, and his son, Johnson Ngazu, known as Papii Kocha, who were pardoned by the president after serving 13 years of their sentence. They had been convicted in 2003 of raping the children, pupils at Mashujaa primary school in the Kinondoni district of Dar es Salaam.
Fazia Mohamed, the director of Equality Now's Africa office, said: "While President Mungafuli is pardoning convicted child rapists, regional commissioner John Mongella is calling on pregnant school girls to be arrested and taken to court. Tanzania's leaders are promoting a culture of human rights violations in which young victims of sexual violence are being punished while perpetrators are going free."
She said the policy of banning pregnant schoolgirls, often victims of rape or sexual coercion, failed to address the issue of who impregnated them.
"It is unacceptable that convicted child molesters walk free by order of a president who simultaneously denies victims of assault access to education if they become pregnant.
"After seeing their attackers sentenced to life for rape, now these survivors and their families are dealing with the pain of witnessing the president freeing the men who violated them. Where is the justice in that?" she said.
Petrider Paul, of Youth for Change, in Tanzania, said the pardons sent a "terrible" message to perpetrators of sexual violence and devalued their victims.
"It is unfair to the victims of these crimes and it sends a bad message to perpetrators that they can get away with it," said Paul.
The release of the men caused outrage on social media, with many posting the statements of the young girls who were violated, she said.
Children's rights groups say this is just the latest example of the president's lack of understanding of violence against children.
Kate McAlpine, the director of Community for Children's Rights in Tanzania, told the BBC she was "horrified but unsurprised" by Magufuli's decision or the call to arrest pregnant schoolgirls.
"This story is indicative of a failure at the top level of political will to end violence against children," she said. "Pregnant schoolgirls are pregnant because they are victims of violence. He has a blind spot when it comes to recognising children as victims. There seems to be a punitive attitude towards young children."
She said the fact the two men were jailed in the first place was unusual in a country where most rape cases are resolved within families.
Magufuli, who came to power in November 2015, is a popular figure, nicknamed the "the bulldozer" for his energetic road-building programme as former works minister and for his solutions-based approach. His war on corruption and wasteful spending has earned him admiration from many quarters. However, he has come under fire recently for using repressive legislation to silence the media, civil society and opposition groups.
In October, the Mwanahalisi newspaper became the second to be banned in Tanzania in a year, after publishing articles criticising the president.
https://www.theguardian.com/global-development/2017/dec/13/tanzania-pardons-two-child-rapists-arrest-pregnant-schoolgirls-president-magufuli