Tarun Tejpal, the former founder-editor of Tehelka, faces 10 years to life imprisonment if found guilty. Trial to begin in Goa on September 28.
This is also the first case in recent times where the probe has relied on "position of trust" as a crucial aspect in a rape allegation.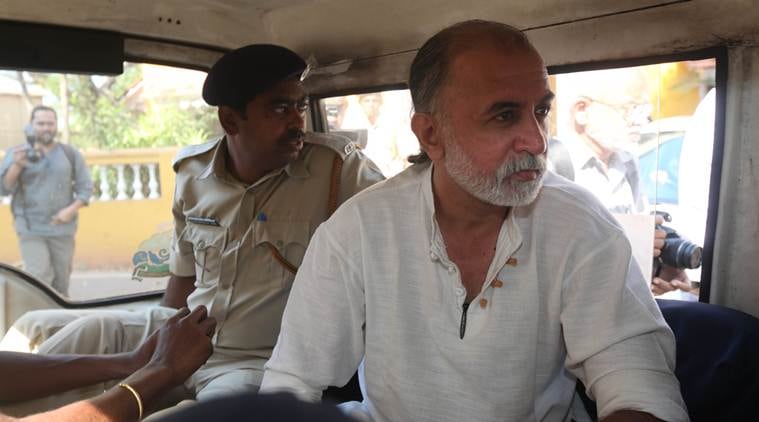 Former editor-in-chief of Tehelka magazine Tarun Tejpal outside at Goa high court on Tuesday. Express Photo by Pradip Das.
A Mapusa sessions court on Thursday formally directed framing of all charges against Tarun Tejpal, former editor-in-chief of Tehelka. Tarun Tejpal now stands to be charged with nine charges of which five are rape, including sections from the amended law. Tejpal is accused of sexually assaulting a female colleague inside a lift at Hotel Grand Hyatt in Goa on the night of November 7, 2013. "The court has directed the charges should be framed against the accused for the offences alleged in the case. In addition, the court has added IPC section 354 b, said public prosecutor Fransisco Tavora.
Tejpal gave a small laugh when the court decided on the date. He was accompanied by his family.
Journalist Tarun Tejpal will be tried on charges of raping and sexually harassing a junior colleague, a Goa court said on Thursday. The trial will open on September 28.
The former founder-editor of Tehelka was accused by the colleague of sexually assaulting her in an elevator of a five-star hotel during the magazine's THiNK 2013 festival in Goa in the November of that year.
The Mapusa court said 54-year-old Tejpal would be tried for rape, sexual harassment, assault and wrongful restraint. If found guilty, he face 10 years to life in jail.
In its 48-page order, the court has detailed previous judgments before arriving at the decision that Tejpal needs to go on trial for all charges.
Initially, Tejpal was booked under 354-A (sexual harassment and punishment for sexual harassment), 376 (rape), 376(2)(k) IPC (rape of a woman by a person being in position of control or dominance over the woman) by crime branch. The probe later added sections 341 and 342 (punishment for wrongful restraint), 376 (2) (f) (person in position of trust or authority over women, committing rape of such women) and 376C IPC (sexual intercourse by person in authority) and Section 354 IPC.
The hearings took over three years, with the defence claiming material evidence to prepare its side. It was only in June that the prosecution asked for an additional IPC section of 354B, which punishes criminal intent to disrobe a woman. When asked if they were satisfied with the order, Tavora said, "Well the court has considered all our arguments. The court has made reference to whatever precedence they could rely. We had to establish prima facie case and this is more than prima facie case."
In the last three years – the prosecution has listed witness statements, and crucial digital evidence such as letter of apology written by the accused himself, including, telephonic exchanges of chats. Further, the hotel's CCTV also forms part of the material probe.
This is also the first case in recent times where the probe has relied on "position of trust" as a crucial aspect in a rape allegation. In the chargesheet and all the arguments since three years, the victim's statement, that she trusted her employer, has been stressed upon. Tejpal, chargesheeted on February 17, 2014 by the Goa Crime Branch, will now stand trial once the charges are officially framed at 2:30 pm on September 28.http://www.hindustantimes.com/india-news/tarun-tejpal-to-be-tried-for-rape-and-sexual-harassment-of-colleague-court/story-fBAKosAQiEKPdfSv53kVBI.html