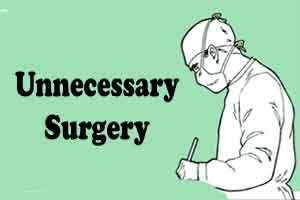 Telangana Medical Council has reportedly has taken stern action against two doctors after they had been booked for performing unnecessary appendix surgeries in the state.
The doctors, one Dr Suresh Kumar and one Dr Manoj Kumar had been arrested by the police last week for allegedly performing illegal appendix surgeries on gullible patients in the Karimnagar area, reports pharmabiz.
It is reported that while suspension of Dr Suresh has already been ordered, Dr Manoj has been summoned by the council for further investigation.
"The Telangana Medical Council will not spare medical practitioners if not abiding by the professional ethics. We have issued the suspension orders only after a thorough investigation by the ethics committee. It was found that both the doctors were indulging in an illegal act by misguiding the patients for their own self gain," informed Dr Ravinder Reddy, chairman of TMC told Pharmabiz.
The action has been reportedly met with strong objection from doctors in the area who staged a protest against the police and call for a bandh in the Karimnagar District. However, the council has maintained its ground, stating that careful investigation is being done at the moment and stern action shall be taken if the doctors are found guilty.