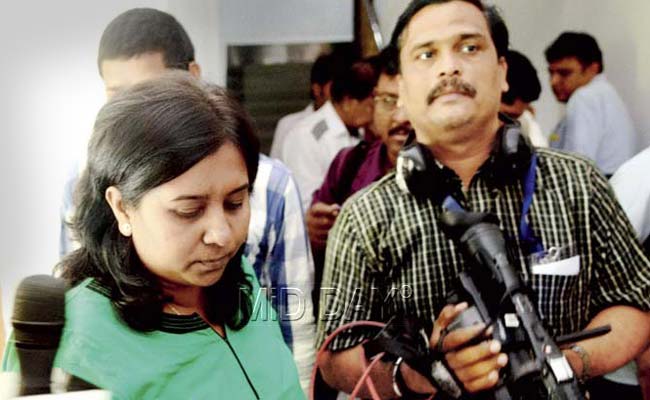 MUMBAI: 
Forget the glass ceiling, it looks like women in
Mumbai
can't even break through to the front row, as a female journalist discovered to her dismay yesterday when she went to cover an event where the
Chief Minister
was to be felicitated.
Even though the front row had been reserved for reporters, the scribe was reportedly asked to get up and go behind twice. On Thursday, Rashmi Puranik, a journalist with ABP Mazha channel, went to cover a felicitation programme being hosted by the Shree Santacruz Jain Tapagachha Sangh to thank CM Devendra Fadnavis for the beef ban.
When she reached the venue Yogi sabhagruh, next to the BAPS Shri Swaminarayan temple by Dadar station (East) she headed towards the seats in the front row, never dreaming this would subject her to gender discrimination. The front row had been reserved for journalists, but when she tried sitting there, she was stopped and asked to go to the seats at the back.
Puranik complained to the BJP Mumbai president, Ashish Shelar, who spoke to the organisers and ensured she got a seat in front. However, after some time, two more people from the Jain sangh approached her and told her that their culture didn't permit her a woman to sit in the first three rows.
They explained that even women from their own community were being asked to sit behind, but this argument did not sit well with Puranik, who said she felt deeply insulted by the incident. It appears that this is not the first time this has happened either.
Even the city's Mayor was not spared disgrace in a 2011 event that was jointly organised by the BMC and the BAPS Shri Swaminarayan Temple trust incidentally, the same trust that runs Yogi Sabhagruh. As per reports, a spiritual guru who was seated onstage had insisted that no women be seated closer than 35 feet from him.
The then Mayor Shraddha Jadhav was also not seated on the dias. When contacted, Jadhav said, "What I remember is that I was not onstage; only guruji and Uddhavji (Thackeray) were on the stage."
THE OTHER SIDE
Bachubhai Shah, one of the organisers from the Shree Santacruz Jain Tapagachha Sangh, denied his organisation's involvement in the incident. "In our Jain community, there is no discrimination. It was the sabhagruh where we held the function that informed us that there should be separate seating arrangements for men and woman.
We do not discriminate. Even the CM, in his speech, had said that discrimination shouldn't take place," he said. On the other hand, the venue manager, Dinesh Thakkar passed the buck right back and said they had not insisted on any seating rules for Thursday's event.
"We never stop anyone from seating men and women together. We may have particular rules for our own programmes, but there are no rules for others. I will have to speak to the organisers of Thursday's event, and ask them why they are saying we asked them to have separate seating arrangements," Thakkar countered.
TWEET TALK
Rashmi Puranik @Marathi_Rash: Went to Swami Narayan mandir to cover this programme. Organiser told me don't sit in the first three rows.
First three rows are for men and in our culture women are supposed to sit behind. I told the organiser this is insulting and wrong.
I told the organiser when you were sending invitations, you should have told media houses not to send women journalists.
The organiser told me their own mothers, sisters are sitting in back rows. I told them even this is wrong.
Twice they asked me to get up and sit in the fourth row. Hence I left the programme. This is pathetic; you care for cows but you treat women badly.