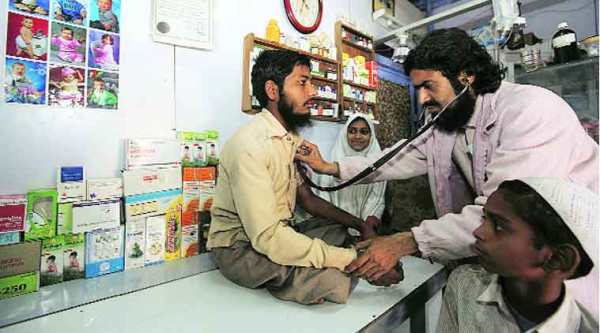 A file photo of Dr Salman Farsi with a patient. On Wednesday, he had to attend to two villagers who mishandled gelatin sticks.
In an ambulance at 4:44 pm on Wednesday, Dr Salman Farsi, an emergency doctor, was busy attending to two men suffering from multiple blast injuries. Struggling to track their blood pressure, he spent close to half-an-hour inside a fast-paced vehicle trying to stop their bleeding, even as the ambulance made its way to Civil Hospital in Malegaon.
The two men, a shepherd and a farmer, had touched a plastic bag hanging on a low branch in Rajwade, a quiet village in Malegaon. The bag exploded — it was later found to be a gelatin-based indigenous bomb. Hours later, police investigations indicated that the gelatin bomb is used by the nomadic Pardhi tribe to hunt wild boars.
It would have been a routine medical procedural narrative. Except, Farsi is a terror accused and till three years ago was serving jail time, booked for the serial blasts that took place near the Hamidiya Mosque and in the Mushawarat Chowk, Malegaon, on September 8, 2006, killing 31 people. The ATS claimed Farsi abetted in the crime and conspiracy behind the blasts.
One of the nine Muslim men arrested in the case, Farsi spent five years in Maharashtra's jails, till a probe by the NIA later attributed the blasts to a Hindu extremist organisation. With two agencies having submitted different charges and different sets of accused, the court is yet to pass an order on the discharge application of Farsi and the eight others. With the trial pending this order, Farsi is currently out on bail and continues to keep his dates with the courts.
On Wednesday, Farsi said he didn't think when the call for duty came. Asked how it felt to be on the other side of a blast probe, he said, "It's a very difficult question to answer. I was there as a medical officer this time."
It was around 3 pm on Wednesday, when the blast, which was heard up to a radius of nearly two kilometres, caused panic in Rajwade. Villagers rushed to the spot, and the Vadner Khakurdi police station, under whose jurisdiction the village falls, was immediately contacted. The police rushed a team to the spot, with Assistant Police Inspector Krishna Soni, in-charge of the police station, heading the investigations.
The blast had occurred on a farm owned by Rajwade resident Chintaman Goikar, who was among those injured. The other injured was identified as Vitthal Shinde, who tends to Gokar's cattle.
They were first rushed to the primary healthcare centre near Vadner Khakurdi, where the person in charge immediately called for an ambulance. The ambulance arrived with Dr Farsi on board — he joined as an emergency doctor with the Bharat Vikas Group two months ago. The former Unani medicine practitioner was at his clinic in Govandi when the Maharashtra ATS picked him up on November 5, 2006. He said this time, when the authorities called him, it was for a "critical situation", and he figured it was a blast only when the relatives of the injured informed him.
"The duo were grazing their sheep and goats on Wednesday afternoon when they spotted a plastic bag. They tried to move it with their wooden sticks, and there was a blast," said Dr Farsi. He said the the men had suffered multiple injuries on their face, neck, hands, feet and thighs. They were both admitted to the Civil Hospital in Malegaon.
For nearly half-an-hour, till they reached the hospital, Dr Farsi monitored the men. "I took note of their blood pressure, temperature, pulse rate, precipitation rate, their eyes, pupil and skin profusion. They all seemed normal. I examined their injuries and submitted my notes about them. There was no time to think about anything else," said Dr Farsi.
Before getting this job as an emergency doctor, Dr Farsi grazed sheep and led the prayers at a mosque in Yeola, Nashik. "But it's this job which is my first real job since I came out of jail. I have got an opportunity after a long time," he said. When the call came on Wednesday, he was reading medical books as usual.
Meanwhile, the police have arrested a tribal, Dinesh Pawar, for the blast and charged him with endangering life and personal safety. "Pawar had wrapped around 15 gelatin sticks in plastic and hung it from a tree in Goikar's farm, hoping to snare a wild boar. He had recently come to stay at Goikar's farm and was living in a small hut that he built on the land. After the explosion, we questioned him, as his hut is closest to the spot of the blast, and he told us about the bomb. We arrested him and he has been remanded to our custody till January 5," said Soni.
See more at: http://indianexpress.com/article/india/india-others/terror-accused-is-doctor-on-new-years-eve-emergency-call/99/#sthash.DReykVFh.dpuf