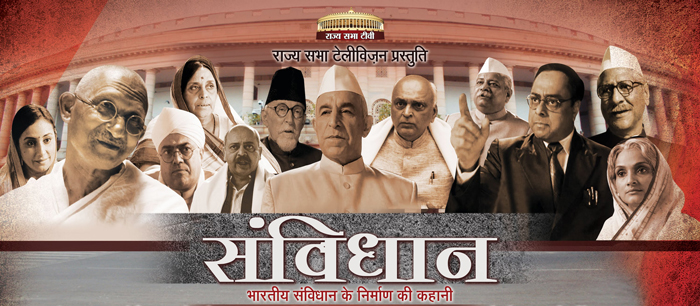 Precisely 66 years ago, India defined itself for its people and the world. On 26 November 1949, the Constitution of India was adopted for the first time, coming into force two months later, on 26 January 1950.
As Parliament is lit up in celebration and Constitution Day is celebrated nation wide, it is worth revisiting the values which formed the bedrock of this country.
The Constituent Assembly held 11 sessions, sitting for a total of 166 days, out of which the assembly spent 114 days for consideration of the draft Constitution. The draft Constitution itself had taken Dr BR Ambedkar and his team 141 days to prepare.
While India today argues about intolerance, with no consensus on what the term even means, the making of India's Constitution, still considered one of our most progressive pieces of legislation, is a humbling lesson in tolerance.
Rajya Sabha TV produced a 10 episode mini-series, Samvidhaan, on making of the Constitution which is directed by Shyam Benegal. Samvidhaan first appeared on television back in March of 2014.
We revisit some of the most important moments from the making of the Constitution.
The Constitution of India will decide the fate of a united India
When Muhammad Ali Jinnah asked India to be divided into India, Pakistan and the princely states, Mahatma Gandhi vehemently opposed dividing the nation on religious grounds.
It was then decided that the Constitution of India will decide the fate of a united India, and that separate states would not have separate constitutions.
Nehru's pledge to proclaim the freedom of expression, belief and faith
When Jawaharlal Nehru addressed India's first Constituent Assembly, days before India attained Independence, it was a proud moment. This is what he said:
"Our resolution points to the way we are going to trend… I pledge our resolve to proclaim India as an Independent sovereign republic."
He also pledged:
1. Justice – social, economic and political
2. Equality of status, opportunity
3. Freedom of thought, expression, belief, faith, worship, vocation, association and action.
A lesson in representation
"Make sure that your of your 14 member cabinet of ministers, seven are not a part of the Congress. Also that you include Muslims, Sikhs, Parsis, Christians and Harijans,"said Gandhi to Nehru just as the Constitution was about to be drafted.
He also alerted Nehru of Ambedkar's expertise and vast knowledge, which must be sought. "If you don't take the benefit of Ambedkar's vast expanse of knowledge about the Constitution, it will be Hindustan's loss," said Gandhi.
In the Constituent Assembly itself, there were more than 30 members of the Scheduled Castes. Frank Anthony represented the Anglo-Indian community, while the Parsis were represented by HP Modi.
The chairman of the Minorities Committee was Harendra Coomar Mookerjee, a distinguished Christian who represented all Christians other than Anglo-Indians.
Ari Bahadur Gurung represented the Gorkha community.
Prominent jurists like Alladi Krishnaswamy Iyer, Benegal Narsing Rau, KM Munshi and Ganesh Mavalankar were also members of the Assembly.
Sarojini Naidu, Hansa Mehta, Durgabai Deshmukh, Rajkumari Amrit Kaur and Vijayalakshmi Pandit were important women members.
Nehru unveils the national flag
When Nehru unveiled the national flag, there was joy and pride on every member's face.
This included HV Kamath, who generally had the most questions to ask. In this instance, Kamath had presented a proposal to fit a swastika inside the flag, but after seeing the chakra, he publicly withdrew his proposal, stating: "Now that I've seen the flag, I find it hard to fit the swastika into the chakra."
Abolishing child labour and bonded labour
When KM Munshi brought up the need to ban bonded labour, it was Rajkumari Amrit Kaur who opined that India should abolish child labour and slavery, particularly for those below 14 years of age.
Universal adult suffrage and an independent election commission
While in many parts of the world, women still didn't have the right to vote, and while other countries like the United States discriminated in giving voting rights to black people, India made the unanimous decision to grant universal adult suffrage, and to hold free, fair and periodical elections.
Munshi also proposed to form an election commission, which would oversee the fairness of elections.
Acharya JB Kripalani said: "Today we are creating history. Without discriminating on the basis of caste, creed religion, gender or state, the right to vote is the greatest fundamental right we are giving to the citizens of our country. "
The right to freedom of expression
Ambedkar said a provision should be made by law to prevent publication of slanderous, seditious, defamatory, libellous or defamatory matter likely to promote class or religious hatred, made punishable by law.
Dr Syama Prasad Mookerjee called this dangerous. "This is a double-edged sword. Tomorrow anything offensive said about the majority in this country can be called inciting hatred and such minorities could be punished. And if it is the majority of the country who is responsible for inciting violence, the minorities would be too afraid to speak up."
It is chilling that 66 years later, Mookerjee's fears have come true.
The Directive Principles of State Policy
Sir Benegal Narsing Rau quoted Kautilya's Arthshastra to enshrine the the right to food, healthcare, education and provide for the needy, the sick and the dying, "with maintenance".
When the President of the Constituent Assembly, and later President of India, Dr Rajendra Prasad, asked how the Indian state could guarantee these, Rau came up with the idea of the Directive Principles of State Policy.
Hindi is the official language, not a national one
N Gopalaswami Ayyangar, member of the Drafting Committee of the Constitution, moved an amendment to decide on the country's national language.
"I believe there is a fairly unanimous conclusion that we should select one of the languages of India as the common language of the whole of India. The final decision is we should adopt Hindi, as the language for all official purposes of the Union under the Constitution," he said.
There was much debate about Hindi hegemony and the wiping away of other regional languages.
Syama Prasad Mookerjee came out strongly in the defence of preserving India's diverse languages and scripts: "Unity and diversity is India's keynote and must be achieved through understanding and consent. You will not call it provincial if I'm proud of my own language. These languages must be protected and safeguarded in ample measure."
Nehru also agreed with Mookerjee, saying, "There is talk of Hindi being the centre of gravity and others being fringe languages. This is not an incorrect approach, but it is a dangerous approach."
A Constitution that respects atheists too
HV Kamath wanted to move an amendment asking for the Preamble to begin with: "In the name of God, we the people of India…". But other members, like A Thanu Pillai, a devout Hindu, opposed it, stating that this would amount to a compulsion of faith, and that the constitution was meant not only for believers but for atheists as well.
The amendment was dropped. Today the Preamble states: "We the people of India, have solemnly resolved to constitute India into a sovereign socialist secular democratic republic.
With inputs from Vishakh Unnikrishnan and Vikas Kumar.
All videos courtesy Rajya Sabha TVhttp://www.catchnews.com/india-news/the-bedrock-of-india-10-electric-moments-from-the-making-of-the-constitution-1448481592.html