Conceits of mofussil minds
The demagogue's spell is over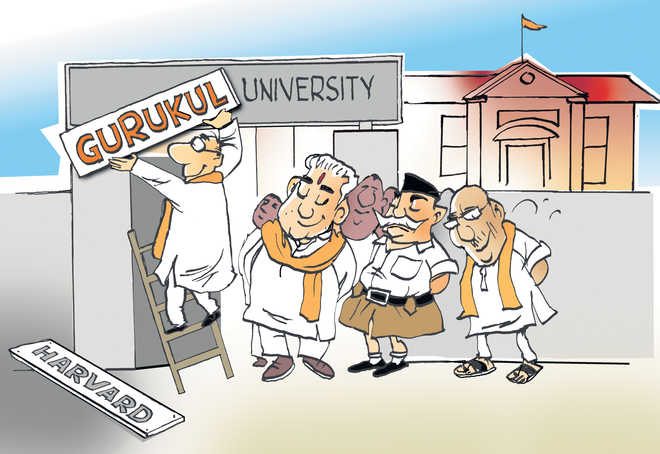 Harish Khare
A reader is unhappy with the Prime Minister's remarks at the dedication of the Sardar Sarovar Dam on Sunday. The dismayed reader writes a letter to the editor (The Tribune, September 20): "The remark was vitriolic and not in harmony with the celebratory occasion….Prime Minister Narendra Modi, as the head of the largest democracy, should forsake the detestable job of a low-level party hatchet man."
For the record, the Prime Minister had menacingly remarked that he had access to the "kacha-chitta" of all those who were opposed to the dam. News reports also noted that the Prime Minister pointedly did not mention Nehru, even though it was Nehru who had laid the dam's foundation stone.Not long ago, there was a time when such cultivated pettiness would have been music to many ears. No longer. Now, it is beginning to jar. There was a time when the country was in need of a catharsis. May 2014 happened.
 For a while, very many people found themselves dazzled — especially those who pride themselves on their technocratic detachment — by the sheer political energy, fast-talking, tongue-lashing leadership; the new anti-intellectual strain and invocation of popular nationalism seemed so natural and so very much in order.A tricked up nation is recovering its breath and its moral certainties. And, the nation no longer feels elevated with such small-mindedness as was witnessed last Sunday. After all, no nation can remain locked in for five years in an abusive moment. For how long can we feel excited about yet another CBI raid on a Karti Chidambaram or an Enforcement Directorate case against a Robert Vadra, or ignore all the evidence of grave damage inflicted by mofussil minds on national economy and national institutions?Evidence has mounted. The nationwide dislocation of demonetisation; the GST-centric disruption; the marked slowdown in economic growth; the alarming drop in GDP numbers; and, staggering unemployment, all mock at the outsized claims made by limited minds exercising unlimited authority.
The unprecedented rise in petrol and diesel prices is justified in a most cavalier manner. All this adds up. Charisma has not produced either competence or capacity. While it is possible for a leader to infuse a sense of energy and purpose in a confused society, a personality cult has its definite downside. And, that downside is now taking its toll on the nation's vitality and creativity. We are being asked to close our minds. Worse, we now seem to be in thrall of some kind of crony mofussilism. We are weeding out first-rate minds and talent. An internationally respected Raghuram Rajan is replaced by a pliable regulator at the Reserve Bank of India; as an Arvind Panagariya is made to feel that he was no longer welcome, he is replaced by a very ordinary economist, whose first public statement proclaimed that the days of "foreign-trained" economists were over. 
This officially-sanctioned spurning of foreign talent and wisdom is part of a larger, cruder crusade against the so-called Lutyens' elite. This assault on the Lutyens' elite is seen as integral to the dismantling of the Nehruvian consensus that has kept this nation united and moving and progressing. Instead, a tautological argument has been advanced; we are telling ourselves that national greatness has eluded us because we have allowed ourselves to be sucked into "foreign" ideas and arguments; hence, time has come to rediscover and re-install the civilisational essence of 'bharatiyata'.
The argument is that we are still prisoners of the colonial mind and colonial outlook. The need of the hour is to de-colonalise our minds for a "new resurgent Bharat."A NITI Aayog member is reported to have formulated, in the presence of the RSS boss, Mohan Bhagwat, this mumbo-jumbo: "India is rising; the country is pulsating; it is overcoming tamas (darkness) and is imbibing rajas (qualitative change)." We are told that we had all the wisdom and knowledge that was to be had; and, all that is needed to become a vishwa guru (world teacher) is to go back to that ancient wisdom. We do not need the Ivy League and its products; our own mofussil universities and their mediocre 'scholars' would do.
We can burn down the university libraries and no one will miss them. We have our own glorious past. This incestuous conceit should surprise no one. Because the media and the intelligentsia have lost their professional courage to tell off the second-rate performers, there is a new arrogance. We will insist that Deen Dayal Upadhyay has all the answers to all our collective failings. Just because they find themselves moved from the cramped quarters in VP House on Rafi Marg to spacious bungalows with manicured lawns on Safdarjung Road, these mofussil minds feel themselves cockily validated. The new sultanate has devised its own darbari culture.
NITI Aayog members write opinion pieces in newspapers exalting the BJP President as the new 'Chanakya'! What we are witnessing is a closing of our minds. The personality cult has become institutionalised, and the Great Leader's limits and weaknesses are now drowning out the strengths and assets. The cabinet system of government has suffered in efficacy as it has lost its capacity for collective imagination. The paucity of talent is no longer made up by the Prime Minister's rhetorical prowess, his brilliance in abusing political rivals, his humble origin or his unquestionable dedication to Bharat Mata. He dazzled the nation once; no more. A fatigue has set in as undersized performance has not matched the over-exaggerated promises and claims.
Meanwhile, the notion of good governance is being redefined by children's deaths in Gorakhpur, Farrukhabad, Nasik Civil Hospital; and, the breakdown in Panchkula. What is more, each spectacular failure is sought to be explained away arrogantly: we are a huge country and there will be breakdowns and collapses. The farm sector remains under distress. After grandly promising to double the farmers' income in five years, the hapless Agriculture Minister has been asked to disown any central responsibility; instead, the states have been asked to do the needful. Such abuse of public confidence and poll promises! Opposition parties and leaders may or may not be able to cobble together a coherent counter-narrative, the citizens are beginning to take note of the insensitive note, so central to crony mofussilism.
http://www.tribuneindia.com/news/comment/conceits-of-mofussil-minds/470843.html