The Government insists there was no bungling and everything is going according to plan. An inquiry into what that implies.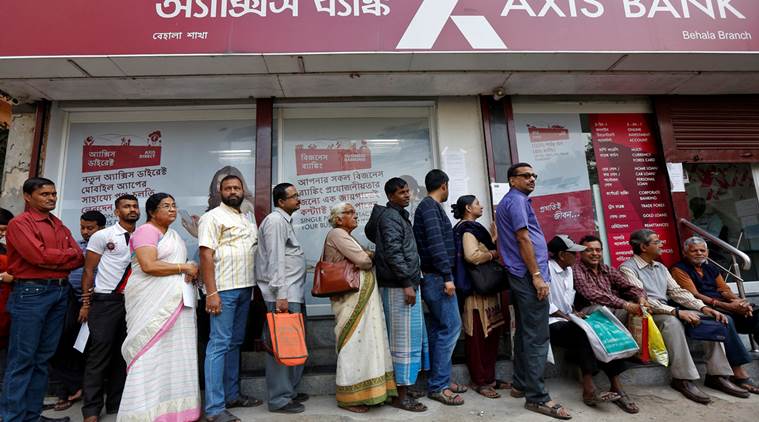 People queue outside a bank to withdraw cash and deposit their old high denomination banknotes in Kolkata (Reuters Photo)Conventional Trusting Wisdom says Note Recall was an exercise to root out black money, but its good intention was waylaid by poor execution that has led to large-scale distress of the kind that natural calamities usually bring. Conventional Sceptical Wisdom says Note Recall was an effort by the ruling party to take opposition parties by surprise and starve them of cash just as they were preparing for elections in five states, especially Uttar Pradesh.
Commentators on both sides agree that there has been 'poor execution' – "monumental mismanagement", as former Prime Minister Manmohan Singh put it – that has led to destruction of businesses, jobs and lives across the country, no matter what the motive or objective was.
Now the time has come to revisit this consensus because the Finance Minister, the RBI Governor and, indeed, the Prime Minister himself, are asking us to do so. This is what Finance Minister Arun Jaitley said on December 8, in response to the criticism of poor planning: "RBI has been releasing currency as per schedule. The aim of demonetisation has been to move towards digital transactions." And here is RBI Governor Urijit Patel: "The decision has not been taken in haste but after detailed deliberations… The consequences that have emanated from that were taken on board… That is why the planning, the process and implementation was what it was, keeping in mind high secrecy had to be maintained. The central bank and government were conscious of certain immediate difficulties for the public and all efforts were made to mitigate them". And here is Prime Minister Modi himself: "I always said the government's measure will bring a degree of inconvenience but this short-term pain will pave way for long-term gains."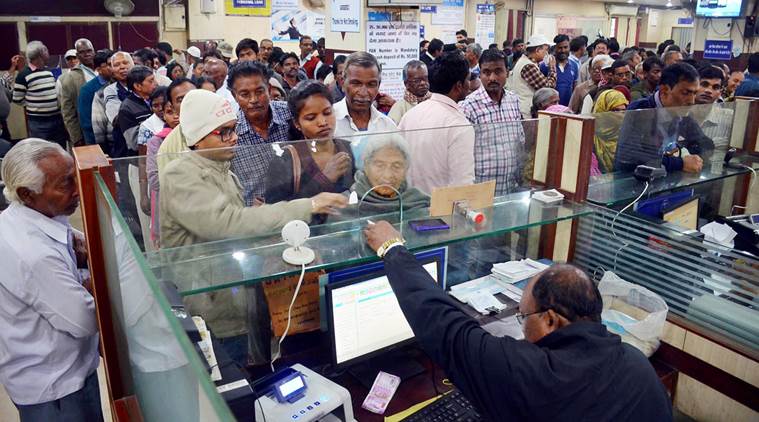 In short, the very three people who were in charge of taking and/or implementing the decision to ban over 86 per cent of the currency in circulation overnight are telling us clearly and unambiguously that as far as availability of replacement notes is concerned, everything is going as per plan. There has been no bungling and no nasty surprises.
Could they be right?
Could it be that the government planned the entire note recall exercise as part of the move towards digital transactions, as the finance minister said? That the war is on cash itself, not just on black cash? And that the shortage of currency was deliberate and intended to forcibly evict citizens from the cash economy in order to rehabilitate them in the cashless economy? And that the destruction of lives and livelihoods were mere collateral damage in pursuit of a higher objective called the cashless economy?
At first look this seems like a narrative that only a conspiracy theorist could spin and, therefore, something that needs to be rejected outright – because, one would think, what kind of government would do such a thing to its own citizens? But when people in charge of the measure have no difficulty in stating clearly that "consequences were taken on board", that the "aim has been to move towards digital transactions," that "short-term pain will give way for long-term gains", we need to consider the possibility seriously before accepting it or rejecting it. (Former finance minister P. Chidambaram has written in his latest column that the Prime Minister was in the dark about crucial factors such as the time it would take to print replacement notes, but we need to hold judgement on this while seeing where the government's own argument leads us.)
There is one important reason why we should take the government at its word when it says that the severe currency shortage and the destruction it has caused were not unforeseen consequences, but a planned outcome. It is this: The distinct contrast between the kind of planning that went into moving the country towards digital payments and that which went into ensuring that there was sufficient currency to replace the banned notes. It looks as if, in a relative sense, the ducks were all in a row as far as digital payments were concerned, whereas they were flying helter-skelter as far as delivering replacement notes was concerned.
PoS transactions witnessed a jump of 95 per cent post demonetisation.Let us take the case of digital payments first. Within hours after the November 8 announcement of the Prime Minister, digital payments player PayTM was ready with front-page newspaper advertisements selling its wares and lauding the move. And PayTM is not alone. It took no more than a few weeks for the new-born payment banks of Reliance Industries and Airtel to announce plans to create merchant networks of their own and carve out their share of the digital payments market which is estimated to reach an annual size of roughly Rs 35 lakh crore ($ 500 billion) by 2020 in terms of volume of transactions and about Rs 35,000 crore a year ($5 billion annually) in terms of revenue, calculated at 1% of all transactions made digitally. (This estimate was made by global consultancy firm BCG well before the note recall decision and it is an interesting question whether it should be revised now, considering that even the most ardent well-wisher of payments banks could not have wished for a more forceful product launch than what happened on November 8.)
Real action started over a year ago, in August last year, when 11 new payments banks got their licences. Three returned their licences, but the rest, including Aditya Birla Nuvo and Vodafone MPesa, are still in the fray. A few months after the payments bank licences were given out, in February this year, the Prime Minister chaired a Cabinet meeting that decided to promote 'payments through cards and digital means ', 'discourage transactions in cash', and 'shift the payments ecosystem from cash-dominated to non-cash/less cash payments'. The Cabinet decision was followed by the establishment of a task force in April this year, which was asked to recommend short-term measures to promote payments through cards and digital means. In the following month's Mann Ki Baat address, the Prime Minister even made a call for a move towards a cashless economy – as the 'whole world' is doing. The task force made its recommendations within three months, in July this year. The very next month, August, saw the creation of the Committee on Digital Payments headed by former Finance Secretary Ratan P. Watal which submitted its report in triple-quick time this month, on December 9. And within a fortnight, many of its recommendations have already been acted upon – including a lottery scheme (which takes inspiration from a Mexican lottery-cum- game show called El Boletazo), removing customs duty on POS machines that merchants need to swipe cards, and waiver of the convenience fee charged on digital payments by government departments. Look at the speed and efficiency with which the government has been moving on this front.
Now look at the other front which deals with replacement of notes, and what do we see? It is difficult to think of any initiative by any government at any point of time in recent history that was more botched-up. New notes in new sizes that require cumbersome recalibrations of 2.2 lakh ATMs across the country. Rs 2000 notes that are difficult to use because of scarcity of change of smaller denominations. Rules and notifications that change too often, leading to violation of the basic norms of trust between the government and citizens. Large-scale leakages in the printing-and-distribution chain with shady operators managing to get their hands on new currency notes worth crores while ordinary citizens line up, often fruitlessly, for the prescribed ration of a few notes of Rs 2000.
How can one reconcile this lack of preparation on the one side with the steady and speedy measures on the other, unless one surmises that they are two sides of the same coin – that the push for a cashless future required a severe shortage of cash for the common citizens who would then be left with no option but to somehow scramble to start making digital payments?
Which brings up the question: Why is the government so keen on pushing everyone into the cashless or, more accurately, less-cash economy? The government has consistently argued that the main purpose of the exercise is to fight corruption. But this is, at best, a half-truth, because a lot of high-level corruption doesn't involve cash. Take for instance, the much-written-about Aircel-Maxis case. The alleged quid-pro-quo happened through investment in a company owned by the family of a minister. No suitcases filled with cash, just cheques or wire transfer. Or take the case of AgustaWestland which is hogging headlines now. The bulk of the alleged bribes again were not paid through cash – but rather, through bank transfers to accounts and companies in India and abroad. To take yet another example, one of the most storied corporate chieftains in India built his empire by gifting shares of his company to decision-makers, thus aligning their interests with his.
So the idea that high-level corruption is synonymous with bundles of cash is a Bollywood fable, not reality. It can be said with confidence that even if cash is eliminated entirely, it will not put more than a minor dent on high-level corruption. No corporate crook is ever likely to to say: "Oh my goodness, I don't know how I'm going to pay this minister/bureaucrat now that there's no cash; I had better become honest!" From stocks to jobs to consultancy gigs, there is no shortage of devices to meet the pecuniary needs of the decision-makers.
Global data also supports the conclusion that there is no obvious correlation between cash in circulation (as a percentage of GDP) and corruption. Japan, which has a cash-to-GDP ratio of about 19 per cent is ranked as the 18th least corrupt nation in the world (according to Transparency International), while India with a much lower cash-to-GDP ratio of around 12 per cent ranks 76th! On the other hand, Brazil with a cash-to-GDP ratio that is less than a third of India's ranks the same as India, at 76th! The attempt to link a less-cash economy to a less corrupt economy simply doesn't wash.
Moreover, any attempt at fighting corruption that doesn't START with bringing transparency to political party funding is empty of any meaning whatsoever. Every study has singled out political party funding as the fountainhead of corruption and for good reason: In a democratic system of government, the final responsibility always rests at the desk of one politician or another, and if they are indebted to shady donors who helped elect them, they are in no position to eliminate corruption. That the NDA Government has made no move at all to make political party funding transparent is robust proof that annihilating corruption per se is not a serious or immediate objective.
What could be the objective then- Higher government revenue? A move to digital payments would, indeed, make transactions more transparent and trackable by the taxman and to that extent, tax evasion more difficult. (It is important to keep the distinction between corruption and tax-evasion, though. In the popular mind, these two are synonymous, but as we have seen, they NEED NOT BE. There can be mammoth corruption that involves no tax evasion, and there can be plain vanilla tax evasion that involves no other corrupt deed than the evasion itself.)
The question then becomes, was the Note Recall and the mayhem it is causing worth the trouble, for the possibility of higher government revenue? The answer is NO, for two reasons. One, digital payments have been on a rising graph even without any help from the government. Remember that the Rs 35 lakh crore projected volume of digital payments in 2020, up from about a tenth of that today, was made without knowing that there would be a Note Recall. Bear in mind also that Paytm, the leading player in the digital payments business, was valued at $5 billion (about Rs 35,000 crore) in August this year, much before Note Recall was announced – a five-fold jump in valuation in just 18 months from its earlier valuation, according to newspaper reports.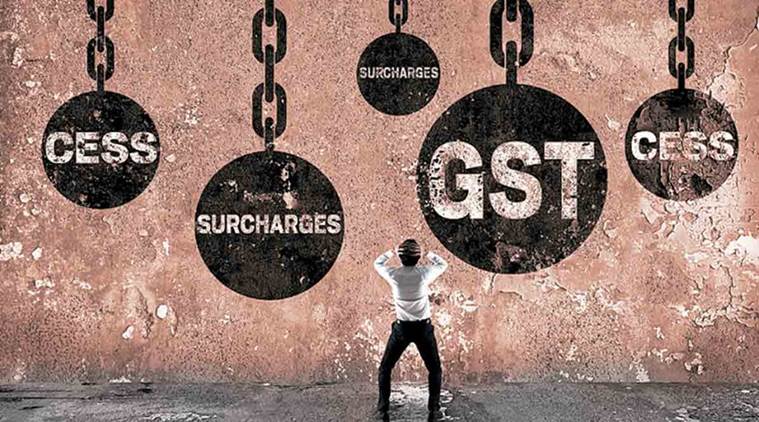 Two, transparency in transaction chains was, in any case, set to become the norm as plans to roll out the Goods and Services Tax (GST) next year were already in the pipeline. That is because once GST is rolled out, it becomes necessary for every participant in the production-delivery-retail chain to declare the true value of what he bought in order to get input tax credits, thus making it difficult for any single participant in the chain to evade taxes. So one way or another, even without the Note Recall, transparency in transactions was set to improve dramatically, thus making tax evasion far more difficult than earlier. In fact, to the extent that Note Recall delays the GST rollout – as it seems to be doing – it may have a negative impact on transaction transparency as well.
To sum up, here is what we have found so far: The government insists that everything is going according to plan, that there has been no bungling and no surprise, and that the objective is to move towards a less-cash economy. The reason for this shift, it says, is to fight corruption but we have seen that a less-cash economy is neither a sufficient nor a necessary condition for a corruption-free economy. The government also suggests that it wants a less-cash economy to increase transparency and reduce tax evasion, but we have seen that these were happening anyway and would have deepened as GST kicked in and digital payments grew in step with economic progress. In fact, judged on its professed objectives, the parallels between Notebandi and Nasbandi are indeed striking. Nasbandi tried to control population growth with forced sterilisation and failed, but population growth slowed down considerably anyway, as incomes, education and standards of living improved. Notebandi is trying to control cash usage with force, while we know it is already declining as incomes grow and technology spreads.
So now, we are then left in a quandary: What really explains the demonetisation decision and the way it was implemented? The best way to try and answer this may lie in teasing out three different threads of discussion within the government – the digital payments thread, the note-recall thread, and the state elections thread – and understanding how they may have interacted.
Thread one – digital payments – began before the NDA government came into power. In fact, one could trace its beginning to the meticulous and remarkable report of the Committee on Comprehensive Financial Services for Small Businesses and Low-Income Households, headed by Dr. Nachiket More, Central Board member of the Reserve Bank of India. The Committee was set up on September 23, 2013 and it submitted its final report on December 31, 2013. Among other things, it recommended the setting up of payments banks whose primary purpose would be to provide payment services and deposit options to small businesses and low- income households. By August 2015, this recommendation had been turned into reality, and the RBI gave payments bank licences to 11 entities, including Paytm (already functioning as an e-wallet player), Reliance Industries, Airtel Money, Aditya Birla Nuvo and Vodafone MPesa. Do keep in mind that under the terms of the Nachiket More Committee, the stated reason for the payment banks' existence was financial inclusion using technology, not moving towards a less-cash economy or increasing government revenue. In fact, the report doesn't even mention the phrases tax evasion or tax revenue.
It is this thread of financial inclusion – set going by the UPA government – that we see continuing through the first two years of the NDA government as well, through such efforts as Jan Dhan. For example, the Nachiket More Committee recommended that every resident receive a Universal Electronic Bank Account at the time of registering for an Aadhar card; that RBI prohibit banks from refusing to open an account; and that Aadhar be made the universal basis for authentication. A big change happened in April this year, when the Union Cabinet specifically decided to discourage payments in cash, shift the payment ecosystem from cash- dominated to non-cash/less cash payments and thus help reduce tax- avoidance. By now, the focus of the efforts had shifted from financial inclusion per se to discouraging cash as a way to reduce tax evasion. As we have seen earlier, this Cabinet meeting was followed by one committee after another, to take these ideas forward. Do note, however, that note recall or demonetisation is not part of the discussions on this thread.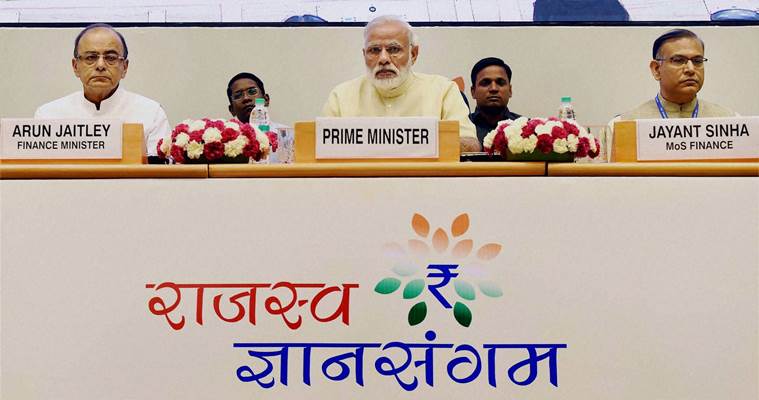 Prime Minister Narendra Modi with Finance Minister Arun Jaitley and Minister of State for FinanceJayant Sinha during the Inaugural Session of the two-day 'Annual Conference of Tax Administrators in New Delhi. (Source: PTI Photo)Now we come to the second thread – that of demonetisation, or the scrapping of high-value notes. This is an idea that has been rolling around within BJP circles for long, with enthusiastic proponents such as Baba Ramdev, Subramanian Swamy and Anil Bokil of the Pune-based Arthakranti Prathisthan. Sometime in July/August this year, this thread became entangled with the earlier thread on digital payments/financial inclusion, with Anil Bokil claiming to have had a two-hour meeting with the Prime Minister in July. A month earlier, in June, former RBI Governor Raghuram Rajan, who had indicated his opposition to demonetisation, had already announced that he would be leaving his post, after coming under attack from various ruling party quarters and the search for a new Governor had already begun. The new Governor finally came on board on September 6, 2016.
And lastly we come to the third and equally important thread – the five Assembly elections, especially that of Uttar Pradesh, scheduled to be held sometime before March 2017, when the term of the UP Assembly ends. It would have been fair for anyone to have assumed that elections would have to take place between February and March 2017 at the latest, as was confirmed by the Election Commission later. On August 22, 2016, around the time when demonetisation ideas were getting a serious hearing in the government, Finance Minister Arun Jaitley announced that the Union budget presentation would be advanced by a month to January-end, from February-end as used to be the practice earlier. If there were to be major announcements or give-aways in the budget, there would have been no better time for them than that.
In what precise manner these three threads came together, only the Prime Minister, the Finance Minister and the RBI Governor can say. From the outside, one can only wonder whether the oddball idea of demonetisation had not combined with the sensible idea of financial inclusion and digital payments and the opportunistic idea of wrong- footing political opponents in the state elections to produce the economic explosion we heard on November 8, the reverberations of which will continue for a long time.
Postscript: Yet another oddball idea has been making the rounds: Doing away with Income-Tax altogether and introducing a 2% tax on all banking transactions instead. It has the same set of proponents behind i