A new documentary follows one man's boxing club in Kolkata that trains young Muslim women and offers them a shot at a different life.
Muslim girl boxers of Khidderpore fighting all odds to become professinal boxer. (Source: Express Photo by Subham Dutta)Soon, the gloves come on, the girls begin to bounce on their toes and jab their fists into the air. "It takes at least four hours of training, six days a week to be a professional boxer," says Ahmed. He would know; better known as China da, Ahmed, 49, is a sort of legend in Kidderpore. He has turned out boxers of the calibre of 2002 Commonwealth Games gold medallist Mohammad Ali Qamar. Since 1997, Ahmed has trained over 60 young Muslim women, some of who have found themselves at the centre of Burqa Boxers, a documentary film by Alka Raghuram that will be screened at the ongoing 46th International Film Festival of India in Goa.
"When I learned about women boxers from Kolkata in 2007, I was intrigued. I wanted to know what their story was. That's how the film came about," says Raghuram. The Los Angeles-based filmmaker travelled to Kolkata soon after to meet the girls who "dare to dream and fight". Burqa Boxers tells the story of Razia Shabnam, one of the first Muslim girls to start training as a boxer in the Khidderpore-Ekbalpore area, and how she trains other young women in her neighbourhood.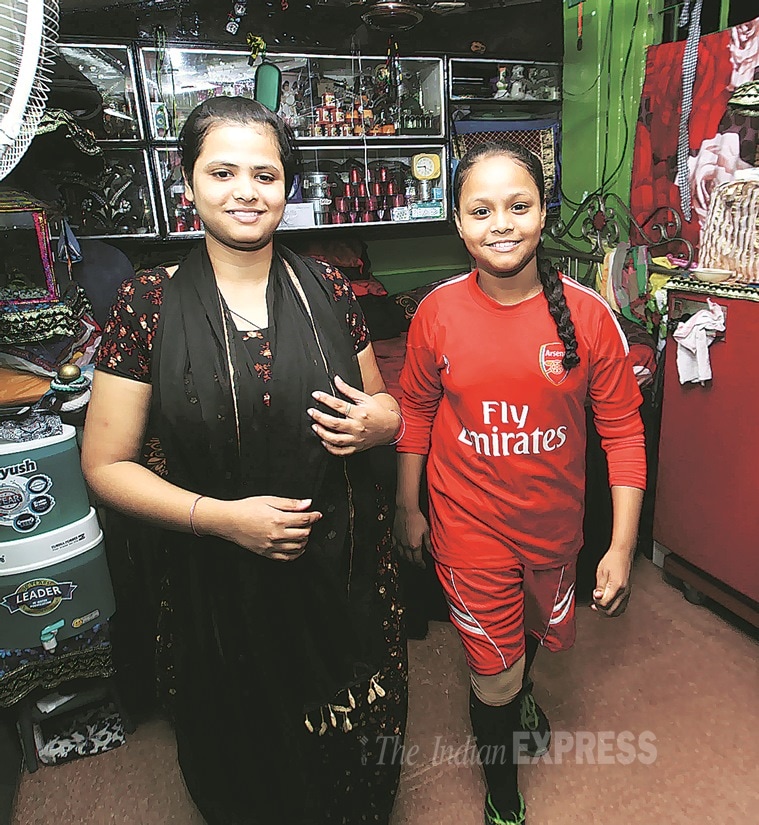 Muslim girl boxer Shaima Ajmeri (11) with her sister Shama Ajmeri (23) at their home at Ekbalpore in Khidderpore area. (Source: Express Photo by Subham Dutta)The Khidderpore docks are near the port. Slums huddle next to highrises and unemployment rate here is one of the highest in the city. For the rest of Kolkata, Khidderpore is not much above a Muslim ghetto. In a neighbourhood where women often do not feel at ease in the public eye, boxing means about more than landing the right uppercut. It is also about safety and retaining one's dignity. "If the girls are able-bodied boxers, they are not teased. But if you happen to be a salwar-kameez clad girl, you are teased if walk alone after sundown," says Shama Ajmeri, 23, a final year college student at a south Kolkata college, whose sister Shaima, 11, is training in Ahmed's boxing club. "When I started making the film, I had some preconceived notions. I thought most Muslim families would be unsupportive of their daughters who were learning to box. But I was wrong. These girls most definitely received family support," says Raghuram.
Mavish Halim, 11, is leading us through the serpentine Mission Dent road that leads to her home. She walks quickly, past the mosque with a mosaic dome, past the granite and chrome building of Ekbalpore nursing home, and the bottle cap factory, past the goat tied to a lamppost. A cavernous gate leads to a foyer; Halim's family's one-room apartment is on the fourth floor of a chawl, where she lives with her parents, sister and grandmother. "It's a bit cramped, but we manage," she says, shyly.
Dressed in a loose T-shirt and shorts, Halim looks different from her sister, Arshin, 21, who is wearing a pink salwar-suit with a dupatta draped over her head. For the past three years, Arshin has woken her sister at 6 in the morning, made her breakfast and sent her to Ahmed's classes to train as a boxer. That is the dream of the Halim family — to see their younger daughter as a national-level boxer. "People ask us, why do you send your girl to a boxing class, since we are god-fearing Muslims. My response to them is that Islam doesn't stop women from being self-reliant," says Arshin.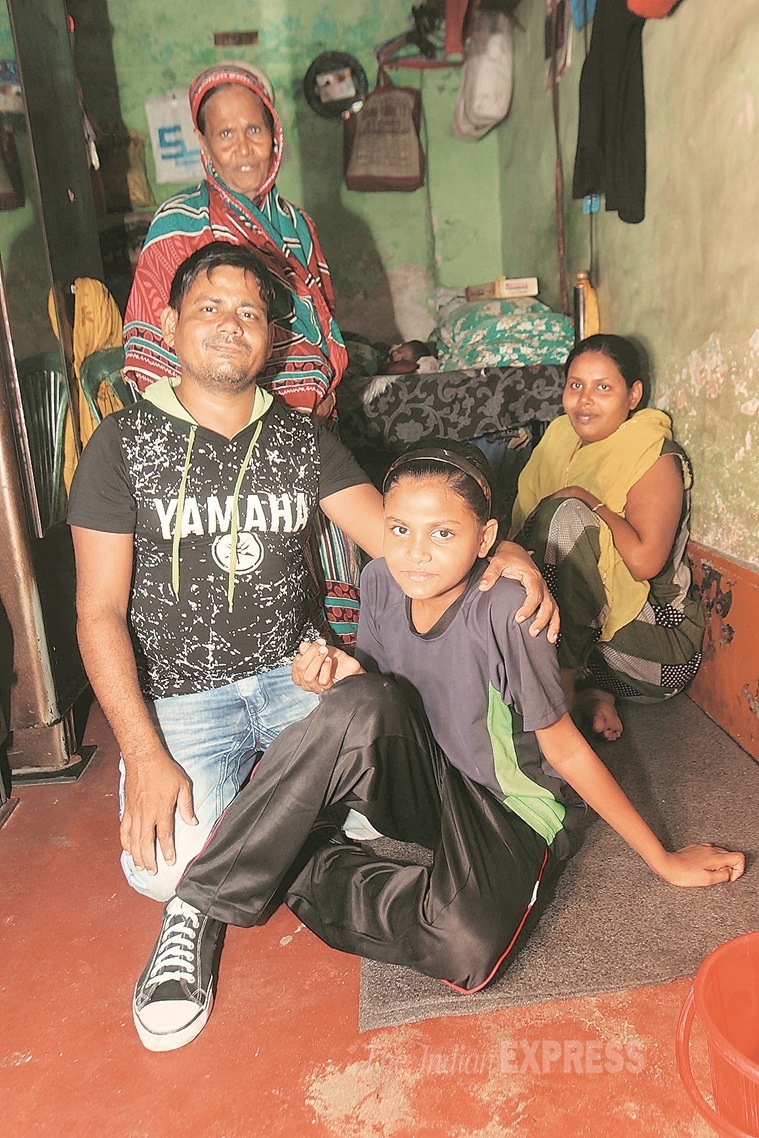 Muslim girl boxer Zara Faiyaz (10) with her parents at their home at Ekbalpore in Khidderpore area. (Source: Express Photo by Subham Dutta)When Raghuram first met Shabnam, the protagonist of her film, the young boxer was training other girls of Khidderpore to box. Today, Shabnam, 34, is a mother of two and is employed as a trainer at a south Kolkata NGO that works with children from the red light areas. And though she has left the streets of Khidderpore behind, she says that she will never forget her roots. "This was around 1997-98. I was initiated into boxing by my brother, Tabrez, who was training under Mirajuddin Ahmed at the time. I was in college and I didn't know of any women boxers in the country. I saw Laila Ali (Muhammad Ali's daughter) on TV and was taken in by the glamour of it all," says Shabnam. She approached Ahmed and asked to be trained. "Surprisingly, he was quite open to that," she says. Since that day, there has been no looking back.
Training doesn't come cheap. Though Ahmad charges only Rs 50 per month from his students, he says the actual cost to train amateur boxers comes to nearly Rs 10,000 a month, which includes a proper diet and training equipment. "We make do with the barest minimum and ask established boxers for hand-me-downs. We also get donations from different organisations," he says. Most of his boxers can't even afford gloves. "A basic glove costs Rs 1,500. That's more than half the monthly income of the families of most of my students," says Ahmed. One of his star students is Khatoon. "Her father is a vegetable vendor and can't even afford the daily commuting fare," says Ahmed.
In spite of all odds, Khatoon, who is representing Bengal at the National Boxing Championship in Guwahati next month, has big dreams. "If I get a railway job, I will be able to help my family," she says. Khatoon's brush with boxing began as soon as she hit her teens. "Boys in the locality where we stay would harrass my sister. I felt helpless and wanted to help her. I saw Mary Kom win matches on television and felt that I could do something about this," says Khatoon. A cousin who lived in Kidderpore suggested Ahmed's boxing club. But Khatoon had her reservations. "I was scared that it will be too much of a burden on my parents. A boxer's diet is expensive. But slowly, I realised that they were actually dreaming on my behalf. My father would give me his share of eggs, my mother skips one meal a day so that I can eat properly," she says.
Most girls in the area are married off early, sometimes in their teens, but the sport is slowly opening up new possibilities. Sufiya Noor, 12, a standard IV student at the Loyala High school has recently informed her parents that she won't marry till she establishes herself as a boxer. "We will support her. We won't force her to marry if she decides that she wants to excel in her chosen career path," says her mother, Shabana Noor, 34.
See more at: http://indianexpress.com/article/entertainment/entertainment-others/the-right-hook-2/#sthash.uc7v2nLr.dpuf