In Tirunelveli, the Tamil Nadu district infamous for its cases of atrocities against lower castes, a 60-year-old rape victim fights, starting with the bid to restore her SC name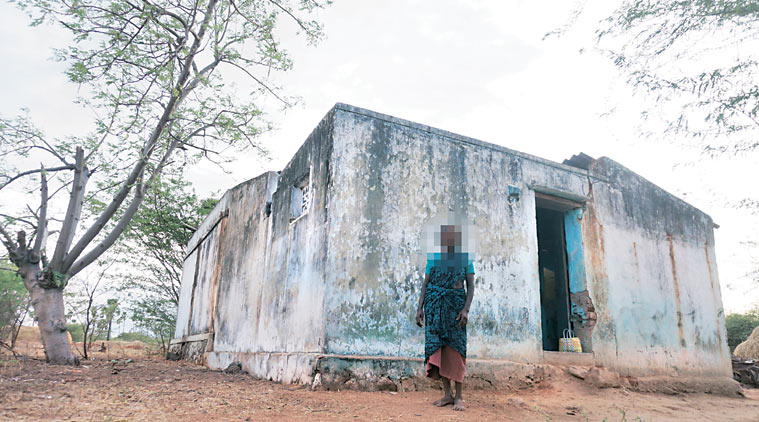 After raping her in April 2014, the woman says, her 27-yr-old upper-caste 'assaulter' threw her on some bushes and asked, "Why aren't you dead yet?". (Source: Express photo by Arun Janardhanan)In Tirunelveli's caste maze, all it took was an 'a' to change the course of this 60-year-old's case. With the dropping of that letter from her name, the Dalit rape victim was passed off as a Christian, and the assault on her managed to escape the stringent SC/ST Prevention of Atrocities Act.
Eighteen months later, she is still waiting for even a chargesheet to be filed against her alleged assailant, 27-year-old Chinna Durai, who belongs to an upper caste. While her medical examination confirmed rape and revealed serious injuries, she has not received any compensation.
She doesn't remember the exact date of the rape, only that "it was the day after I had voted in the elections that brought (Narendra) Modi to power (April 25, 2014)". The 27-year-old, an alleged local sand mafia leader, reportedly entered her house in the Dalit hamlet of Alangulam, about 20 km from Tirunelveli town, dragged her out, and raped and beat her up.
Alangulam is a village of dilapidated old homes, located down a road that branches off the four-lane Tirunelveli-Nagercoil road. The lush Western Ghats hang over the horizon.
The 60-year-old lives alone in her single-room thatched house, which is located a little distance from the others. Her husband died long ago, while her son lives in Tirunelveli town with his family. Only a few homes have power in the village, and hers is not one of them.
On April 24 night, Durai allegedly entered through the backdoor. "The door is nothing but a tin sheet propped up against the opening," she says.
"For the first few minutes, I was too dazed to know what was happening. When he began beating me, I tried to resist. I remember grabbing his cellphone and throwing it away. I also bit his hand hard," she says. "Then he threw me outside the house and stripped me."
She claims Durai raped her over the next half an hour, before throwing her on some thorny bushes nearby and shouting, "Why are you not dead yet?" As he walked away to a bike parked nearby, the 60-year-old claims, Durai declared he was from Singikulam, a village dominated by upper castes.
She somehow dragged herself to a house in the neighbourhood, she says, and lay there in a pool of blood till morning.
Her son, a 30-year-old coolie worker, says he rushed home as soon as the neighbours called. It was he who found Durai's phone inside their home. "There were only three numbers saved in it. I dialled the first one," he says. According to him, the person who received the call identified himself as "the inspector" and asked: "Where are the sand lorries? Where are they? Not coming today?"
They believe the person at the other end was Mohammad Iqbal, the Special Sub-Inspector at the Muneerpallam police station, whom they would approach soon after to get their rape complaint registered.
The son says when they went to the police station, Iqbal registered the case under the Tamil Nadu Protection of Women Harassment Act instead of the SC/ST Prevention of Atrocities Act, 1989. The SC/ST Act provides for enhanced punishment for atrocities committed on SCs, STs.
"Iqbal also refused to give a receipt of the complaint and said I may be lying. 'Who will rape you at this age?' one officer asked me. When we handed over the evidence (the phone), Iqbal said he knew the accused and asked us to settle the matter. When we refused, he alleged I must have stolen the phone," the woman says.
The 60-year-old spent the next four days at Tirunelveli general hospital. According to her, "The nurses too refused to believe I was raped. They ridiculed me, although I stood there bleeding till someone helped us get admission."
After medical reports confirmed rape, a minor alteration was made in the case category and it was filed as an unnatural offence under Section 377 of the IPC.
The woman says she then approached the district superintendent of police, who intervened to register it as a rape case. Her lawyer R Krishnan says, "That was the stage police altered her name, removing a letter in the FIR and cooking up a forged community certificate to project her as from a backward Christian community. After I showed the alterations to the district collector, he ordered a probe by the revenue divisional officer. They found that she belongs to the Scheduled Caste Pallar community," he says.
It was then that a case was finally registered under the SC/ST Prevention of Atrocities Act. However, while rules say that in SC/ST Act cases, a chargesheet should be filed within 30 days, it is yet to be done in the case of the 60-year-old.
Tirunelveli district is known for cases of violence against lower castes by Thevars, a politically powerful community. Over a hundred caste-related murders have been recorded in the recent past, with the victims mostly Dalits.
Asked about the 60-year-old's case, Tirunelveli District Collector M Karunakaran expresses surprise, adding he would take immediate steps for a chargesheet to be filed.
Muneerpallam police station officers deny trying to stall registration of a rape complaint while Iqbal, who continues to be a special sub-inspector, says he doesn't know the accused.
Inspector Chandra Sekar claims it was the Revenue Department that "misguided" them with a false community certificate. "The case was handed over to the DSP at Cheranmahadevi after the SC/ST Act was invoked," he adds. "We have been waiting for lab reports from Madurai, which has delayed the chargesheet."
See more at: http://indianexpress.com/article/india/india-news-india/the-silenced-letter-story-of-a-dalit-rape-victim-fighting-to-restore-her-sc-name/#sthash.DMnQqroP.dpuf