We need answers from the candidates on how they would deal with a deadly conflict in one of the Middle East's poorest countries. We're not getting them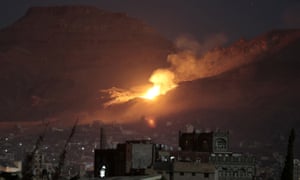 What if the United States went to war and nobody here even noticed? The question is absurd, isn't it? And yet, this almost perfectly describes what actually happened this past week.
While many Americans, myself included, were all hypnotized by the bizarre spectacle of the Republican nominee for president, a US navy destroyer fired a barrage of cruise missiles at three radar sites controlled by the rebel Houthi movement in Yemen. This attack marked the first time the US has fought the rebels directly in Yemen's devastating civil war.
The cruise missile salvo ramps up the already significant US military involvement in deeply divided and desperately poor Yemen. While it's true that the US has launched drone strikes on al-Qaida targets in Yemen for years, sometimes killing civilians and even US citizens, this particular military engagement has the potential to drag the US straight into a protracted and escalating conflict. And, as everyone knows, America has an uncanny ability to enter protracted and escalating military conflicts.
Yet we've heard absolutely nothing about this from our presidential candidates.
If we investigated, we would find that the Pentagon justified this attack as retaliation. Last week, missiles were fired on two separate occasions at another navy destroyer off of Yemen's southern coast. Those missiles fell harmlessly into the water, but they were enough of a provocation that the navy responded with its own bombardment.
But we would also find that immediately prior to those incidents, on Saturday 8 October, a 500lb laser-guided US-made bomb was dropped on a funeral procession by the US-sponsored Saudi-led coalition fighting the rebels who, the Saudis say, are backed by Iran. This bomb killed more than 140 people, mostly civilians, and wounded more than 525 people. Human Rights Watch called the incident "an apparent war crime".
That heinous attack led to a strong rebuke from the US, which has sold the Saudis $110bn worth of arms since President Obama assumed office, and recentlyapproved the sale of $1.15bn more. The US also supplies the Saudis with necessary intelligence and logistics to prosecute its war. According to Reuters, the US government is also deeply concerned that it may be implicated in future war crimes prosecutions as a result of its support for the Saudi-led coalition.
This worry might explain why National Security Council spokesman Ned Pricestated that "in light of this and other recent incidents, we … are prepared to adjust our support so as to better align [the Saudi-led coalition] with US principles, values and interests, including achieving an immediate and durable end to Yemen's tragic conflict". Sounds good. Then again, the US bombed Houthi positions days later.
The situation in Yemen is already catastrophic and largely out of view. Since the conflict began 18 months ago, more than 6,800 people have been killed. Both rebels and the regime have committed atrocities, though most of the dead are civilians and most have been killed by Saudi-led airstrikes. Almost 14.4 million people are now "food insecure", according to the UN's World Food Program, and 2.8 million people have been displaced. In 2015, there were 101 attacks on schools and hospitals. After two Doctors Without Borders hospitals were bombed resulting in 20 deaths – one in Taiz on 2 December 2015 and the other in Abs on 15 August this year – the humanitarian group was forced to withdraw from its six hospitals in northern Yemen. And the latest news is a cholera outbreak.
The Trump show has managed to bump all the serious and necessary policy debates not just off the table but out of the room. Presidential foreign policy discussions, for example, are now basically limited to who hates Isis more, who said what 13 years ago, and who believes Vladimir Putin is in charge of a roomful of hackers.
It's not enough. All the current polls point to Hillary Clinton winning the presidential election, and there's a desperate need for substantive answers regarding her policies. Will she merely continue Obama's Yemen strategy, which has not only failed to end the war but could also soon escalate it? The prevailing wisdom among many Democrats has been to focus first on defeating Donald Trump before moving on to what's next, but that's no longer fair to voters nor, really, to the people of Yemen. We need to know not only what we're voting against, but what we're voting for. As the last few days have shown, the world doesn't stop spinning while the US holds elections.https://www.theguardian.com/commentisfree/2016/oct/15/us-bombed-yemen-middle-east-conflict