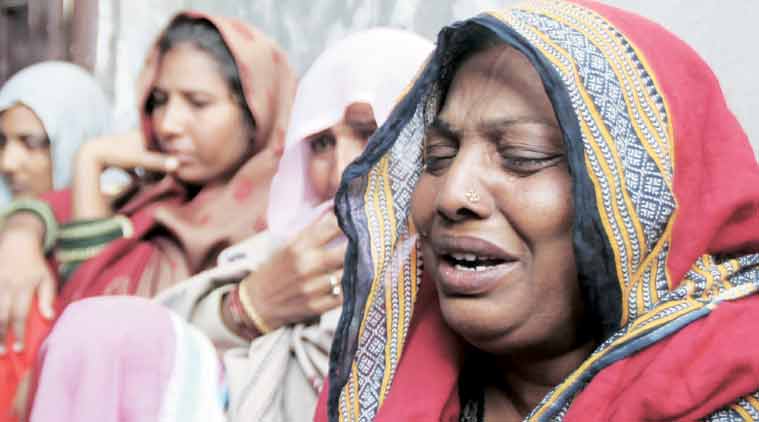 Bheem Tank's mother and other relatives, in Abohar on Monday. (Express Photo by: Gurmeet Singh)When Jaspal Singh Bhola entered Shiv Lal Doda's farmhouse shortly after midnight on December 11, it was deserted, but for his nephew Gurjan Singh, alias Janta Lahoria, lying in a pool of blood along with Bheem Tank, and their chopped off limbs strewn around.
Both Tank's legs and arms had been chopped off. Lahoria had lost one hand, and one foot was badly slashed. Lahoria had managed to use his unscathed hand to call up his brother, Rana.
"Rana called me and we quickly reached the farmhouse. They had chopped off the arms from below the elbows, and the feet with the shoes on. We collected all the parts and took both men to the Civil Hospital. They asked us to go to Amandeep Hospital in Amritsar," Bhola told The Indian Express.
Tank was still alive then, but bleeding profusely. "Tank said Shiv Lal Doda and his nephew Amit Doda were responsible for what had happened," claimed Bhola. "I cannot forget his last words".
Tank died on his way to the Amritsar hospital. Lahoria is still in the ICU, after doctors stitched back his arm.
Shiv Lal Doda, alias Sholly, is a liquor baron who owns 150 liquor vends in Abohar, and his business is spread across Punjab, Haryana, Himachal Pradesh, Uttar Pradesh and Rajasthan. The crime at his farmhouse is fast developing into another crisis for the Shiromani Akali Dal (SAD).
In the Rajya Sabha, MP Balwinder Singh Bhunder denied any link between Doda and SAD. But Doda was appointed SAD's constituency in-charge after he contested unsuccessfully as an independent candidate in 2012 assembly elections. After SAD mainstreamed him, Doda was often seen with CM Parkash Singh Badal and his deputy Sukhbir Singh Badal on political stages and has hosted parties for them at his farmhouse.
While Congress took up the murder in Parliament on Monday, AAP members were the first to reach Abohar and express solidarity with the victim's relatives.
Tank, a Dalit, had worked in Doda's liquor vends for more than four years, but quit about six months ago. He had 12 criminal cases pending against him — the last was a rape case lodged against him on the day of his murder.
The main accused is Harinder Singh Harry, and his gang, all employees at Doda's liquor vends.
The incident has sent shock waves in Abohar. There have been protests by sections of Dalits demanding the immediate arrest of Doda, his nephew Amit Doda, and the others accused. Protesters have been sitting on dharna at Sant Nagar since the day of the crime.
According to Tank's mother, Kaushalya, on the night of December 10, Harry called up Tank and asked him to come for a meeting at Doda's farmhouse. "He was forcing Bheem to join work again. Bheem had opened a dhabha. He never wanted to be part of the liquor vends, but they were getting fake FIRs lodged against him. They were forcing him to go back to work, warning him that more cases would be lodged," she claimed.
On December 11, before leaving for his dhaba at 9 am, Tank reportedly told his mother that he knew the meeting had been arranged by Doda and Amit. "They have chopped up my son. I want action against Doda and Amit. I don't want any compromise," said Kaushalya. "We are very poor, we want justice".
The family showed a picture in which "AS" is written in blood on Tank's shoe. "What more proof is needed to arrest Amit and Sholly (Doda)? Police are still sitting quiet," said Tank's uncle, Satpal Chand.
On Monday, when The Indian Express went to Doda's 40-acre farmhouse in Bhavwalan village, it was locked from the inside. "We have been asked not to open door to anyone," said the security guard.
See more at: http://indianexpress.com/article/india/india-news-india/abohar-gangwar-they-had-chopped-off-arms-from-below-elbows-feet-with-shoes-on-says-bheem-tanks-mother/#sthash.b9nUwl6d.dpuf