Rajendra Pachauri: third woman accuses ex-IPCC chair of sexual advances
Former employee of The Energy and Resources Institute alleges she was 'scared of Pachauri's motives'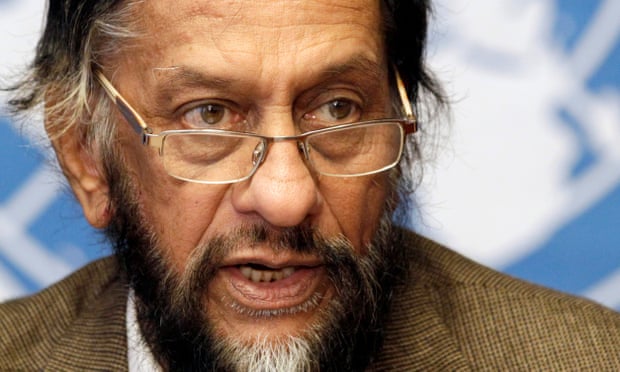 A third woman has claimed she was sexually harassed by the former head of the UN climate change panel, Rajendra Pachauri, who is charged with sexually harassing, stalking and intimidating a female employee.
The woman, who cannot be named for legal reasons, said on Thursday she had decided to make a public statement after reading an article in the Observer in which Pachauri denied the allegations against him claiming his email account had been hacked and the claims were a conspiracy to defame him.
Pachauri, 75, former chair of the UN's Intergovernmental Panel on Climate Change (IPCC), was formally charged this month, a year after a 29-year-old former employee filed a police report against him. She had worked at The Energy and Resources Institute (TERI), which was led by Pachauri.
A second female employee has also filed a police report against Pachauri.
Pachauri, stepped down in February last year as head of the IPCC, which was awarded the Nobel peace prize in 2007 under his chairmanship.
The third woman who has now come forward, who is not an Indian national, said she was 19 when she worked at the New Delhi branch of TERI in 2008. In a statement she said she believed Pachauri's claim that his computer was hacked was "totally false" and that his counter allegations were "right in line with his character". She said she had begun feeling uncomfortable around Pachauri as he "would put his hands on my waist repeated times, he would hug me longer than felt comfortable, [and] kissed me on the cheek".
On one occasion, she said, Pachauri went to her home. "I actually was sick and could not come to the office. He then came to my home with a bouquet of roses. This might sound sweet, but at that time I just felt uncomfortable and scared. He would call me during non-working hours and holidays to ask me to come to his office and when arriving it became evident that he had no specific task for me. Pachauri would indulge in frivolous talk and try to get close to me."
The breaking point came, she claimed, when Pachauri invited her to his summer home, making it clear they would be alone and that his wife was out of town. "At this point I felt genuinely scared of what his motives for inviting me over were, and I decided to speak out and set a firm limit," she said.
She requested a move to another department but was still summoned to Pachauri's office from time to time. She said that despite making it clear she did not want to be around him he told her that her contract would be terminated early. When she left New Delhi she had only completed four months of her one-year contract.
"When he terminated my contract I did not think there was any point in contesting it, as from my conversations with former employees at TERI I had gotten the feeling that it would be of little use trying to challenge any decision of Pachauri's," she said. "I also felt very relieved that I would not have to face Pachauri's sexual harassment any longer."
Pachauri faces trial next month over charges relating to the first woman. It is claimed that in emails, text and Whatsapp messages, he wrote messages professing his love for her. One message allegedly read: "I will go on a fast after a cricket match … I will break the fast only when you believe I love you with sincerity and unfathomable depth."
According to a report in the Economic Times an internal committee appointed by TERI found that "Pachauri's conduct amounted to misuse of his position and violation of the organisation's policy on sexual harassment".
The second claimant's statement was registered with the police last year, but was not included in the final charge sheet filed by the police against Pachauri.
The woman who has now come forward said she could "very much relate" to the allegations about Pachauri made by the other two women, and was surprised to see the claims of hacking which Pachauri had made.
Vrinda Grover, a lawyer representing two of the women who have made statements against Pachauri, said: "There are many, many, women who don't speak out because they see what the women who do go public face. They see that she has to face hostility, severe harassment, she loses her job, she's maligned and defamed as though she's part of a larger conspiracy."http://www.theguardian.com/environment/2016/mar/31/rajendra-pachauri-third-woman-accuses-ex-ipcc-chair-sexual-advances-