The detective didn't have a warrant, first off. And the patient wasn't conscious, so he couldn't give consent. Without that, the detective was barred from collecting blood samples – not just by hospital policy, but by basic constitutional law.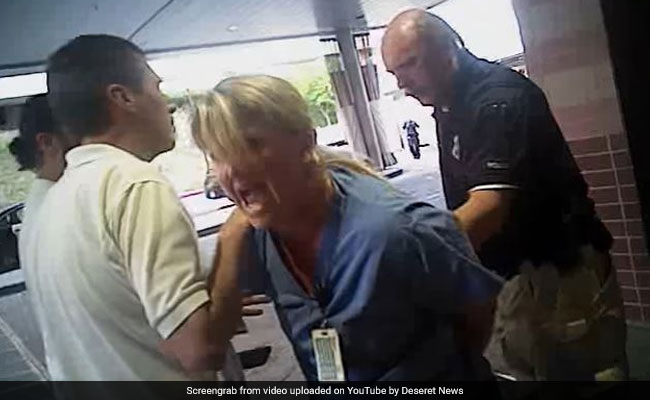 HIGHLIGHTS
Nurse Alex Wubbels told policeman to not draw blood from burn victim
Burn victim unable to give consent as he was sedated
Police detective also did not have warrant to draw blood samples
By all accounts, the head nurse at the University of Utah Hospital's burn unit was professional and restrained when she told a Salt Lake City police detective he wasn't allowed to draw blood from a badly injured patient.
The detective didn't have a warrant, first off. And the patient wasn't conscious, so he couldn't give consent. Without that, the detective was barred from collecting blood samples – not just by hospital policy, but by basic constitutional law.
Still, Detective Jeff Payne insisted that he be let in to take the blood, saying the nurse would be arrested and charged if she refused.
Nurse Alex Wubbels politely stood her ground. She got her supervisor on the phone so Payne could hear the decision loud and clear. "Sir," said the supervisor, "you're making a huge mistake because you're threatening a nurse."
Payne snapped. He seized hold of the nurse, shoved her out of the building and cuffed her hands behind her back. A bewildered Wubbels screamed "help me" and "you're assaulting me" as the detective forced her into an unmarked car and accused her of interfering with an investigation.
The explosive July 26 afternoon encounter was captured on officers' body cameras and is now the subject of an internal investigation by the police department, as the Salt Lake City Tribune reported Thursday. The videos were released by the Tribune, the Deseret News and other local media.
On top of that, Wubbels was right. The U.S. Supreme Court has explicitly ruled that blood can only be drawn from drivers for probable cause, with a warrant.
Wubbels, who was not criminally charged, played the footage at a news conference Thursday with her attorney. They called on police to rethink their treatment of hospital workers and said they had not ruled out legal action.
"I just feel betrayed, I feel angry, I feel a lot of things," Wubbels said. "And I'm still confused."
Salt Lake police spokesman Sgt. Brandon Shearer told local media that Payne had been suspended from the department's blood draw unit but remained on active duty. Shearer said Salt Lake City Police Chief Mike Brown had seen the video and called it "very alarming," according to the Deseret News.
It all started when a suspect speeding away from police in a pickup truck on a local highway smashed head-on into a truck driver, as local media reported. Medics sedated the truck driver, who was severely burned, and took him to the University of Utah Hospital. He arrived in a comatose state, according to the Deseret News. The suspect died in the crash.
A neighboring police department sent Payne, a trained police phlebotomist, to collect blood from the patient and check for illicit substances, as the Tribune reported. The goal was reportedly to protect the trucker, who was not suspected of a crime. His lieutenant ordered him to arrest Wubbels if she refused to let him draw a sample, according to the Tribune.
A 19-minute video from the body camera of a fellow officer shows the bitter argument that unfolded on the floor of the hospital's burn unit.
A group of hospital officials, security guards and nurses are seen pacing nervously in the ward. Payne can be seen standing in a doorway, arms folded over his black polo shirt, waiting as hospital officials talk on the phone.
"So why don't we just write a search warrant," the officer wearing
the body camera says to Payne.
"They don't have PC," Payne responds, using the abbreviation for probable cause, which police must have to get a warrant for search and seizure. He adds that he plans to arrest the nurse if she doesn't allow him to draw blood. "I've never gone this far," he says.
After several minutes, Wubbels shows Payne and the other officer a printout of the hospital's policy on obtaining blood samples from patients. With her supervisor on speakerphone, she calmly tells them they can't proceed unless they have a warrant or patient consent, or if the patient is under arrest.
"The patient can't consent, he's told me repeatedly that he doesn't have a warrant, and the patient is not under arrest," she says. "So I'm just trying to do what I'm supposed to do, that's all."
"So I take it without those in place, I'm not going to get blood," Payne says.
Wubbels's supervisor chimes in on the speakerphone. "Why are you blaming the messenger," he asks Payne.
"She's the one that has told me no," the officer responds.
"Sir, you're making a huge mistake because you're threatening a nurse," Wubbels's supervisor says over the phone.
At that point, Payne seems to lose it.
He paces toward the nurse and tries to swat the phone out of her hand. "We're done here," he yells. He grabs Wubbels by the arms and shoves her through the automatic doors outside the building.
Wubbels screams. "Help! Help me! Stop! You're assaulting me! Stop! I've done nothing wrong! This is crazy!"
Payne presses her into a wall, pulls her arms behind her back and handcuffs her. Two hospital officials tell him to stop, that she's doing her job, but he ignores them.
"I can't believe this! What is happening?" Wubbels says through tears as the detective straps her into the front seat of his car.
Another officer arrives and tells her she should have allowed Payne to collect the samples he asked for. He says she obstructed justice and prevented Payne from doing his job.
"I'm also obligated to my patients," she tells the officer. "It's not up to me."
In Thursday's news conference, Wubbels's attorney Karra Porter said that Payne believed he was authorized to collect the blood under "implied consent," according to the Tribune. But Porter said "implied consent" law changed in Utah a decade ago. And in 2016, the U.S. Supreme Court ruled that warrantless blood tests were illegal. Porter called Wubbels's arrest unlawful.
"The law is well-established. And it's not what we were hearing in the video," she said. "I don't know what was driving this situation."
Wubbels has worked as a nurse at the hospital since 2009, according to the Tribune. She was previously an Alpine skier who competed under her maiden name in the 1998 and 2002 Winter Olympics.
As a health-care worker, she said it was her job to keep her patients safe.
"A blood draw, it just gets thrown around like it's some simple thing," she said, according to the Deseret News. "But your blood is your blood. That's your property."
For now, Wubbels is not taking any legal action against police. But she's not ruling it out.
"I want to see people do the right thing first and I want to see this be a civil discourse," she said Thursday, according to the Deseret News. "If that's not something that's going to happen and there is refusal to acknowledge the need for growth and the need for re-education, then we will likely be forced to take that type of step. But people need to know that this is out there."