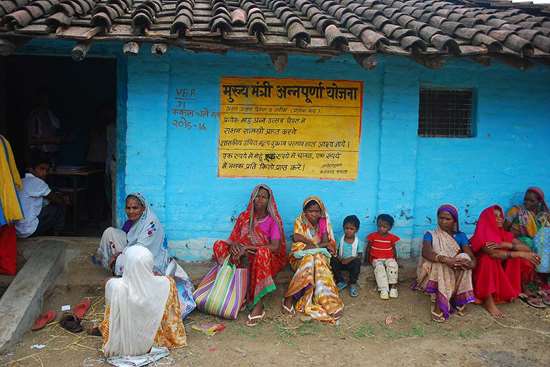 JESSICA PUDUSSERY
FOOD SECURITY: ESSAY
Thought For Food
Even the worst-governed states can improve their PDS and ensure grain for the poorest. Look at
Madhya Pradesh
.
THE National
Food Security
Act (
NFSA
),  2013, is not in very good health. Two years after it came into force, just a few states are implementing it. Others are still struggling with the identification of eligible households, public distribution system (PDS) reforms and other preparations. Yet, recent evidence suggests that some states have been able to use the act with good effect—and there are critical lessons for the laggard states.An unlikely pioneer in this field is
Bihar
, one of the first states to implement the NFSA. Bihar's PDS used to be one of the worst in India, with leakages in the range of 80-90 per cent throughout the 2000s. In earlier work, we have documented how the roll-out of NFSA in Bihar has been associated with major improvements in the functioning of the PDS. The list of eligible households is also more inclusive, logical and reliable than the earlier below poverty line (
BPL
) list. Bihar has a long way to go before it has a well-functioning PDS, in tune with the NFSA, but it has already made more progress than was thought possible just a few years ago.
Madhya Pradesh's experience is also of much interest. Like Bihar, Madhya Pradesh used to have an atrocious PDS, with a faulty list of eligible households, high exclusion errors, irregular distribution and rampant embezzlement. Two years ago, the Public Evaluation of Entitlement Programmes (PEEP) survey found that BPL households in Madhya Pradesh were getting just 37 per cent of their foodgrain entitlements from the PDS—the lowest purchase-entitlement ratio among ten sample states. The sample was small (about 200 households, across eight villages of Mandla and Shivpuri districts), but this figure is consistent with independent evidence from the National Sample Survey (NSS). Further, from these two districts, it was quite clear that there were deep structural problems with the PDS in Madhya Pradesh as a whole.
Earlier this month, we revisited the same households to find out if the situation had changed. In the intervening period, Madhya Pradesh had started implementing the NFSA, based on a new list of eligible households, covering about 80 per cent of the rural population. Besides rolling out the NFSA, the government also made serious efforts to streamline the PDS. We expected to find some positive change in the two sample districts, but nothing like what we actually found. Three improvements were particularly striking.
First, as in Bihar, the expansion of PDS coverage under NFSA has been associated with a dramatic reduction in exclusion errors. About half of the PEEP households were excluded from the PDS in 2013, either because they had an 'above poverty line' (APL) card, or because they had no ration card at all. Among the excluded were many poor households that had been wrongly deprived of a BPL card due to the patchy and unreliable nature of the BPL survey. Today, the vast majority of PEEP households, including (almost) all Scheduled Caste (SC) and Scheduled Tribe  (ST) households, have a new ration card under the NFSA. With PDS coverage expanded to 80 per cent or so, and the BPL list replaced with a more reliable dataset generated by the state's Social Security Mission, very few poor households fall through the PDS net.

Photograph by Vivek Pateria
| | | |
| --- | --- | --- |
| | | |
| | The PDS needs an overhauling in almost all states. But there are lessons to be learnt from Madhya Pradesh's success. | |
| | | |
Second, the reliability and regularity of PDS foodgrain distribution has greatly improved in all the sample villages. PDS outlets have regular distribution schedules, and while these are not always strictly followed, reasonably timely distribution every month has become the norm. In this respect, Madhya Pradesh is far ahead of Bihar, where PDS distribution is often behind schedule by one or two months. Apart from causing much inconvenience and uncertainty, haphazard distribution opens the door to corruption by making it harder for people to keep track of their PDS entitlements.Last but not the least, we found a dramatic improvement in people's ability to avoid being cheated. The purchase-entitlement ratio had shot up from 37 per cent in 2013 to 96 per cent today—almost too good to be  true. The sample respondents were generally clear about their foodgrain entitlements, which are printed on their new ration cards. With the issue price as low as a rupee per kilo, they are careful to demand their full quota. Broad coverage, clear entitlements and low issue prices—Madhya Pradesh is not the first state to discover that these simple steps (along with extensive PDS reforms) can go a long way in preventing embezzlement. The phasing out of the APL quota, notorious for its lack of transparency and high leakages, has further helped to plug the loopholes.
Respondents expressed many concerns too. First, many complained that they had been forced to pay a bribe (anything between Rs 100 and Rs 2,000) for their new ration cards. Second, though the Social Security Mission database is designed to update the list of family members whenever births or deaths are registered, the process gives local functionaries a further opportunity to collect bribes. Third, the quality of PDS grain remains variable. Nearly one-third of the households complained that the last batch of PDS rice was of "poor" quality, with somewhat lower proportions (about one-fifth) for wheat and maize. In spite of these and other concerns, however, a large majority of respondents felt that they gained more from the PDS than two years earlier.
These findings are based on a small sample—from two districts—and may or may not apply to Madhya Pradesh as a whole. Further investigations will hopefully make it clearer. Meanwhile, there is an important hint here that even the worst-governed states are perfectly capable of fixing their PDS and implementing the NFSA. In that respect, Madhya Pradesh's achievements (if confirmed) corroborate the main lesson from Bihar's recent experience. In the light of these experiences, there is every reason to demand more vigorous implementation of the NFSA in other states.
---
(The authors are economists associated with Ranchi University and IIT Delhi respectively.)
http://www.outlookindia.com/article/thought-for-food/295144