FTII director Prashant Pathrabe remained unavailable for comment.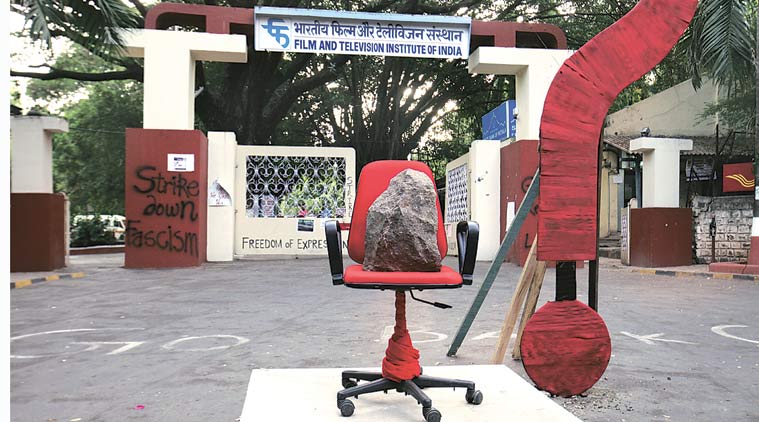 FTII students have been on strike for over two months now.A Russian student at the Film and Television Institute of India (FTII), who wanted a two-month leave to go home, was asked to sign an undertaking that she was "not on strike" and that she "did not support the strike in any form", The Indian Express has learnt.
The strike was started by students on June 12 against the alleged political appointment of Gajendra Chauhan as the chairman of FTII Society and Rahul Solapurkar, Narendra Pathak, Anagha Ghaisas and Shailesh Gupta as its members.
Rabiat Adzhikamalova, who is pursuing a one-year postgraduate course in TV (direction), had submitted a letter to G B Singh, Dean — TV (in-charge), earlier this week seeking a two-month leave to return to Russia. She also stated that she needed to submit a letter to the Foreign Registration Office (FRO), Pune, to get a return visa so she could finish the remainder of the course in FTII.
An Indian Council for Cultural Relations-sponsored candidate, Rabiat is a student of the 2014-15 batch who eventually joined the institute in December last year.
"The institute had informed the Indian embassy in Russia that the course would begin in August 2014… I had taken leave from my current job in Russia for exactly one year. If I do not report back, I will be sacked from my job. Since the course started in December and is not running on time, I need to resume my work for a period of two months from August 28 to October 30. I will return in October and resume by course work and finish the studies," she wrote in her application dated August 26.
It is learnt that she was made to write on the top corner of the letter that "I am not part of the strike and also do not support the strike in any form". It was only when she complied that she was provided the documents.
When contacted, Singh said, "She (Rabiat) had asked for a certificate since she wanted to return to her country for two months." Asked why she was made to write an undertaking, he said that "only director or registrar could answer the question".
FTII registrar U C Bodake said on August 26 that the undertaking was taken because "she needed leave".
"How can I grant her leave if she is on strike? Although I have seen the letter, I did not read it completely, so I am not sure of its exact contents. I only remember that she submitted that she will be sacked if she does not report to work. I will get back to you after talking to the Dean (TV), who has the letter," said Bodake.
When contacted on Friday, Bodake said, "She wrote that she does not support the strike. The undertaking was because she wanted to leave the country. I can't say anything more on this. I am unwell."
Asked why Rabiat couldn't go on leave if she was on strike, Bodake replied, "I didn't say that. And even if I said that, it's wrong. What the Dean (TV) has done is well within the rules."
FTII director Prashant Pathrabe remained unavailable for comment.
See more at: http://indianexpress.com/article/india/india-others/to-go-home-ftii-russian-student-told-to-oppose-strike/#sthash.hgRoFMWL.dpuf