Despite my
death sentence
being quashed, I am not eligible for release until I'm 101. All I have to celebrate is the love of my wife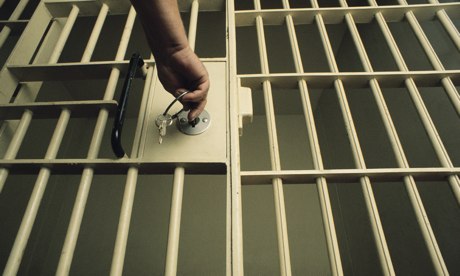 'This year fortune smiles on me. My birthday falls on a Sunday, so it's visitation day. This year, I will see my wife Marita.' Photograph: Charles O'Rear/Corbis
The day was 26 January 1972. It was quite a celebration. I don't remember why I planned a special birthday party that year – I was turning 33 – but I suppose I was at the height of my good fortune. My fruit importation business had gone spectacularly well, and I had fallen in love with the horses. So I held the party at Kempton Park racecourse. I had a runner that day – if I recall correctly, it was Golden Ridge – and all my friends gathered around. They were happy days, and I basked in my good luck.
How different it is today.
This year I will celebrate my 75th birthday at the South Florida Reception Centre just outside Miami, USA. I will be roused by the prison guards at five in the morning. At six, there will be grits for breakfast, along with something they call "chicory" (there is no real coffee). After my insulin shot, I will be locked back down until around 9.30am. Then I should get a couple of hours on the yard, along with 600 other "inmates".
I have been condemned for crimes I did not commit – two murders that I now believe were committed by Colombian drug cartels. I have spent 27 years, perhaps the true prime of my life, in prison – on death row until the retrial – and I am now ineligible for parole until after my 101st birthday. I am bankrupt, so I cannot support my family, let alone pay for my appeals. I have come close to death several times, either in Florida's electric chair or in the similarly deadly prison hospital.
I am trying to get my mobility back after I nearly died some months back from what is called necrotising fasciitis. So, on my birthday, I will slowly push my wheelchair round a couple of circuits of the concrete pathway, before I have to subside into it. Though it's mid-winter, it's been getting up to above 28C here, and it's humid, so I don't last long. Also, I have a staple the doctor accidentally left in my foot after an operation, and it hurts like hell if I walk too much. I can't have it taken out, as a kind-hearted prison doctor advised me that I would risk another infection if I went back there. This time I might lose my leg, so it's better just to endure it until I can get out of here.
On a normal day, I would be facing a soya patty, rice and Kool-Aid drink for lunch, though I would not eat the rice – it's pretty bad for a diabetic. After another hour of lockdown, I might get a further hour on the yard before a second congealed soya patty for dinner. They spend an average of $1.67 (£1) a day on my food here, and you can imagine what one gets for 56 cents a meal. I used to have a German shepherd called Jason – how I loved that dog! – and he would bite me and run away if I fed him this stuff.
For the rest of the evening – until the final "inmate count" and lights out at 10pm – I might try to read the paper. I get a British newspaper weekly to try to keep up with news from back home. And I'll sit in my wheelchair in line for the phones, so I can have five minutes with my wife.
There is one way my birthday will be better than those halcyon days, because now I truly understand what love means. This year, there won't be any champagne. There won't be any winners at Kempton Park. But this year fortune smiles on me. My birthday falls on a Sunday, so it's visitation day. This year I will see my wife, Marita, perhaps for two full hours.
Some people call their life's partner an angel; in my case, I know she is one. Marita has forsaken everything for me, barely able to survive, just so she can take my five-minute calls, and come for these treasured prison visits. Without her, I would long since have been consigned to the mental asylum or the grave. With her, even this half-life is worth living. All I can do is hope – and I hope against hope that her next birthday, her own 75th in November, will be held among old friends in London.
Read more here — http://www.theguardian.com/commentisfree/2014/jan/26/75-death-us-jail-murders-sentence