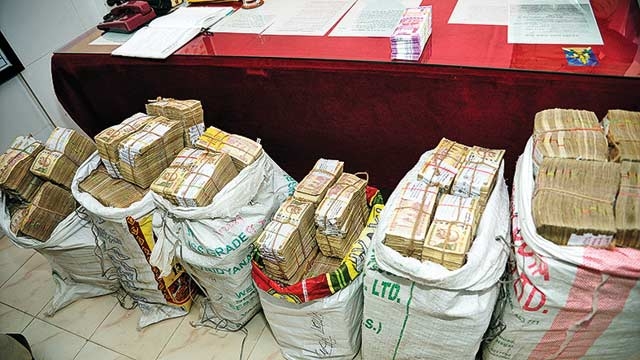 Dr Suresh Advani, a Padma Bhushan awardee, caught with five others while transporting demonetized currency worth Rs 10 cr
In a shocking incident, Central Bureau of Investigation (CBI) officials have registered a case against a Padma Bhushan awardee on Friday in the ongoing crackdown against black money. The accused, a resident of Mumbai, and five others have been booked in connection with a case of fraudulent transportation of demonetized currency worth Rs 10 crore.
They have been identified as Yogesh B Shiroye, Dharam Raj Thigle, Krish, Gajanand Somnath, BM Shah and Dr Suresh Advani. Dr Advani, who is associated with the CIIGMA hospital in Aurangabad, is considered to be one of the top oncologists and is known for Hematopoietic stem cell transplantation procedures. He has received many awards, including the Padma Shri in 2002 and Padma Bhushan in 2012.
DNA tried to contact Dr Advani on his personal mobile number. However, calls and messages sent to him went unanswered.
When asked about the allegations faced by Dr Advani, a CBI spokesperson told DNA: "He is accused in the overall case of fraudulently transporting the money. His exact role will come out after an investigation."
As for the others, CBI officials say that, other than Yogesh, four of the accused are officials of the Vaidyanath Cooperative Urban Bank Ltd (VCUBL). It is also interesting to note the director of the co-operative bank is Bharatiya Janata Party (BJP) MP Pritam Munde, the daughter of late BJP leader Gopinath Munde.
CBI officials have claimed that three of the accused were transporting the demonetized cash in a car, when they were stopped by the police in the Ghatkopar area of Mumbai.
These individuals were detained and during interrogation, they said that they were bank officials and the Rs 10 crore being seized from them was being transported from the head office of Vaidyanath Cooperative Urban Bank in Maharashtra's Beed region. This old money, the probe agency claimed, was being used for money- laundering.
"Approximately Rs 15 crore was allegedly deposited with the Maharashtra State Urban Co-operative Bank and Rs 10 crore was being transported back to Beed, when they (the accused) were intercepted by the police on December 15," a CBI spokesperson said on Friday.
He said that others are also likely to be involved. "Among the other accused are unknown bank officials and individuals," he said. He also confirmed that searches were being conducted at 11 places on Friday, which included the official and residential premises of the accused persons in Pune, Mumbai, Aurangabad, and Beed in Maharashtra.
However, a senior bank official from the Vaidyanath Co-operative Urban Bank contested the CBI's claim, saying that the probe agency was misinformed. Speaking to DNA, the official claimed that the Rs 10 crore was part of the Rs 25 crore that was intended to be deposited in the bank's Ghatkopar branch.
The official added that the branch could accept only Rs 15 crore, following Rs 10 crore was to be sent to the branch in Pimpri Chinchwad from where it would have been deposited in another co-operative bank. "The whole case is a result of CBI's mismanagement," he said.
http://www.dnaindia.com/india/report-currency-transfer-cbi-case-against-top-mumbai-oncologist-2285918