Six months ago, an 8-year-old girl fell off a tree in Maharashtra's Nandurbar and broke her back. It took 20 days and 467 km for her to get help. It took a month more for her to find herself back in a hospital. The Sunday Express meets Ravita Valvi.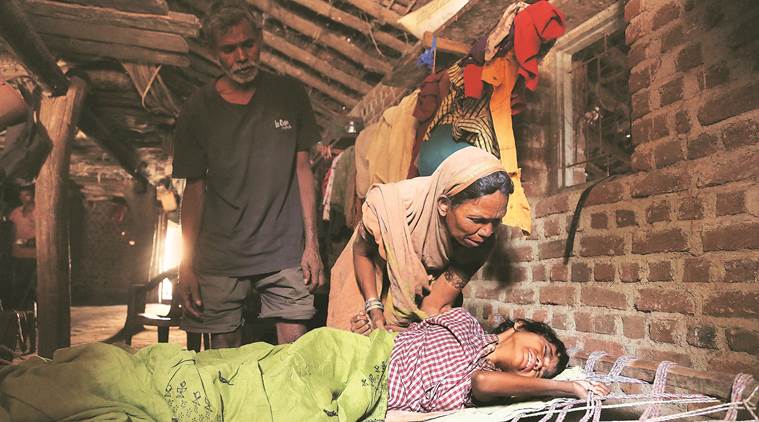 As the cot's ropes bite into her infected back, Ravita breaks down. (Express photo/Prashant Nadkar)
Nobody in Khadkya village, nestled amid scraggly hillsides in Maharashtra's Nandurbar district, had ever seen a wheelchair. So, early in February, when a new steel chair was carried on piggyback 2 km uphill into the mud-and-brick home of the Valvis, the tribal village gathered to welcome it. The wheelchair now lies unused, a sari wrung and placed on it to dry. A few feet away, eight-year-old Ravita Valvi is motionless on a charpoy, the slightest movement leaving her wracked in pain. The dry hillslopes and the deep green shrubbery of Nandurbar, a tribal-dominated district in north Maharashtra, offer a picturesque view, but in Ravita's line of sight is only a slice of sky seen through a tiny window.
Rendered a paraplegic after a fall from a tree last September, Ravita returned home in early February after three months in a Mumbai hospital. She had to undertake a 467-km journey to undergo spinal surgery, a journey that was a grim reminder of the health infrastructure in the tribal district.
On February 25, after a month at home, Ravita was once again trussed up in a sari tied to a pole and rushed first to the rural hospital and then to Nandurbar Civil Hospital, 90 km from home, the infection on her frail back requiring treatment in isolation. She may never walk or go back to school, despite laws protecting children with disabilities. And the Valvis are finding out that a new battle has just begun.
It is a hot, dry day in the hills, quite unlike the humid afternoon of September 29 when Ravita fell off that tree branch. Holi has just passed; a difficult Holi for her. Her mother explains that it was her favourite festival. "She would dance to the sounds of the dhol."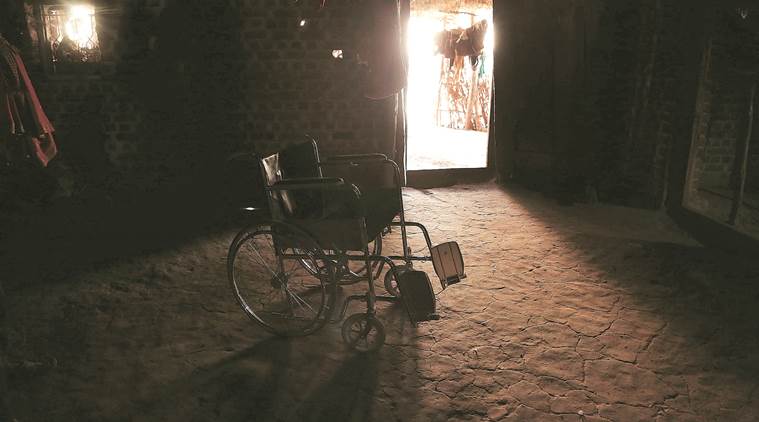 The wheelchair lies abandoned as it is of no use in the hilly village and Ravita is in too much pain to sit up. (Express photo/Prashant Nadkar)On a charpoy under a thin blanket — one of three cots shared by the family — Ravita lies in a chequered shirt.
The family did not expect her health to deteriorate so fast after she was discharged from the Mumbai hospital on February 3 night. They came back home in a sleeper bus till Nandurbar, buying tickets for three for a little over Rs 1,000, using money saved from donations. From Nandurbar, they took a private vehicle to their village in Dhadgaon. Along with them they had the wheelchair, donated by an NGO, and five days' worth of painkillers given by the hospital.
Back home, they ran out of the painkillers soon, and struggled to raise money to buy them again. Once the bed sores started, they just bought some talcum powder from the local shop. It was also evident, soon after they reached Khadkya, that the wheelchair was going to be of little use in the hilly village.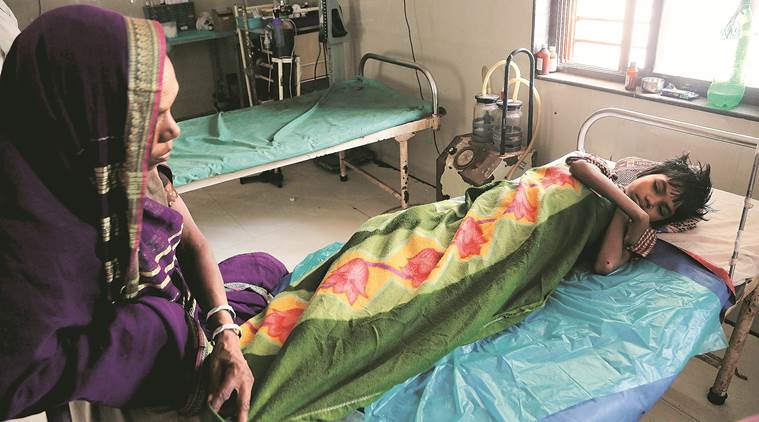 Ravita with her mother at Dhadgaon Rural Hospital. (Express photo/Prashant Nadkar)For the first three days, parents Shanti and Rajya remember, Ravita smiled and spoke to visitors. On a special request, just once, her father put her on the wheelchair and pushed her around inside their hut.
"The infection started after three days. Since then, she has not been able to get up," village sarpanch Genubai Valvi says. The charpoy ropes bite into her skin. A bed-ridden patient needs to be turned around frequently to avoid bed sores, and the Valvis barely have a grip on how to care for her. In addition, Rajya, 55, has been busy on his farm to make up for the three months they were in Mumbai. Together the family, including Ravita's nine siblings, all elder to her, survives on the 7-10 quintals of jowar they grow in a year. The surplus, if any, is sold.
Ravita's eldest brother, 32, lives nearby with his family. Her eldest sister, 30, is married. The others, who are a few years older than Ravita, irregularly go to the zilla parishad school in Khadkya that she too attended before the accident. As Shanti, 50, applies talcum powder to the sores on Ravita's hip, the little girl screams, tears pouring down. She smiles sparingly only when the village children gather around her. But they soon run away to play, and Ravita falls back into a silence that is growing longer.
"There has never been a paralysed person in this village. They do not know what to do," villager Or Singh says.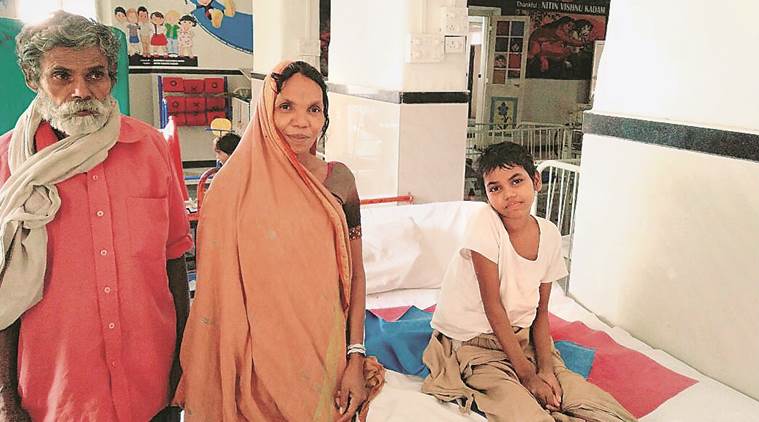 Ravita with her parents in a Mumbai hospital in February. (Express photo/Prashant Nadkar)Ravita's day begins at 4 am. Rajya takes her to the field and waits until she relieves herself in the open. Shanti then flexes her limbs, mimicking what doctors did as part of physiotherapy in Mumbai. Breakfast is a tiny portion of roti and sabzi from last night's meal. Once every few days, they drag her charpoy out of the hut into the grounds and pour water on her. That is how she bathes.
There is no urinary bag. "When she wets her clothes, we change them if there are fresh clothes," Shanti says. Ravita has three pairs of clothes that fit her, but mostly she wears her father's shirt now, hanging loose.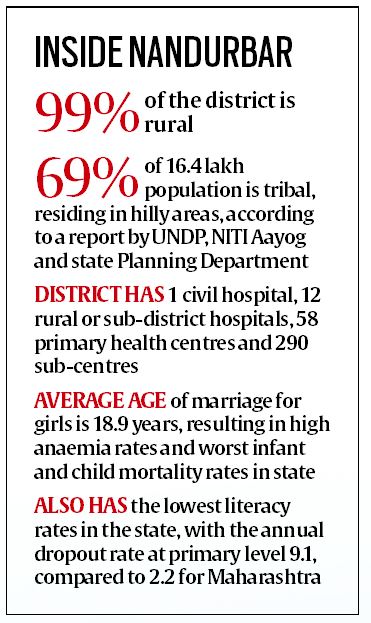 Her health being delicate, she remains the focus of the household. Her siblings, who lived with their uncle when the parents were away, now fetch water and carry hay, quietly helping in the daily chores.
In Mumbai, Ravita had developed a taste for chips and chocolates. When Rajya has money, he walks 4 km to a grocery shop to buy some. Only for her; he cannot afford to buy chocolates for all the children.
Doctors at Mumbai's GT Hospital had counselled the parents on physiotherapy and medical care that Ravita would need all her life. Shanti tries to follow the routine — attempting stretching and bending Ravita's arms and legs for 15 minutes three times a day to improve joint control. Though physiotherapists in Mumbai would also make Ravita sit on the bed, Shanti doesn't dare, afraid the child will cry in pain.
The 50-year-old is herself wiry and anaemic. Her thin limbs working gingerly on Ravita's frail form, she sighs, in the little bit of Hindi she picked up during her time in Mumbai, "Shaadi-beedi to ab kaun karega isse (Who will marry her now)?"
It's unlikely Ravita, who is in Class 5, would be able to study further either — something she hoped to do. Teacher Abhay Saraf at the zilla parishad school says, "She requires a special teacher. We can't accommodate her in our class."
There are 40 students enrolled till Class 5 at the school. Not many in Khadkya go to Dhadgaon village to study further.
According to Anjlee Agarwal of Samarthyam, an organisation that works with disabled children through the Sarva Shiksha Abhiyan, a block resource officer must provide "mandatory accessibility in school to disabled students" and connect such children with a rehabilitation officer. "But in tribal areas there is zero accessibility or physical infrastructure for the disabled."
Besides, Nandurbar's two posts, for primary and secondary education officer, remain vacant. Rahul Chowdhary, who holds additional charge of education officer, says, "Under the Sarva Shiksha Abhiyan, we have to get those who have dropped out of school back. We will have to see how we can bring Ravita to school every day."
Rajya asks that too. Pointing out that it would mean a daily trek over 2 km to the school, with Ravita in a pole-sari stretcher, he says, "When will I work?"
At any mention of the fall, Ravita buries her head in her arms. But every child in Khadkya can recount what happened. Ravita had returned from school, and then sprinted off with friends to an adjacent hill to play. "She loves to play langdi, kho-kho and goli (marbles)," her mother Shanti says, sticking to present tense.
That afternoon, she effortlessly climbed higher than the other children up a tree, when a branch snapped. It was a straight drop and she landed on her back. The children remember her wail as she tried to get up and failed, repeatedly. They ran to get Rajya from his farm in the nearby hill.
"I carried her home," he says.
When Ravita failed to stand up the next day, the Valvis grew concerned. There was jowar and rice at home, but no money.
Rajya left his other children with his brother in the hut opposite theirs. Shanti took out her pink sari — one of her two —folded it lengthwise and tied its ends to a bamboo stick. Together, they loaded Ravita into the makeshift stretcher and gingerly went down the treacherous hill.
The nearest health sub-centre is 2 km away, but it hasn't functioned since it was constructed in 2012, and is used by farmers to store hay. Villager Sitaram Valvi says officials told them Rs 10 lakh was spent on the centre. "But no doctor or nurse ever came."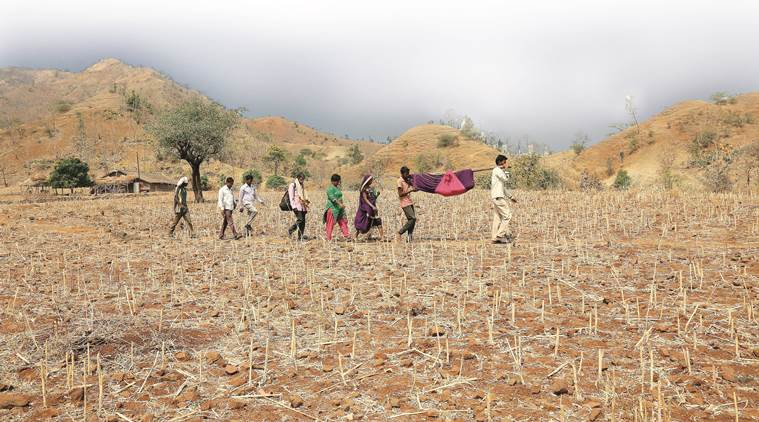 Ravita leaves home (in the background) trussed in a sari tied to a pole, on way to Dhadgaon Rural Hospital. (Express photo/Prashant Nadkar)District Health Officer Dr Nitin Bodke insists, "Additional funds to repair the sub-centre have been approved. The work will be carried out this year."
There are 290 such sub-centres across Nandurbar; NGO Narmada Bachao Andolan says only 50 per cent are functional. In these sub-centres, 200 out of 534 posts for auxiliary nurse midwives and 75 of 223 posts for multi-purpose health workers remain vacant. Maharashtra health officials point to a freeze on recruiting more ANMs.
Officials refuse to talk about this, but admit no change has happened since Ravita's case hit headlines.
Walking past the closed sub-centre on September 30, the parents trudged 4 km to a nearby road, from where they took a lift to the rural hospital in Dhadgaon, 12 km away. "Here there is no mobile network. We tried calling the toll-free number for emergency ambulance, but could not connect," says Kisan Valvi, the son of Khadkya's sarpanch.
That journey took all morning, but the parents were not worried. They expected Ravita to recover at the Dhadgaon Rural Hospital and thought they would return home in a few days.

But the eight-year-old couldn't be diagnosed at the hospital as it has no X-ray facility. For the 30-bed Dhadgaon Rural Hospital, that gets patients from the nearby 90 tribal villages in the hills, there are only two MBBS doctors, both posted as part of a compulsory one-year bond service. Of four sanctioned posts, that of the medical superintendent is vacant. No paediatrician or orthopaedic doctor is posted.
According to District Collector Mallinath Kalshetty, "attempt to recruit more doctors is underway". "Very few doctors are willing to work in tribal areas," he says.
By the time Ravita had reached Dhadgaon, her back was swollen. Doctors gave painkillers, dressed the wound, and referred her to Nandurbar Civil Hospital — the same place she finds herself again now. There, she was diagnosed with a vertebral fracture in L1 (lumbar), and a D12 compression. "The cord in the spinal bone was crushed, leading to paralysis," says the hospital's orthopaedic specialist, Dr Sanjay Gavit.
The 200-bed hospital is the largest government hospital in Nandurbar. Its 30 doctors cater to the entire district's population for deliveries, Caesarean sections, minor surgeries, and basic orthopaedic treatment.
Ravita remained in the civil hospital for a week, administered essentially primary treatment for pain, and dressing. Gavit told the family what she needed was further diagnostic tests and probably a surgery, and hence a super-specialty hospital.
While a proposal to start a medical college in Nandurbar was approved under the Congress-NCP government four years ago, the project never took off. In June 2017, the BJP-led government assured that academic sessions would begin in Nandurbar's medical college from 2018-19, but not even a foundation stone has been laid yet. On paper, only an agreement exists between the Health and Medical Education departments.
Says Maharashtra Medical Education Secretary Sanjay Deshmukh, "A Medical Council of India approval is pending (for the college). We need to comply with certain infrastructure requirements."
In addition, no government hospital in all of Nandurbar has an MRI or CT scan facility, the two tests required to assess Ravita's condition. Dr Raghunath Bhoe, Nandurbar district civil surgeon, says, "It was advised therefore that Ravita go to Surat or Mumbai for further treatment."
Surat is 175 km away; Mumbai 360 km.
So, Rajya and Shanti decided to approach a private hospital in Shahada, 36 km away. But there too, no specialisation for spinal injury was available. "Doctors advised us to visit Dhule Civil Hospital," Rajya says. The couple took a private vehicle to Dhule, 86 km away. "I still do not know who all helped raise the money," Rajya says.
But in Dhule, the civil hospital too said they offered no specialisation for a spinal cord transection.
By now, it was mid-October. Ravita, a chirpy girl who would hardly ever sit still, had been lying supine now for nearly three weeks. A doctor at the Dhule Hospital gave the Valvi couple Rs 2,000 and arranged for an ambulance to Mumbai's King Edward Memorial (KEM) Hospital.
Rajya and Shanti smile as they recount what happened next. "The ambulance driver stopped mid-way and asked us for money. I gave him Rs 800," Rajya says.
At 6 am on October 17, the driver dropped them off at the main gates of the mammoth KEM Hospital. It was the Valvis' first time in Mumbai, their first time in any big city. They realised that the Bhili dialect they spoke was barely understood by anyone.
"At first, we did not understand it was a hospital," Shanti says. They kept asking for directions, running from one department to another. "The doctors could not understand what we were saying. And it was crowded, they shouted at us to get out of their way."
By night, the Valvis found themselves on the footpath outside the municipal hospital. By 3 am, they resolved to return to Nandurbar. They drew out their bamboo pole and the sari, put Ravita in it, and set off. Records with KEM Hospital show they were advised admission in Ward 29, but they left.
The couple next asked dozens of people for directions to the highway to Nandurbar. "Nobody could understand us."
By dawn, they had walked 10 km — in the opposite direction. Arriving at the Gateway of India, they saw the Arabian Sea, and assumed it was the Narmada, the river they saw in Nandurbar. "We thought our village was on the other side of the water," Shanti says. They had never seen the sea, but even they could tell that today, the "river" was going to be difficult to cross.
It was sheer fortune that the policewoman who spotted the two with a girl on their shoulders was a Nandurbar native. Constable Ravita Gavit, 29, attached with the Azad Maidan Police station, recalls, "Ravita's clothes were soiled and stinking. They had not bathed for days." She took them to St George Hospital, where they were made to wait hours before finally being referred to the government-run Gokuldas Tejpal (GT) Hospital. It is in GT Hospital that Ravita would spend the next three months.
"When she came to us, she was severely malnourished. The spinal nerve damage was a month old," says Dr Dhiraj Sonawane, orthopaedic surgeon at GT Hospital. "Such paraplegia is difficult to treat," says Dr Swapnil Keny, head of the orthopaedic unit at GT Hospital. Ravita's urine, stool sensations were no longer in her control.
The hospital first improved her nutrition. In November, they conducted a spine surgery, but counselled the parents on the poor chances of Ravita leading a normal life. A Nandurbar nurse was posted in the paediatric ward to help communicate. "But we were never sure if the parents understood what we told them," nurse Nirmal Valvi says.
Over three months, Ravita underwent rehabilitation and physiotherapy to try and sit up or lie down on her own. She also did exercises to help keep her upper body strong.
Rajya and Shanti struggled too. Things that were free in Nandurbar cost money in Mumbai, whether it was defecating in the open, washing clothes, or even just sitting down. "I stopped bathing after a few days. I stopped entering the hospital ward fearing I'll be asked to leave," he says. The couple would wash Ravita's clothes and fold them while still wet — other patients complained if they hung out wet clothes in the ward.
ON FEBRUARY 18, when Ravita had to be taken to hospital again as her sores became worse, an ambulance was arranged at the foot of the hill atop which she lives. But she was carried down to it again in a sari tied to a pole. At the Dhadgaon Rural Hospital, Ravita broke down in pain as a doctor and three nurses cleaned her sores.
Given the deep sores, Dr Indrasingh Pavara recommended that she be kept in isolation to control infection, and referred her to Nandurbar Civil Hospital. "We cannot manage it in this hospital," he says.
At the Dhadgaon Rural Hospital, District Collector Mallinath Kalshetty assured the family full help. "We'll send her to Mumbai if required," he told The Sunday Express. But Rajya isn't too keen. "She will never walk. Will travelling again be of any use?" A month later, Ravita continues to be in the intensive care unit of Nandurbar Civil Hospital. Shanti stays by her side and Rajya shuttles up and down.
Meanwhile, Civil Surgeon Dr Raghunath Bhoe has purchased a water-bed for Ravita, to prevent bed sores. Her parents haven't figured out how to use it or place it on a charpoy. Khadkya's villagers will now see a water-bed for the first time.
http://indianexpress.com/article/india/maharashtra-nandurbar-civil-hospital-spinal-surgery-5110263/