TRAI order: Telecom industry body says regulator ignored benefits of price differentiation, Facebook says it will continue efforts –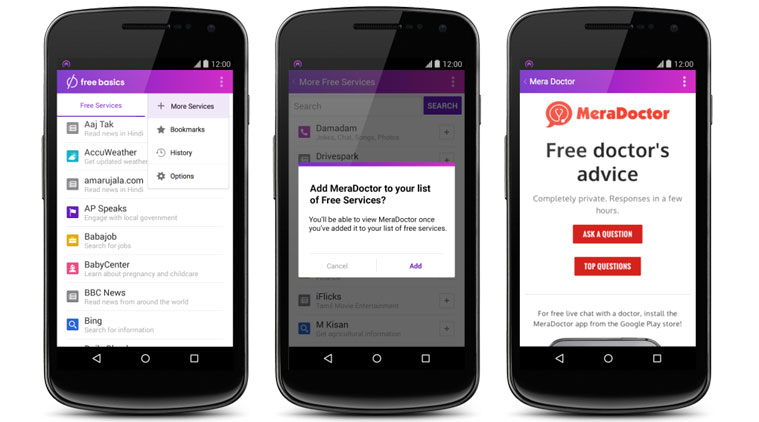 The Telecom Regulatory Authority of India (TRAI) on Monday ruled against differential pricing for Internet services, in a major setback to Facebook Inc's plan to roll out free Internet to the masses in Asia's third-largest economy. It ruled that no service provider shall offer or charge discriminatory tariffs for data services offered based on content. The order can be access here.
The TRAI added that a service provider may reduce tariff for providing emergency services or at times of any grave emergency. It remarked the same has to be reported to authority within seven working days. The TRAI says it will order service providers to withdraw such tariff and will penalise the service provider with Rs 50,000 for each day of contravention.
Arpita Pal Agrawal, Leader – Telecom, PwC India said with this notification TRAI has decided that all citizens of India will get the same view of the Internet which is in line with the principle of non-discriminatory access. "What remains to be done is to find innovative ways to actually get all citizens access to this Internet as India's ranking in universal broadband access is abysmally poor and the digital divide continues to widen.
mresh Nandan, Gartner's Research Director, said the TRAI notification favoring net-neutrality is in line with what was seen in the US in 2010 when FCC favoured an 'Open Internet' and then came up with an 'Open Internet order' in early 2015. "The European Union also ruled in favor of treating all Internet traffic equally. Though some of their amendments allowed for differentiation and have been a subject of intense criticism," he said.
"Telecom service providers may not be happy with this notification. However, they still have the ability and freedom to create different kind of Internet access packages; as long as content is not a parameter to provide or bar access to anyone. Such practices have already started elsewhere with products such as bandwidth on demand, bandwidth calendaring etc. to create premium products. Obviously, it will require changes in network and operations but that's where the telecom roadmap goes," Nandan added. – See more at: http://indianexpress.com/article/technology/tech-news-technology/net-neutrality-trai-facebook-free-basics-differential-pricing/#f