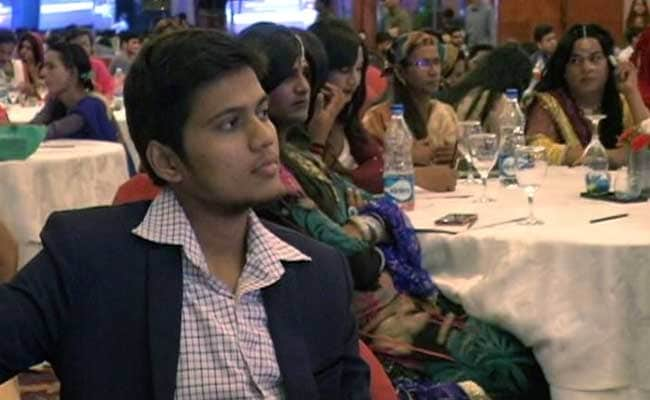 NEW DELHI: 
 Over a year after the Supreme Court's landmark judgement on
transgender rights
, one group among the transgender community continues to be left out.
The term transgender is often understood to refer to Hijras or transgender women. But this definition leaves out other identities, like transgender men, who are yet to find recognition.
Historically, Hijras have been visible and self-organised. Anti-HIV efforts led to funding and support to platforms for transgender women. A number of transgender women took a public role in advocating for their rights and are now well known activists.
Transgender men, on the other hand, are barely visible. The reason, they say, is that they have no support system, no spaces of their own.
This week the third national Hijra Habba was organised by India HIV Aids Alliance in Delhi to focus on issues facing the transgender community. The event was attended by 350 transgender women. However, only five transgender men were present.
Among them was 36 year old Siddhanth, who works as a recruitment consultant in Mumbai. Born a woman, he faced intense pressure to conform. He was able to transition to a male identity with the help of surgery and hormones three years ago.
Siddhanth said, "When you are transitioning or when you have to change your documents, you have to go out and tell people that I am a female who is becoming a male. It is very stressful to do so because people don't understand. There is lack of knowledge and transgender men are scared about coming out. I feel acceptance will come through knowledge. If you educate people about what you are, I am sure there will be a change in the society."
25-year-old Rajat Shelke, who works with an NGO, says it was a challenge to get his gender identity and name legally changed. Despite the Supreme Court judgment in the NALSA case last year, which states that sex reassignment surgery is not necessary to self-identify as a transgender, Rajat was asked for a medical certificate.
Rajat said, "I wanted to use the NALSA judgement, and I even applied on the basis of that before undertaking surgery. But they did not approve my case, and I had to fight a lot with the Gazette."
The process of transition was difficult because of lack of adequate legal and medical support. Sex reassignment surgeries for this group are complex and doctors are not equipped to handle either surgeries or psycho-social issues related to transgender men.
"No doctor knows how to treat us. Some take Rs. 2,500, some take Rs. 600 for counselling. The cost for surgery varies between Rs. 75,000 and Rs. 3 lakh. There is no guideline for this.  Lawyers and doctors should be made aware of transgender issues," says Rajat.
Transgender men are trying to organise themselves like the other transgender groups to create awareness. There is hope that systems will be in place once a law is enacted for the transgender community. In the coming session of Parliament, the Lok Sabha will take up the private member transgender bill. It is expected to lead to a comprehensive law that will elucidate the rights of the transgender community.
The Minister for Social Justice and Empowerment, Thawar Chand Gehlot, said, "The Government is keen that a law is enacted in favour of transgenders. Just like there are social protection measures for vulnerable groups such as SC, ST and the disabled, there should be a plan for transgenders. Our ministry has moved ahead in this direction. I hope we are successful."
The transgender community is looking for a law to support better implementation of the Supreme Court judgment on transgender rights.
http://www.ndtv.com/india-news/transgender-men-continue-to-struggle-for-visibility-in-social-change-778252