The man whose FIR pune police is pursuing is smitten by Bhide and Ekbote.
by- Parth MN
"We had a candid discussion with Bhide Guruji today on various subjects including Constitution, Manusmriti and Hindutva. I told Guruji, 'We are devout followers of Shivaji and Sambhaji Maharaj, but if we disagree with some of your views, we would express those disagreements.' Guruji himself has no problem with it." On 10 June, Tushar Damgude wrote this Facebook post along with a photograph of Sambhaji Bhide, who is believed to have triggered the Bhima-Koregaon riots.
The Pune police, which arrested five activists and raided various parts of the country on Tuesday in connection with the Bhima-Koregaon riots, is following up on the FIR filed by Damgude on 8 January. Among those arrested are Sudha Bharadwaj, Varavara Rao, Vernon Gonzales and Arun Ferreira. "We are pursuing the complaint he (Damgude) filed in the Vishrambag police station," confirmed Shivaji Bodakhe, Joint Commissioner of Pune police. "Maoists work in urban areas through frontal organisations, and in rural areas through militant organisations. The activists we have arrested were helping the frontal organisations logistically and financially."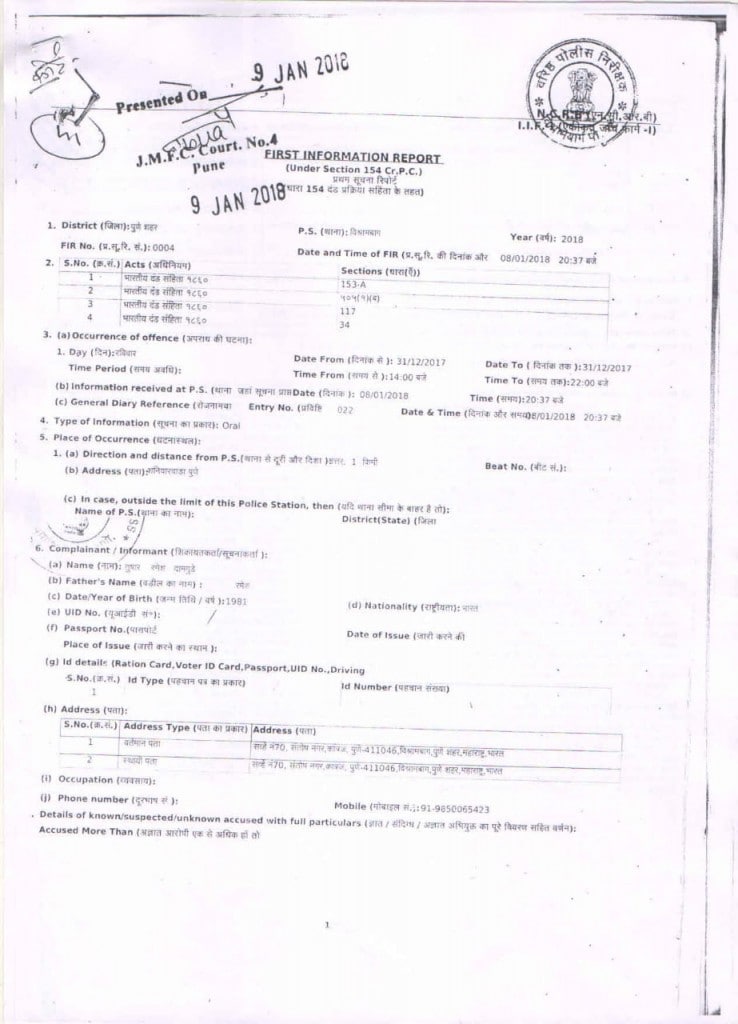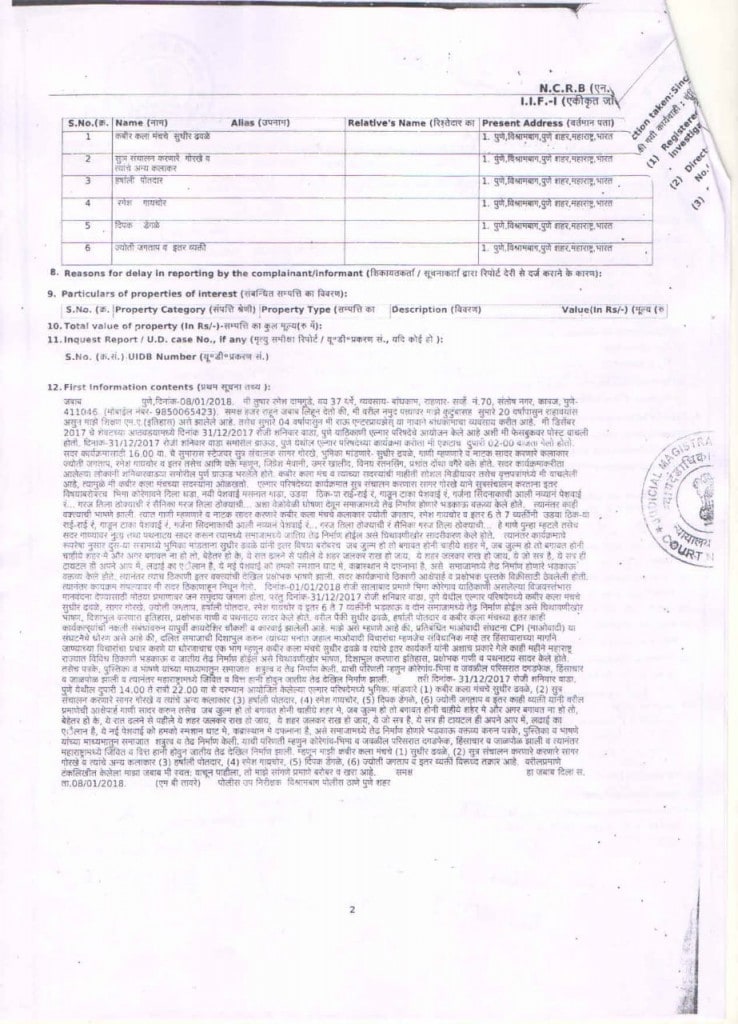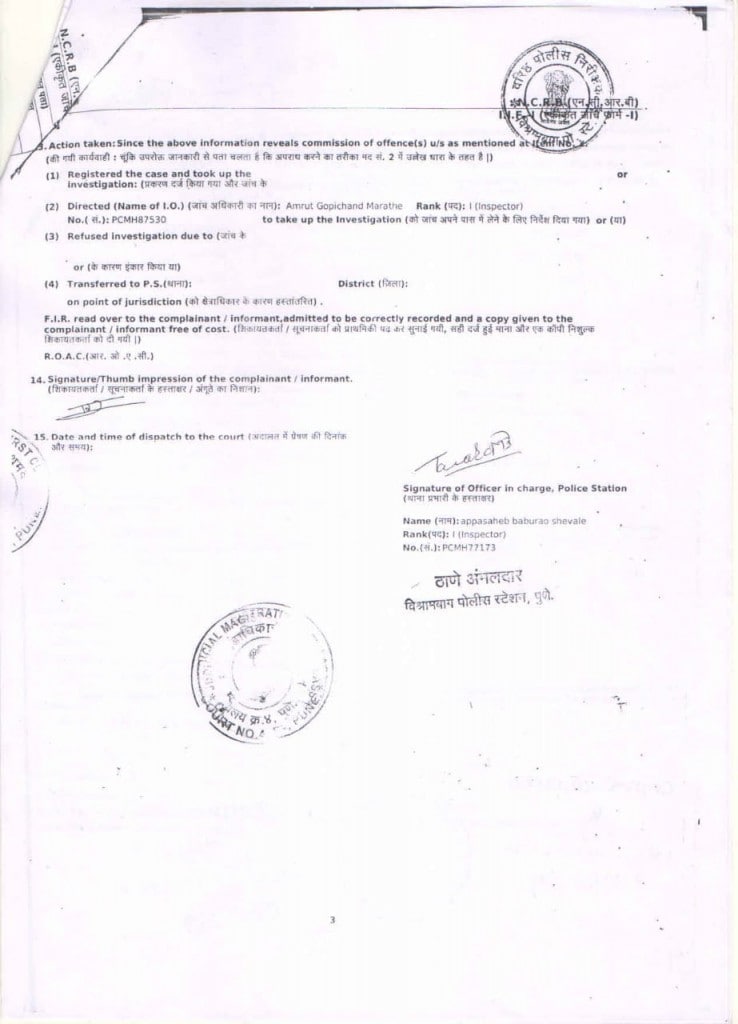 Apart from being smitten by Bhide, Damgude's favourite pastime seems to be attacking the Left-wingers on Facebook, where he writes prolifically in Marathi for his 13,500-plus followers.
After the arrests on Tuesday, he wrote, "Varavara is so big, he can be called the Prime Minister of Maoist state." Later in the night, Damgude participated in the debates on a couple of Marathi news channels. He posted a link of one debate, and wrote, "In the debate, furious BG Kolse Patil's terrorist face is being exposed." He referred to the former High Court Judge as "Kolsa", meaning coal in Marathi.
Damgude has been at it on Facebook consistently. On 9 May, he wrote, "If I call you a Naxal, your chamchas would be furious, Bala. By Bala, I mean Bala Thakur." It was supposedly a dig at Prakash Ambedkar, who is called Balasaheb by his followers.
The Pune police had earlier arrested five more activists in June, which included, Rona Wilson, Surendra Gadling, Sudhir Dhawle, Mahesh Raut and Shoma Sen. Said to be close to RSS, Damgude wrote a sarcastic post after those arrests on 6 June. "The state of Maharashtra is enveloped with sadness today with the arrest of Sudhir mama. I will miss you mama."
A month before that, on 4 May, referring to Dhawle, Damgude wrote, "You only indulge in accusations, glorify a Maoist like Shridhar Srinivasan, use violent language, fabricate history, distribute booklets defaming national leaders and then cry hoarse after you are raided. Stop this hypocrisy."
Citing the supposed plot to kill the prime minister, Damgude wrote, "Eight crore rupees sanctioned to buy M-4 gun and 4 lakh rounds. Because they wanted a Rajiv Gandhi-type incident. Seven days of police custody. The air is chilly. Old bones would face problems."
Two months later, on 4 July, Damgude issued a warning, sharing a "Super Exclusive" by Republic Channel, where the debate was titled, "Urban Naxals Exposed."
The warning read, "I will reiterate which forces the patriotic common human being is up against. Some people believe it is okay to say or do anything. But the entire society and country will pay for your knowing-unknowing utterances from a public platform. Sinister plots are being calmly designed to create riots within India. They are being designed to ensure Indians living in harmony end up beheading each other. Your castes, prides, histories and fallacies will be misused and exploited for that. You might have internal political, personal or ideological disagreements. Let them be. But calmly think if someone is exploiting the disagreements to disintegrate the country, to instigate a rebellion against the government systems, or to overthrow the constitution and democracy."
On 27 April, Damgude proclaimed that CPI (Maoists) is the most dangerous terrorist group after Boko Haram, Islamic State, Al Qaeda, Hezbollah. "Several people do not even know they are unknowingly working for the CPI (Maoists)," he wrote. "It is not only the government forces' responsibility to fight with this seditious organisation. To protect our constitution and our country, we must come together and work. It could mean taking up a virtual battle on social media or working on the field. Those who intend to participate can post their contacts in the comments section or message me personally." The post had over 200 comments, most of which were numbers of his followers.
Between issuing heartfelt warnings and mobilising Facebook followers to "work" against CPI (Maoists), Damgude also tries his hand at being funny. Sharing a poster of the film Infinity Wars, he wrote, "Every comrade should come together and fight the Manuwadi Thanos on the streets. Saathi Haath Badhana, Ek Akela Thak Jaaye Toh Milkar Aag Lagana." He signed off the post by referring to himself as "Comrade Tushar Damgude. Fascist Thanos Murdabad, Mao Lenin Zindabad."
On 17 August, Damgude wrote what would be his article in 2032. "Through sheer hard work, Narendra Modi and his colleague, Lohapurush Amit Shah, took BJP to the grassroots. This is the reason why we see a full majority of the BJP in West Bengal, which was once a communist bastion." Taking a dig at Rahul Gandhi, he referred to him as a "young and outspoken leader" for a piece in 2032.
On 27 March, he said, "Some Hindutvavadis might be anti-Muslim, but those who say Hindutvavadis are anti-Dalits are ch****. Blind with hatred for Hindus, show me one Hindutvavadi organisation that asks for a person's caste before extending membership and win one lakh rupees."
Speaking of Muslims, Damgude posted an Urdu poster with Shivaji, Shahu Maharaj, Babasaheb Ambedkar and Sir Sayyad. He said it was an "unpardonable sin" to have Sir Sayyad alongside the others. "Where are we heading," he asked.
In one of his posts, Damgude refers to Kobad Gandhi as an "infamous Maoist", and writes a celebratory post on the bail of Milind Ekbote, another leader who instigated the attacks on Dalits at Bhima Koregaon according to the initial report by Pune rural police. "Milind Ekbote has been going to Bhima Koregaon for 20 years," he wrote on April 19. "His is a lion's share behind Sambhaji Maharaj's memorial proudly standing there. This year, he distributed the letters clarifying his stand and he left. Read the letters and decide for yourself if they can incite riots." The version of the Pune rural police was different.
When Damgude is taking a break from his socio-political Facebook posts, he showcases his misogyny. On 28 February, he wrote a fictional conversation between Sunny Leone and Mia Khalifa. It begins, "Mia Khalifa: Do you suffer after eating bananas? Sunny Leone: Bananas are important in social sciences. But one must know when to stop to not trouble the hands of youngsters."
The "conversation" runs up to almost 1000 words. This, to reiterate, is the man whose FIR the Pune police is so diligently pursuing and arresting human rights lawyers and activists.
https://www.firstpost.com/india/tushar-damgude-man-whose-fir-spurred-nationwide-raids-reveres-sambhaji-bhide-attacks-left-wing-ideology-5066691.html