'He Just Had A Leg Ache…' Father Wept As He Carried 15-Year-Old Son's Body
by Alok Pandey |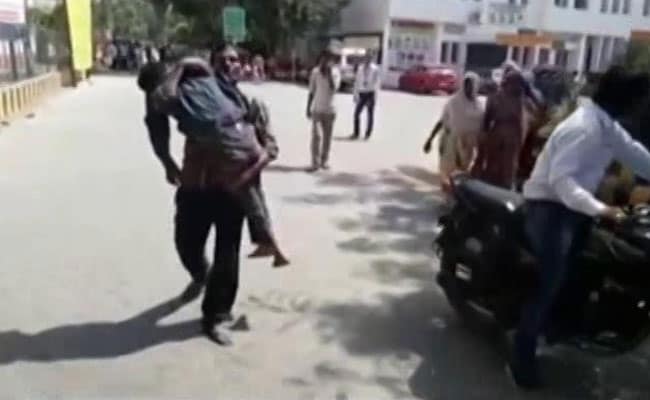 After being denied by the hospital, the weeping father carried his son's body on his shoulders
ETAWAH:
HIGHLIGHTS
45-year-old labourer carried his son's body to hospital on his shoulder
Etawah hospital doctors turned him away without treating his son, he said
The top health official of the district termed the incident "shameful"
In gut-wrenching visuals from Uttar Pradesh, a man weeps as he carries his 15-year-old son's body over his shoulder at a hospital where he was provided neither a stretcher nor an ambulance. Another example that shows in large parts of India, the story of Dana Majhi – the Odisha man forced to walk 10 km with his wife's body slung over his shoulder – is on endless repeat.
Udayveer, a 45-year-old labourer, said doctors at the Etawah government hospital – considered one of the state's best – did not treat his teen son Pushpendra and turned him away.
"They said there was nothing left in the boy…He just had a pain in his legs. The doctors just gave my child give minutes and said take him away."
The desperate father took the boy twice to the hospital from his village, seven km away, hoping for a cure. The doctors didn't offer the services of a hearse or an ambulance, which are meant to be provided free of cost to the poorest.
Struggling with his son's lifeless body in his arms, Udayveer, with a chronic lung problem, walked out of the hospital. Someone filmed him on his mobile phone camera. He took the body home on a bike. "No one told me whether I am entitled to transport to take my son's body back," he said.
The top health official of the district called it "shameful". The boy, he said, was brought dead to the hospital on Monday afternoon.
"I am told the doctors were busy with a bus accident case and so they could not ask him (Udayveer) if he needed transport. There will be action…no doubt it is a blot on the reputation of this hospital and the fault is ours," said Rajeev Yadav, Chief Medical Officer.
On the same day, a similar tragedy emerged from a hospital in Karnataka, where a father waited with the body of his three-year-old son in his arms and took him home on a two-wheeler. He had not been told about ambulance services and the hospital staff didn't help either.
In August, the nation was shocked to the core by the image of Odisha farmer Dana Majhi walking with his wife's stiff body on his shoulder because there was no hearse available at the hospital. His young daughter walked with him, tears streaming down her face.http://www.ndtv.com/cities/he-just-had-a-leg-ache-father-wept-as-he-carried-15-year-old-sons-body-1688422?pfrom=home-lateststories