Published: Friday, Apr 20, 2012, 9:00 IST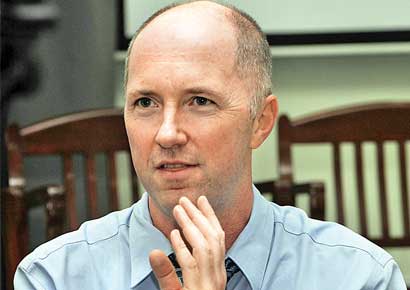 Professor Edgar Whitley
Shraddha Bhargava | DNA
After security concerns scaled new highs post 9/11, the UK government decided to implement a national identity project. Following countrywide protests the British government was forced to not only scrap the project but also destroy all the data collected.
A major facilitating factor in this nationwide campaign was the release of a London School of Economics and Political Science (LSE) report that demonstrated the futility of nationwide biometric-basedidentity schemes, showing that they were slated to become endless exercises of ever-increasing expenditure, bringing in their wake serious risks like identity theft.The lead author of this study Professor Edgar Whitley – Reader in Information Systems at the Information Systems and Innovation Group in the LSE was in Mumbai for a talk on :'The Challenge of Effective Identity Policies: Lessons from Around the World.' Excerpts of an interview byYogesh Pawar:
Was the UK government's decision in 2004 to bring in an identity card project born of only security concerns or was there a development angle too as it is being done by Indian authorities? 
(Laughs) We are still trying to figure that one out. The idea of identity cards has often been bandied. In 2002, it began with a discussion about entitlement cards and slowly gave way to identity cards. From improving access to public services, to national security concerns and even the enabling of young people, who did not necessarily have a documents for transactions like opening bank accounts or getting a mobile number. Sometimes it was even suggested that the ID card could be used to travel freely across Europe without passports.
The claims and responses kept changing. If the idea of having a centralised database was to address questions of identity fraud, so that people would not have more than one identity card, then there were other ways in which you do that without centralising personal information. So when some aspects of the project found less favour, other claims were made and so on.
There are both kinds of views. Some feel such an ID card would increase discrimination while others felt it would help reduce it. Your comment 
If a surgeon is checking for entitlement, and I, as a white middle-class male, come along and say, "I don't have my card. But can I book a doctor's appointment?"Will I be treated the same way as another fellow national who is not white and speaks English with an accent? The latter might face morechecks despite their entitlement being same as mine. So concerns of discrimination are very serious.
What were some of the concerns raised by the LSE report?
We argued that the ID card system could offer serve some basic public interest and commercial sector benefits. There were however six key areas of concern. First, there was clear lack of specific focus in purpose. Secondly, there was concern over whether the technology would work since smaller and less ambitious schemes had encountered huge technological and operational problems. The use of biometrics was of particular concern since it had never been used on such a scale. Thirdly there were legal issues over privacy and discrimination. Fourthly, we felt that the National Data Register was likely to create a very large data pool in one place that could be an enhanced security risk for hacking or other malfunctions. Fifthly, a system well accepted by citizens is likely to be more successful in use than a controversial one that raises privacy concerns.
Finally, compliance with the new system would mean that even small firms would have to pay for smartcard readers and other requirements, which would have added to their burden.
Your report says "the scheme should be regarded as a potential danger to public interest and legal rights of individuals". Please elaborate.
You see there was a genuine concern about the audit trail. If you produce your ID card for every transaction and the system keeps a record, this can check forgery. On the other hand, this provides details of every transaction, which can be seen by anyone with access.
It also goes beyond that. If you went to a sexual health clinic and used your card and fingerprint for verification, the audit trail would show you were there on a number of occasions. It might be reasonable to infer things about your lifestyle you may not want to disclose. This may not be done purposely but this danger is there in the design.
The other concern was the biometrics. If someone breaks into your e-mail account, you can always reset your password. But if the biometric is stolen, the possibility of revoking it is almost impossible.
Give us a sense of how the average Briton reacted to the identity project? What built the momentum enough for the project to be finally shelved in 2010?
It was scrapped because parties that came to power were opposed to it. A lobby group -NO2ID- got the message out about concerns with this process. Many activists across the political spectrum got involved. They were just explaining the project and some of the dangers it was fraught with. They worked closely with the media which also showed considerable interest and the result is there for everyone to see.
India is in the thick of the debate on the unique ID  scheme.
What are the resonances in the scrapped British identity project.
I know you are looking at me giving you a headline point but I do not want to be (Laughs) the imperialist who takes the top down view of things. On the whole it will be in the interest of India and her people to look very closely at some of the questions raised in the debate in the UK. The sooner it is done the better.
Related articles