The media must question Modi about the involvement of his party members in these atrocities, write signatories including Meena Kandasamy, Sarah Green and Pragna Patel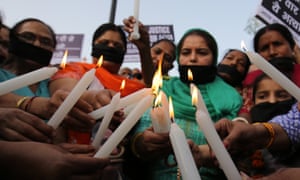 In the context of Indian PM Narendra Modi's visit to the UK, we are deeply shocked at the gut-wrenching violence against women and children in Indiabeing defended by politicians of Modi's ruling Hindu rightwing party, the BJP.
Hindu extremists, or their associates, stand implicated in rape and murder while some BJP leaders actively mobilise to defend them and undermine the rule of law (Reports, 12 April and 17 April).
In Kathua, in Jammu and Kashmir state, eight-year old Asifa was horrifically gang raped and murdered in a Hindu temple by a group of men, in order to terrorise the nomadic Muslim Bakarwal community she belonged to. There followed violent protests in defence of the accused by a pro-Modi Hindu rightwing outfit the Hindu Ekta Manch. At least two BJP ministers took part in these protests. In Unnao in Uttar Pradesh, ruled by the BJP's notorious hate preacher Yogi Adityanath, a 16-year-old girl was raped. When her family protested after almost a year of inaction by the police, her father was brutally assaulted by Sengar's [one of the suspect's] supporters, arrested on a false case and died in police custody.
Narendra Modi's long silence was only broken on 13 April in the face of mass protests in Delhi. He promised justice to "daughters" but refused to utter the word "rape" let alone recognise the role of his own party supporters in perpetrating and celebrating such horrors. The media must question Modi about the involvement of his party members in these atrocities and his government's effective sanctioning of rapes, attacks on minorities and lawlessness.
Sarah Green Co-director, End Violence Against Women Coalition
Vivienne Hayes CEO Women's Resource Centre 
Marai Larasi Director, Imkaan
Anber Raz Co-chair Imkaan
Gurpreet Virdee Director, Women and Girls Network
Camille Kumar Women's and Girls Network, Rape Crisis Centre West London
Baljit Banga Director, London Black Women's Project
Anjum Mouj Chair, London Black Women's Project
Pragna Patel Director Southall Black Sisters
Sabrina Qureshi Million Women Rise Movement
Sarbjit Johal Freedom Without Fear Platform
Rachel Moran Executive director SPACE International 
Nirmala Rajasingam South Asia Solidarity Group 
Taranjit Chana GMB Union Race
Dipti Morjharia London Black Women's Project
Yasmin Rehman Feminist and human rights activist 
Meena Kandasamy Novelist and activist
Tabitha Benjamin Singer- songwriter
Amrit Wilson Writer and activist
Rahila Gupta Journalist and activist
Rosie Woods Harrow Momentum
Jaiti Sharma Harrow Labour party 
Priya Sharma Harrow Labour party 
Professor Shirin M Rai University of Warwick
Professor Avtar Brah Birkbeck, University of London 
Professor Nira Yuval Davis University of East London
Professor Gargi Bhattacharyya University of East London
Dr Kalpana Wilson Birkbeck University of London
Dr Shakuntala Banaji London School of Economics
Dr Meena Dhanda University of Wolverhampton
Dr Sumi Madhok London School of Economics
Dr Anandi Ramamurthy Sheffield Hallam University
Dr Goldie Osuri University of Warwick
Dr Rashmi Varma University of Warwick
Dr Alessandra Mezzadri Soas, University of London
Professor S. Sayyid University of Leeds
Dr Navtej Purewal Soas, University of London
Dr Feyzi Ismail Soas, University of London
Dr Rinella Cere Sheffield Hallam University
Dr Katy Sian University of York
Dr Marsha Henry London School of Economics 
Dr Sukhwant Dhaliwal London Metropolitan University
Dr. Ravi K. Thiara University of Warwick
Dr. Fiona Vera-Gray University of Durham
Dr Josie Phillips University of Durham
Dr Penny Vera-Sanso Birkbeck, University of London
Dr Deepta Chopra Institute of Development Studies
Dr Jennifer Ung Loh Independent scholar
Dr Joanna Lovett London Metropolitan University
Dr Churnjeet Mahn University of Strathclyde 
Dr Yasmin Gunaratnam Goldsmiths, University of London 
Dr Gail Lewis, Birkbeck University of London 
Dr Iona Szeman University of Roehampton 
Dr Nisha Kapoor University of York 
Dr Bethan Harries University of Manchester