Referring to the abolition of the triple talaq practice in Islamic countries, the court questioned, "Why can't independent India get rid of it?"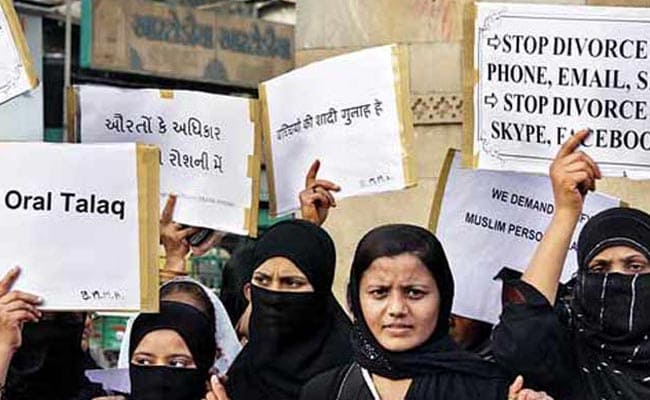 NEW DELHI: 
The Supreme Court
today banned the controversial Islamic practice that allows men to leave their wives immediately by stating "
talaq
" (divorce) three times. The verdict vindicates the stand of the government, which had said triple 
talaq
 violates fundamental rights of women. Several Muslim women who have been divorced because of it, including on
Skype
and on
WhatsApp
, had appealed to the top court to end the practice.
In a landmark verdict, a Constitution Bench of the Supreme Court today held that the practice of Triple Talaq is unconstitutional and violative of Articles 14 and 15.

The decision was rendered by a Bench of Chief Justice of India JS Khehar, along with Justices Kurian Joseph, Rohinton Fali Nariman, Uday Umesh Lalit and Abdul Nazeer.

While Justices Nariman and Lalit held that Triple Talaq is unconstitutional and violative of Article 14, Justice Joseph struck down the practice on the ground that it goes against Shariat and the basic tenets of the Quran.

Here is a brief summary of the judgment rendered by Justices Nariman and Lalit:

1937 Act recognises and enforces Triple Talaq and is law in force
Triple Talaq does not fall within the confines of Article 25.
Triple Talaq is manifestly arbitrary and the 1937 Act insofar as it recognises the same, is unconstitutional and consequently struck down
The judgment in State of Andhra Pradesh v. Mcdowell is per incuriam.

Below is a summary of Justice Joseph's ruling:

Triple Talaq against basic tenets of Quran and violates Sharia.
Not an integral part of the religion.
Purpose of 1937 Act is to declare Shariat as the only law governing Muslims.
Since Triple Talaq is bad in Sharia, it is bad in law.
Dissents with Nariman on the aspect that Shariat is law in force under Constitution.

Chief Justice Khehar and Justice Nazeer dissented, holding that the practice cannot be struck down on the ground of being violative of Article 14, since there is no state action.

They, therefore, directed the Central government to frame a law to govern the field.

Here is a summary of the dissenting judgment:

Triple Talaq integral to Islam in India and part of personal law
It is a practice which had prevailed for a long time.
Triple Talaq does not violate Articles 14, 15 and 21 which are sanctions against state action.
Practice is, however, not present even in theocratic Muslim States.
Directs Union of India to frame appropriate law in this regard.
Injuncts Muslims from exercising triple talaq for six months.

The case involved a batch of petitions filed by various parties challenging the constitutionality of Triple Talaq.

The petitioners had also challenged the Constitutionality of Section 2 of the Muslim Personal Law (Shariat) Application Act, 1937 in so far as it seeks to recognise and validate Triple Talaq.

The lead petition was by one Shayara Bano. The matter also involved a suo motu case initiated by the Supreme Court in this regard.

A battery of Senior Counsel had appeared in the matter including Kapil Sibal, Ram Jethmalani, Salman Khurshid, Anand Grover, Indira Jaising and Amit Singh Chadha.

The Central government was represented by then Attorney General Mukul Rohatgi and Additional Solicitor General Tushar Mehta.

The Court had heard the matter for six days before reserving its verdict on May 18 this year.

 https://barandbench.com/unconstitutional-triple-talaq-supreme-court/