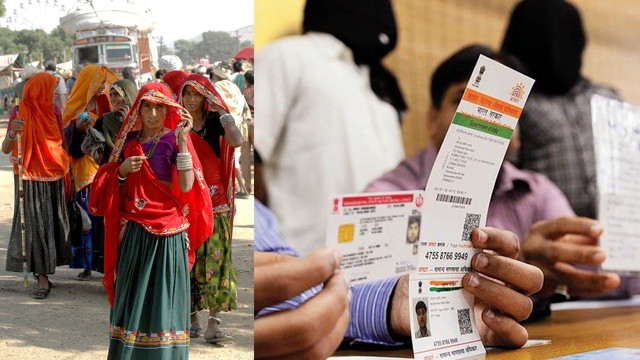 Despite the govt saying that there is no dress code, officers continue to insist that women wear a dupatta while getting their picture clicked.
The Aadhaar card has assumed such paramount importance in life in India today that I was finally forced to get one. On Tuesday morning, I went down to the Corporation office in Tiruvanmiyur, Chennai, at 10:00 am only to be told that the office which issues Aadhaar cards will open at 11 am. So I returned at around 11:30 am to the office and filled the form and waited my turn.
As soon as I sat on the chair for the photograph to be taken, I was told by the young government officer to wear a chiffon dupatta. He then handed me a dirty beige dupatta. I looked at him baffled and asked, "No one said it was mandatory to wear one. Why weren't we informed?" He replied, "Madam, you can take the photo without the dupatta but if they reject the application in Hyderabad you should not blame us." I then asked him where this rule was stated and he told me that those were the rules given to them. So I was forced to take the picture with one as I needed the Aadhaar card and I left the office at 12:30 pm.
The issue of the dupatta being mandatory for the Aadhaar card photo dates back to 2013 when women across India outraged about this. On May 31, 2013, the Unique Identification Authority of India (UIDAI) clarified stating that it had not prescribed any dress code for Aadhaar number enrolment.
The govt clarified: "Residents are free to wear any kind of dress that they are comfortable with at the time of enrolment, provided it does not hide any part of the face (from forehead to chin). In fact, residents who wear a turban, burkha, or any such religious/traditional headgear are not required to remove them when being photographed as part of the Aadhaar enrolment process."
But the story on the ground is still different. In 2015, when my friend went to get her Aadhaar card in Hyderabad, she was asked to remove her hijab (head scarf) despite there being clear rules that head gear that doesn't cover the face is allowed. When she told the officer that she was wearing a hijab in her passport photo, he still asked her to remove it and stated it was not allowed.
This raises several questions – If not a mandatory dress code, was it not communicated to the corporation offices across the country? Or are the officers who were part of the enrolment process not aware of the official rules?
Since the UIDAI started issuing Aadhaar cards, the process has been dogged by controversies. The first, of course, was the dupatta issue. Last year, it was found that the UIDAI officers were issuing cards to dogs and other animals. While Lord Hanuman got a card in 2014, Tommy Singh (a dog) got one in 2015. Tommy Singh's owner was subsequently arrested.
But while dogs and gods can get their ids, it appears that a duptta-less woman can't get one in April, 2016! As a woman in contemporary Indian society, I find it demeaning to be told to wear a dupatta for an official photo, particularly one demanded by the Centre.
Is traditional Indian wear the epitome of respectability and decorum? Does it mean that Indian men are only capable of respecting women if they are dressed in salwars or sarees? If this is true then, women who wear salwars and sarees would never get raped or sexually harassed. So what are these so-called values we are perpetuating in society by asking women to dress appropriately? Irrespective of how a woman dresses, crimes against her are committed. And in the midst of all this, we have a government agency asking women to wear a dupatta for an identity card.
I don't blame the officer who asked me to wear the dupatta for his ignorance, he is simply following orders. He is doing exactly what was conveyed to him. The fact that he told me, "Please don't blame if they reject it in Hyderabad" shows that that the UIDAI officers in the data centre Hyderabad are obviously at the root of the problem.
All applications are sent to Hyderabad for processing from Chennai – and if the officer in Hyderabad can't distinguish between a dog and a chair then we surely have incompetent people working on this scheme which governs everything from a passport application to a gas connection. As for the dupatta I had to wear, I wonder which incompetent officer sitting in Hyderabad rejected earlier applications for the corporation guy in Chennai to give me such outrageous advice.http://www.dnaindia.com/india/report-unique-idiotic-dilemma-aadhar-officer-says-woman-without-dupatta-can-t-get-id-photo-clicked-2198470