The reasons
The police commonly use stock witnesses in UAPA cases.
The evidence and cases are weak.
There is a well-defined procedure of investigation under UAPA. Only DSP or official above that rank can carry it out. But several cases fell flat as lower-level officials carried out the investigation.
The police often don't follow the complete process to get sanction for prosecution from the Home Department. In some cases, permission is required from the Union Home Ministry and state Home Department.
Why police book so many under UAPA
The police remand under UAPA is much longer as compared to other charges. So the police get more time to interrogate the accused.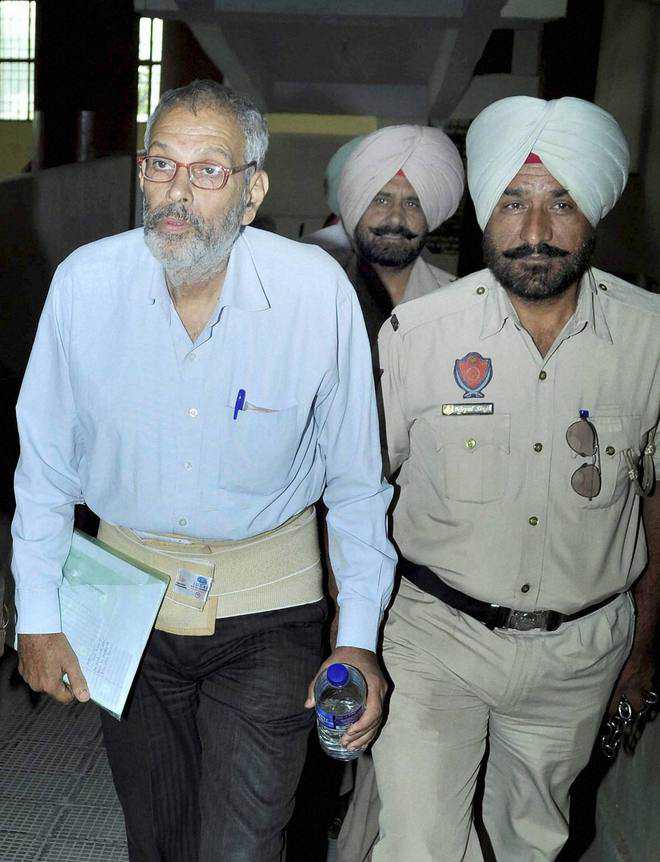 Vishav Bharti
Tribune News Service
Chandigarh, October 19
Seven years, more than 100 cases, months and years of languishing in jails but only one conviction — That is the Unlawful Activities (Prevention) Act (UAPA) in Punjab and Haryana.It has been used against a wide range of people — from Khalistani sympathisers to Dalit leaders, from Maoist sympathisers and farmer union leaders to women activists.Maoist ideologue Kobad Ghandy's case was one of the more than 100 cases to be tried under UAPA for more than six years, but he too was acquitted on Tuesday by a Patiala court.According to information obtained by The Tribune, the police — in Punjab — registered around 100 cases under UAPA in the past seven years, but there was conviction in just one case. T
he appeal for it is still pending in the Punjab and Haryana High Court.These cases were mainly registered against Khalistani and Maoist sympathisers.
The first case under UAPA in Punjab was registered against alleged Maoist Jai Parkash Dubey on January 5, 2009, but he was discharged from UAPA charges by the court. It was followed by the famous case of Surjeet Phool, president of Bhartiya Kisan Union (Krantikari). He stayed in jail for five months before he was acquitted in 2010.
Three others activists belonging to mass organisations were booked under UAPA, but none got convicted. Most cases were registered against Khalistani sympathisers and activists. Around 100 cases were registered against leaders of Sikh and pro-Khalistan organisations. So far, 70 people have been acquitted and some cases are going on. Against Ludhiana-based Khalistani leader Daljit Singh Bittu, five cases of UAPA were registered at different places. He was acquitted in four cases."Earlier, people of Punjab were victims of TADA in which conviction rate was low. Seven years back, it came back in a new avatar — UAPA," said Jaspal Singh Manjhpur, a Ludhiana-based lawyer who has fought the maximum cases of UAPA in Punjab. He himself was booked under UAPA and spent 1.5 years in jail before getting acquitted in July 2014.He said that in one case registered in July 2010 at Amritsar, three persons Makhan Singh Gill, Pal Singh France and Gurmukh Singh were convicted.The situation is not much different in Haryana. Since 2009, in three cases — two cases in Yamunanagar and one in Narwana – a total of 24 people were tried under UAPA. But not even a single person was convicted. On an average, each of the 24 spent 2.5 years in jail while facing trial before getting acquitted.
Among those who were tried under UAPA in Haryana, 20 were Dalits, two of the backward category and one was a Muslim.Kaithal-based Geeta and Rajesh Kapro, a couple working in the Krantikari Mazdoor Kisan Union, were among the first to be booked under UAPA."The law has been used against persons fighting for the cause of Dalits.
In its judgment, the court noted that the police terribly failed to produce evidence," said Kapro, who now practices law in Kaithal.
http://www.tribuneindia.com/news/punjab/unlawful-activities-act-1-conviction-in-7-yrs/312015.html