Merely because a person can make it to court and get a lawyer, does that mean she has access to justice? Not necessarily, concluded a panel of eminent jurists, law professors and researchers at a discussion in Delhi on 23 April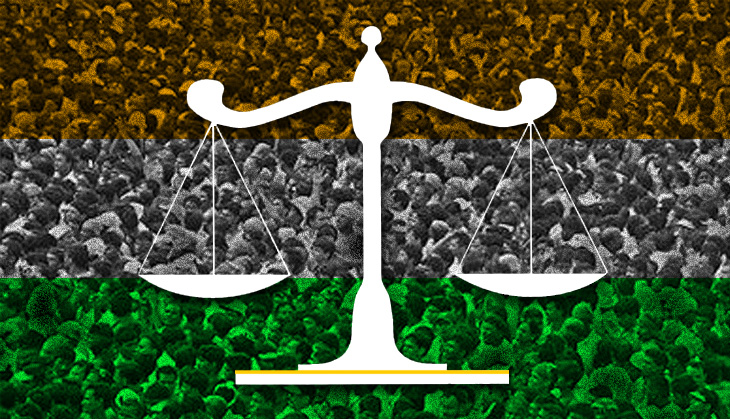 .
The panel, which included sitting Supreme Court Justice Madan B Lokur, had gathered to discuss and deliberate upon the findings of a survey by the legal and policy research think tank Daksh.
The survey conducted between November 2015 and February 2016 and led by Aparna Chandra, professor of criminal jurisprudence at the National Law University, Delhi, has made startling revealations. The surveyors interviewed 9,329 people and visited 305 civil and criminal trial courts across 24 states.
Scholars often say "justice is not blind". What they mean is that the judicial outcome of cases is contingent upon a host of socio-economic factors, beliefs and biases, not soley upon what a judge decides is right. Daksh's study, which contains detailed demographic profiles of the litigants, has sought to "map" this theory in a quantitative manner.
RIFE INEQUITY
The Indian Constitution decrees the lofty ideal of "equality of law and equal justice before law" as a Fundamental Right. The question of equity, however, is rarely addressed although it has a fundamental bearing upon the concept of equality.
The survey indicates that inequity is rife in the justice delivery system. For example, only 15.1% of the women respondents believe they have got "some justice" in their cases. The figure is even lower for Muslims and SCs at 9.8% and 10.8%, respectively.Of the people fighting criminal cases against the state, 46.3% have annual incomes between Rs 1 lakh and Rs 3 lakh. As many as 31.3% of the people accused in criminal cases languish in jails because they cannot afford surety for bail.
Only 2.36% of the survey's respondents have availed of legal aid, which, again, is a Fundamental Right guaranteed to all citizens. The majority said the abysmal quality of legal aid lawyers compelled them to engage private counsel, sometimes at the cost of going into indebtedness and bankruptcy.
"Survey: over 31% people accused in criminal cases languish in jails because they can't afford bail "
In light of these findings, Vipul Mudgal, who heads the civil rights group Common Cause, said myriad "unfreedoms" and exclusions that are deeply entrenched in the system make justice a distant dream for the majority of India's population.
Justice Lokur, as also G Mohan Gopal, the former director of the National Judicial Academy, observed that the legal aid system is in a shambles, and stressed the need to evaluate, regulate and revamp it. Both bemoaned that it's often the bar which resists the idea of legal aid, demonstrating a niggardly, if not hostile, attitude towards every citizen's inalienable right to be represented by a competent lawyer of his choice.
UNBEARABLE BURDEN
Another disturbing revelation made by the survey is that accessing justice in India is quite costly. No less than 44% respondents said the fear of incurring huge expenses has deterred them from moving higher courts on appeal even though they believed the lower court rulings against them were unjust and wrong.
Their fear isn't without basis. As per a conservative estimate, the total cost borne by the respondents on their cases comes to Rs 30,000 crore, and this doesn't even include lawyers' fees. In terms of wage loss, the slow grinding wheels of "justice" cost the respondents a total of Rs 50,387 crore.
"Unfreedoms, exclusions entrenced in our system make justice a distant dream for most Indians: Vipul Mudgal"
The survey also found that 2.7 % of the respondents had been previously accused but never convicted, while 2.3% had been previously accused and convicted. This is not surprising as innocent people are often thrown in jail on trumped up charges, said Isha Khandelwal of Jagdalpur Legal Aid Group, whose members have been at the receiving end of the Chhattisgarh Police's vindictiveness.
Acorss Chhattisgarh's Bastar region, the advocate said, the police has been rampantly arresting people and charging them with being "Naxalites". Since most of them are charged without evidence, the conviction rate is extremely low. Yet, due to a toxic combination of extreme poverty, public opprobrium against "Naxals" and judicial bias, the falsely implicated tribals languish in jail for extended periods. As a result, the prisons are often filled to the brim, and inmates are forced to live in near-inhuman conditions.
This flies in the face of the criminal law's fundamental tenet: "let a hundred culprits go free but not a single innocent man should be punished".
TECHNOLOGY NO PANACEA
Increasingly in public and state discourse, the use of technology is touted as the magic wand that would "solve" all the problems plaguing India's justice delivery system. Indeed, Justice Lokur cited conducting hearings through videoconferencing as an efficient way of saving judicial time and ensuring fast disposal of cases. Prof Chandra, however, pointed out the flip-side to it.
Prof Chandra, who has done stellar work on prisoners' rights in India, said many inmates, especially poor undertrials, are rarely visited in jail by their apathic and indolent lawyers. They get to meet and speak to their lawyers only when presented in court. They are, thus, unable to instruct their lawyers, which cripples their efforts to successfully contest their cases. Over reliance on video-conferencing would only further disadvantage such people.
The findings of Daksh's survey and the above discussion ought to help our judges, lawyers and policymakers devise measures to enable every citizen to "access justice" equally and equitably. But the question is: do they want to?http://www.catchnews.com/india-news/unwritten-law-justice-eludes-most-indians-here-s-why-1462031224.html