Last week, BSP Mayor from Meerut Sunita Verma reversed the decision of her predecessor from BJP, who had made singing of the national song mandatory at Municipal Corporation meetings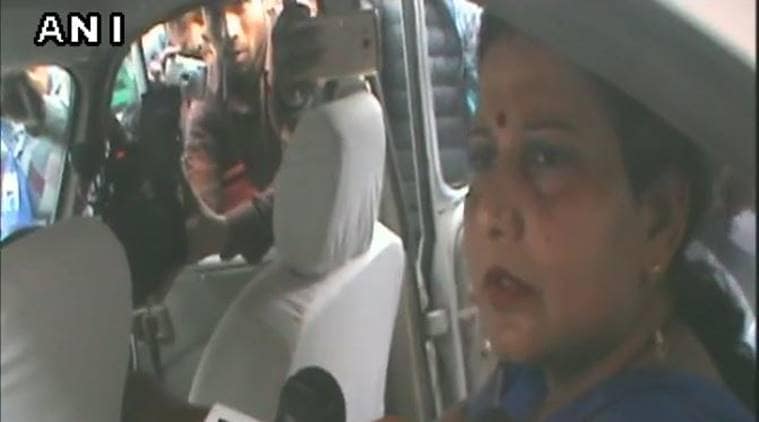 BSP Mayor from Meerut Sunita Verma. (Source: ANI)
Newly elected BSP Mayor from Meerut Sunita Verma kicked up a controversy on Tuesday after she was seen sitting while Vande Mataram was being recited at the swearing-in ceremony. The BJP councillors were quick to register their protest on the issue and were seen standing during the ceremony while raising slogans against Verma.
The incident comes after the BSP member last week reversed the decision of her predecessor from BJP, who had made singing of the national song mandatory at Meerut Municipal Corporation (MMC) meetings. "The municipal board's Constitution states the national anthem will be sung, not 'Vande Mataram'. There should be no controversy… only 'Jana Gana Mana' will be sung at the start of every board meeting," she had said.
The previous BJP Mayor, Harikant Ahluwalia, had made singing of the national song a must at MMC board meetings and the membership of those who refused would be terminated.
However, Verma brushed aside the issue when questioned why didn't she stand up when Vande Matram was being recited. "Vikas ki baat kijiye, mera dhyaan mat bhatkaiye (Speak on development. Don't try to shift my focus)," the Meerut Mayor said.
BJP members protest during the ceremony on Tuesday. (Source: ANI)Verma won the civic body elections held two weeks ago, defeating BJP candidate Kanta Kardam – the state's party vice-president. Last week, Aligarh Mayor Mohammad Furkan, also from the BSP, had said he would not sing the national song during the oath-taking ceremony.
On Sunday, Vice-President M Venkaiah Naidu said he did not understand what was the problem in singing Vande Mataram, which meant "salutations to the mother", a song that had inspired millions during the country's freedom movement. "After so many years, now we are discussing (if) Vande Mataram is good or not, nationalism and patriotism are good or not. Also, we feel shy to talk about all this," Naidu said
http://indianexpress.com/article/india/vande-mataram-row-bsp-mayor-refuses-to-stand-during-national-song-bjp-councillors-protest-4979904/