The suspension of the awards was sparked by a letter from campaigners linked to the London Mining Network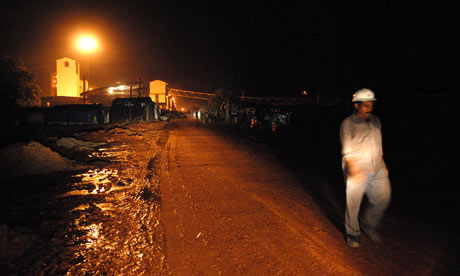 A worker leaving Vedanta's Lanjigarh alumina refinery in
Orissa state
,
India
. Photograph Gethin Chamberlain
Multinational mining group Vedanta Resources has had two British safety awards – including one endorsed by the UK's Health and Safety Executive – suspended after campaigners drew attention to controversies including a fatality at the group's operations in Orissa, India.
The British Safety Council had been due to present representatives from a subsidiary, Vedanta Aluminium, with a "distinction" award for its Lanjigarh refinery at a black-tie gala dinner at the Grosvenor House Hotel in Mayfair on Friday night. An invitation to the event, described by organisers as "the Oscars of health and safety", has now been withdrawn.
In a statement, BSC said: "Information has been brought to [our] attention concerning a fatality at the site in April and in connection with earlier occurrences … The BSC has today notified the company of its decision and sought full particulars of the circumstances surrounding the fatal accident and dangerous occurrences."
The Royal Society for the Prevention of Accidents (RoSPA) has also suspended a "silver award" that was due to be presented to Mukesh Kumar, president of Vedanta Aluminium, at a ceremony in Birmingham.
The suspension of the awards was sparked by a letter from campaigners linked to the London Mining Network. It comes two years after the BSCstripped another Vedanta subsidiary of a safety award after the Observer drew its attention to the firm's involvement in one of the worst industrial tragedies in India's recent history. At least 40 workers were said to have been killed by the collapse of a 240-metre, part-built chimney in Korba, in the state of Chhattisgarh.
On both occasions, information passed to the BSC was widely available on the internet.
Last month, a project manager at a Vedanta contractor firm reportedly burned to death and four others received minor injuriesin a fire while staying on a Vedanta campus site in Lanjigarh. Kumar told local media: "The project manager of our red mud refining agency died during the fire accident. I cannot call it lapse in the security measures as I believe the rains and possibly a loose electric wire caused the accident."
Vedanta reported two fatalities among its employees and 24 contractor deaths across its businesses and projects for the year to 31 March. "Learnings have now been shared across the group and preventative action taken," it said in its annual report.
The BSC allows firms applying for its international safety awards to assess themselves. They are barred from receiving an award if there is a fatality at the site in question. In the case of Vedanta's Lanjigarh aluminium refinery, the fatality occurred after the application had been processed, but the BSC had not been informed. Critics of Vedanta's practices at Lanjigarh also point to allegations of two caustic residue spills – accusations the BSC is taking seriously.
A spokesman for Vedanta said officials in India could not be reached for comment.
Roger Moody, of the London Mining Network, said: "The process of self-assessment should not be allowed for these awards. Gong-giving is quite an art in India and Vedanta are past masters at trading off these kinds of awards. The fact that they are endorsed by the official British regulator is seen as very, very significant."
A spokesman for the HSE confirmed that the BSC awards did carry a general endorsement, but added: "We are not involved in the detail of the selection process, or judging the winners."
Related articles