Want to protect Hindus today and 1,000 years from now: Pravin Togadia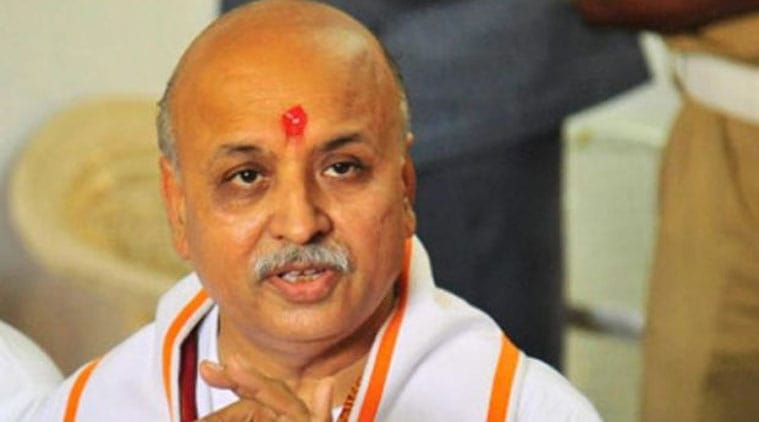 Pravin Togadia.
Written by 
Milind Ghatwai
 | Bhopal |Posted: December 22, 2014 3:21 am | Updated: December 22, 2014 3:58 pm
Asserting that the whole world was once inhabited by Hindus, VHP leader Pravin Togadia Sunday declared that the right-wing organisation will ensure that the population of Hindus in the country increases from 82 per cent to 100 per cent.
Addressing a convention organised in Bhopal as part of the golden jubilee year celebrations of the VHP, Togadia alleged that conversions to Christianity and Islam, by force or by offering allurements, had made Hindus feel unsafe.
"We want to protect Hindus today and 1,000 years from now. We won't let their population decline from 82 per cent to 42 per cent because then their property and women will not remain safe.''
Speakers before Togadia made the gathering of thousands to resolve to stop conversion and to bring back to Hindu fold those who have converted. Togadia and other speakers echoed the sentiments of RSS chief Mohan Bhagwat.
"Haj travel gets a subsidy of Rs 22,000. Do you get a subsidy for travelling to Mahakal? What is your value? Zero,'' Togadia said while asking the gathering to repeat his words. "When one Hindu is converted and one cow is slaughtered it means Hindus have no respect in the country.''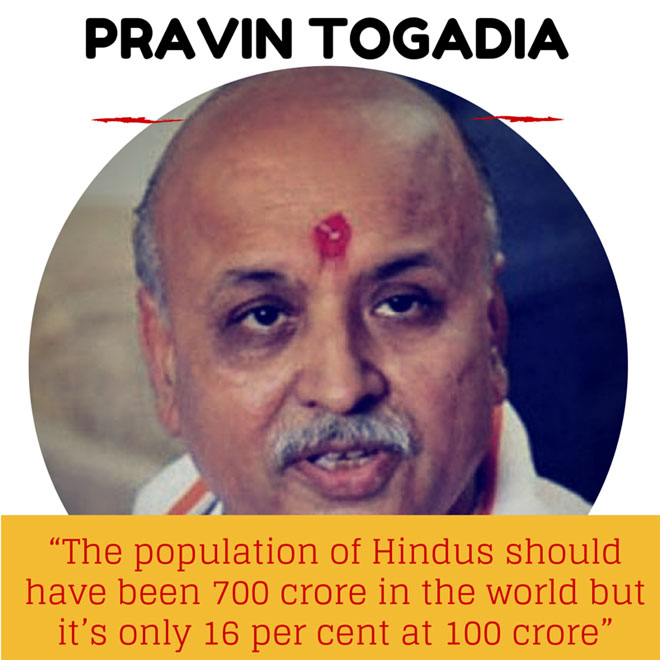 The VHP leader said "love jihad" was a conspiracy against Hindus. When Sayeed marries Savita she becomes Salma. In 100 marriages involving Hindus and Muslims 50 Savitris become Salmas, why can't 50 Salmans become Ram,'' he asked and added "this is not love but jihad''. He said conversions and instances of love jihad were being reported even from Bhopal "as if it was a Mughal government''.
Togadia said Hindus were prospering and safe for centuries till about 2,000 years ago. "The population of Hindus should have been 700 crore in the world but it's only 16 per cent at 100 crore." He cited Afghanistan, Pakistan, Malaysia, Sri Lanka and Bangladesh among other countries where the population of Hindus had declined drastically.
Speakers stressed that untouchability was the bane of Hinduism and asked the audience to dissolve all caste barriers. "When you let dogs and cats enter your bedrooms and kitchens why discriminate against some human beings because of their caste,'' more than one speaker emphasised while adding "when all Hindus are treated equal, Hindus will become a major force that they were once.''
One of the speakers blamed the caste system on the advent of Islam, insisting that untouchability was not practiced in India before that time.
"While very few chose to convert willingly when forced by Islamists, many were slaughtered for refusing to change their faith but most accepted the humiliation of cleaning the invaders' excreta than to convert to Islam," an RSS leader said calling the Scheduled Castes "dharma yoddhas (religious warriors)".
Invoking Mahatma Gandhi, a leader said the Father of the Nation and Swami Vivekananda both spoke against conversions. "VHP is only following what these great leaders advocated.''
Former RSS pracharak and VHP organising secretary Dinesh Chandra said, "Hum Hindu hain, Hindustan hamara hai. Hum yahanke malik hai (We are Hindus, Hindustan belongs to us, we own the country)." We have been living here for thousands of years unlike the followers of Islam and Christianity.''