Only 25 per cent of promises made in such summits were fulfilled in Gujarat and in the country as a whole, investment announcements are lowest since 2007.Subodh Varma
Image for representational use only; Image Courtesy : NDTV
Another Vibrant Gujarat investment summit is taking place in Ahmedabad where all the big names of Indian industry – Ambani, Adani, Birla, Tata etc. – are jostling on the dais making big announcements of investments in Gujarat, served up with fulsome praise for Prime Minister Narendra Modi and his corporate-friendly government. Were it not for the tragedy of high joblessness, floundering investments, low capacity utilisation and stagnating industrial production, such a summit would have been comic in its stage craft. But then, that's the trademark style of the Modi government – big on events and rhetoric, small on actual delivery.
At this current ninth Vibrant Gujarat summit, on the first day itself, Mukesh Ambani announced that Reliance would invest Rs 3 lakh crore in the next 10 years, Gautam Adani who is reportedly close to Modi, said he would invest Rs.55,000 crore, and Kumarnagalam Birla declared plans of investing Rs 15,000 crore. Others too followed suit, and the talk-fest will continue today.
Centre for Monitoring Indian Economy (CMIE) data shows that till 2016, such investor summits in Gujarat had thrown up promises of over Rs 4.1 lakh crore (since 2003), but only 25 per cent of those actually saw the light of day. This charade of bringing together industry captains who will heap praises on Narendra Modi and his governance, while promising fantastic investments before taking the next flight out, has been adopted as a model by many BJP-ruled states in the past nearly five years of Modi's rule, each with increasingly cringeworthy names like Happening Haryana, Momentum Jharkhand, Resurgent Rajasthan and so on. But everywhere, the story is the same – not much to show for, once the dust has settled down and the shamianas carted away.
The harsh reality is that the new investment announcements are at a 12-year low, as per CMIE data. (see chart below)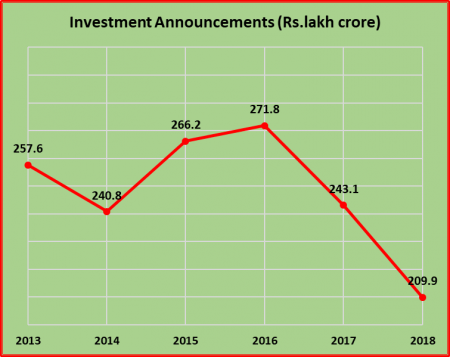 For the quarter that ended in December 2018, investment announcements as tracked by CMIE were just Rs 48.1 lakh crore, comparable to December 2007 when such announcements amounted to Rs 47.8 lakh crore. Remember, 2007-08 were the years of the global financial crisis.
Other indicators of industrial wellbeing are also in the red. According to Reserve Bank of India's OBICUS (a survey of capacity utilisation and other indicators), only 73.8 per cent of installed industrial capacity was being utilised in the first quarter of 2018-19. During Modi's rule, starting June 2014, capacity utilisation has remained below 75 per cent in all quarters except for two.
The Index of Industrial Production (IIP), a measure of how industry is performing, has also been exhibiting a very slow growth with the latest November 2018 figures showing a year on year growth of just 0.5 per cent.
Credit to industry has naturally been flagging partly because of the crisis in the banking sector (exploding bad loans), but essentially because of anaemic growth in production and unwillingness of the industrial businesses to expand capacity.
And, of course, all this has led to staggering job losses with over a crore jobs lost in 2018 only, according to CMIE. Over the past few years, there has been a steady decline in work participation rates indicating the systemic crisis that India's economy is currently engulfed in. This is caused by the twin and interlinked factors of a raging agrarian crisis as well as industrial stagnation.
In this bleak scenario, what can one expect of grand investors' summits but false promises and hyperbole. However, Narendra Modi and his colleagues would do well to listen to the voices from the ground rather than the poetry of praise emanating from the dais of such mega-events.