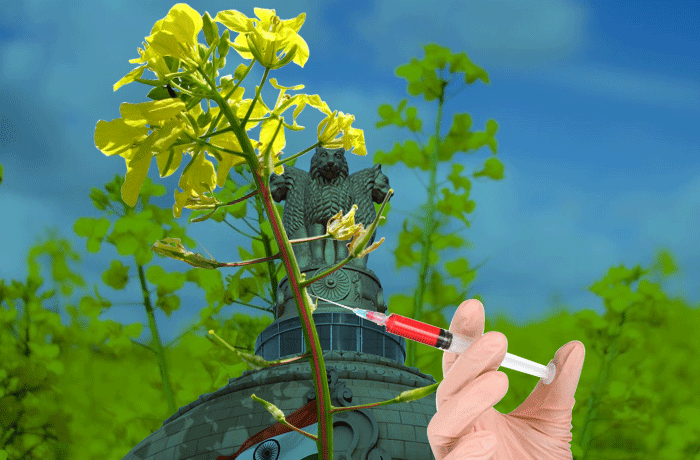 CATCH NEWS
NIHAR GOKHALE  |6 February 2016
The U-turn
Modi govt seems to have developed cold feet on introduction of GM mustard
Now its says it won't be introduced without consulting people
The factors
GM mustard was being opposed tooth and nail by activists and farmers
There are also concerns that one of its constituents may be carcinogenic
More in the story
Why did the govt change its stand?
What are the arguments against GM mustard?
Why was govt being secretive?
Genetically modified crops have created controversy around the world. They are banned in most European countries. In India, only GM cotton is allowed, and for many years its introduction into food crops has been considered taboo.
On 5 February, the government nearly broke the taboo. The environment ministry's expert panel on GMOs met to consider approving a GM variety of mustard developed by Delhi University, called Dhara Mustard Hybrid 11. The government has been pushing this for several months in a process shrouded in secrecy.
A petition before the Supreme Court claims that the proposal for introducing GM mustard was put before the GEAC in September 2015, and that field trials were carried out by the Delhi University against Supreme Court orders.
But in a pleasant turn of events, the government seems to have stopped in its tracks. As the expert panel's meeting began, a protest built up outside the environment ministry office in New Delhi, and protesters later met environment minister Prakash Javadekar and submitted a petition. Javadekar said that the government will not approve the GM variety without consulting the public.
This comes as a victory not just to anti-GM activists but also farmers organisations across political lines who have strongly objected to introducing GM mustard, and the way the government was going about it.
Farmers say GM mustard affects soil health and makes them dependent on factory-produced seeds
Indeed, GM Mustard has an opposition that is huge.
Farmers unions from across political lines have spoken against it. From communist parties and RSS and BJP-backed organisations to independents like Yogendra Yadav's Swaraj Abhiyan — have issued a joint statement rejecting the GM mustard. Condemning the government's secretive actions and the 5 February meeting, the statement says: "It makes us wonder what and wherefrom is the need and pressure emerging from."
A petition on Change.org, demanding that the government should not approve GM Mustard, has over 42,000 signatures. The petition was also delivered to the environment minister.
Their concerns are hard to ignore.
Health hazard: Glysophate, a chemical in GM mustard, has been classified as a "probable carcinogen" by the WHO, according to Mira Shiva who leads Doctors for Food Safety and Biosafety. Shiva said that enough long-term safety tests have not been conducted, making it difficult to have a scientific view on GM mustard's safety. While the government is said to have conducted bio-safety studies, it has kept these confidential. Critics say it's important to have clarity, given that mustard is used widely in cooking, that it's oil is even used to massage infants. Meanwhile 17 European nations, including Germany, The Netherlands and parts of the UK have banned GM crops.
Farmers are against it: Farmers have raised the issue of the GM variety affecting soil health, threatening native varieties, and making farmers dependent on the factory-produced seeds (GM seeds are infertile). This is also Indian farmers' experience with the other GM crop, Bt Cotton. The Bt works only in irrigated areas (when just one-third of India's land under cultivation), and recently it has proven ineffective against pests like whiteflies. Farmers have also said that the government is ignoring alternative methods of increasing productivity.
Nobody knows why we need it: All these risks will most likely serve no purpose. There is no real need for a new variety of mustard, say activists. Mustard production has not declined, in fact it increased 25% In the decade from 2003-04 to 2013-14. Ironically, on 4 February, one day before the expert committee's meeting, the price of mustard in wholesale markets dropped because its supply has exceeded demand.
The government is being unusually secretive
Six years ago, then environment minister Jairam Ramesh had put an indefinite moratorium on testing Bt Brinjal, the other GM food crop that was on the table for approval, because of widespread concerns that toxins in the crop will affect humans, and have adverse effects on soil and ecology.
This time, though the minister has assured GM mustard will not be approved without adequate public consultation, there are good reasons to take the promise with a pinch of salt. So far, the government has kept its GM mustard-related proceedings under a shroud of secrecy.
Mustard prices are falling because supply exceeds demand. What's the justification for GM mustard?
Kavita Kuruganti of the Alliance for Sustainable and Holistic Agriculture (ASHA) said that earlier the expert committee used to put up schedule of its meetings, agenda and the minutes on its website. But after the Modi government to power, this has stopped. The GEAC members have, in fact, signed a confidentiality oath. One can get details only against a request under the Right to Information Act, and some of these requests get rejected.
Edited by Aditya Menonhttp://www.catchnews.com/environment-news/victory-for-farmers-why-the-govt-was-forced-to-backtrack-on-gm-mustard-1454732520.html